Beef Short Rib Crunchy Tacos
Home | Recipes | Mexican Classics | Tacos | Slow & Low
When we received our NEW Hard Shell Tacos we knew first on our list would be to try them out in a Beef Short Rib Crunchy Taco recipe. If you find beef short ribs on a restaurant menu, they are practically impossible to resist ordering. So tender, succulent and delicious the meat practically falls off the bone! And we knew crunchy tacos would be the perfect pairing.
In our recipe we cook the short ribs slow and low in stock, wine and our secret ingredient – Gran Luchito Chipotle Paste which gives the beef short ribs a delicious and smoky depth of flavour. If you haven't tried cooking with beef short ribs we highly recommend it! They truly are the perfect cut for cooking slow and low.
We recommend serving these Beef Short Rib Crunchy Tacos with our Smoky Chipotle Refried Beans, Mexican Rice and Mexican Corn for a feast!
If you try these Beef Short Rib Crunchy Tacos, we would love to hear what you think. Comments are open at the bottom of the recipe for you to leave your review.
Be sure to check out our other slow and low and taco recipes for more authentic Mexican inspiration.
Prep time

20 mins

Cook time

4 hours

Total time

4 hours, 20 mins

Ideal for

Dinner

Make it

Mexican

Serves

4-6
How to make it
Preheat oven to 180C.
Heat a large, oven-proof saucepan (if you don't have one, just use a saucepan and transfer to an ovenproof dish when placing in the oven later) over a medium/high heat. When hot, add a splash of vegetable oil.
Meanwhile, dry the rib pieces with paper towel and generously season with salt & pepper.
When oil is hot, add the beef short rib pieces (you may want to use a guard or the lid to stop it from spitting). Brown the beef all over, getting as much colour as possible.
Once brown, remove the beef and the majority of the fat/oil from the pan. Don't clean the pan, as the vegetables can cook in the residual oil.
Reduce heat to medium and add the onion, pepper, coriander stalks and Gran Luchito  Chipotle Paste as well as a good pinch of salt & pepper. Cook for about 15 minutes, stirring regularly.
Add the garlic and the tomato puree. Stir well and cook for another 5 minutes or so.
Return the beef and juices to the pan followed by the red wine and beef stock (top up with water so that the beef is just covered).
Stir well and place pan in the oven for 3 hours, stirring every hour. When it's ready the meat will be falling off the bone.
Remove the beef (shred the meat & discard the bones) and add the vegetables & sauce to a food processor (you can also use a stick blender). Process until smooth, then return to the pan and boil until it reduces to a thick sauce (this should take about 20 minutes).
Return the beef to the sauce, leave to cool slightly then stir through the coriander leaves (save some coriander to scatter on top when serving).
Serve in Gran Luchito Hard Shell Tacos with radish, cabbage, coriander and lime wedges.
Have you tried these recipes?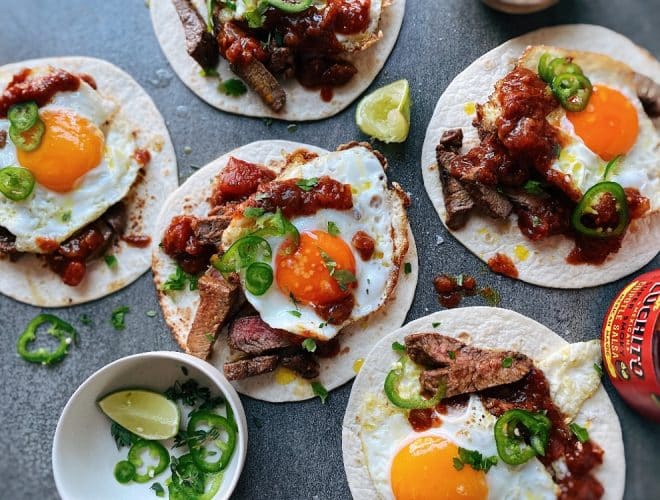 Uses Smoky Chipotle Fajita & Taco Mix , Soft Taco Wraps , Super Smoky Chipotle Salsa
Uses Garlic & Guajillo Fajita & Taco Mix , Fire Roasted Red Pepper Salsa , Soft Taco Wraps