Just a few decades ago Puerto Vallarta was a tiny fishing village that nobody knew about. It has now become one of the most visited beach resorts in Mexico and home to thousands of expats who make this colourful city their home. In this blog we share some interesting facts and the top things to do in Puerto Vallarta.
Interesting Facts About Puerto Vallarta
Puerto Vallarta came to notoriety from the scandalous love affair between Richard Burton and Elizabeth Taylor. They spent a couple of months in town shooting the famous movie the Night of the Iguana. The actors eventually each bought a house there in what is now the historical centre of the city. Their respective homes have now become hotels you can visit. Casa Kimberley is now a spectacular boutique hotel with the Elizabeth Taylor suite featuring a heart-shaped marble bathtub commissioned by Taylor herself!
Another fact that has made Mexico Puerto Vallarta very popular is its fame as the first official gay-friendly destination for American tourists. Even now, every year in May, gay pride is one of the most celebrated events with colourful parades and parties all over the city. 
Now for our list of the top things to do in Puerto Vallarta!
Walk Along The Malećon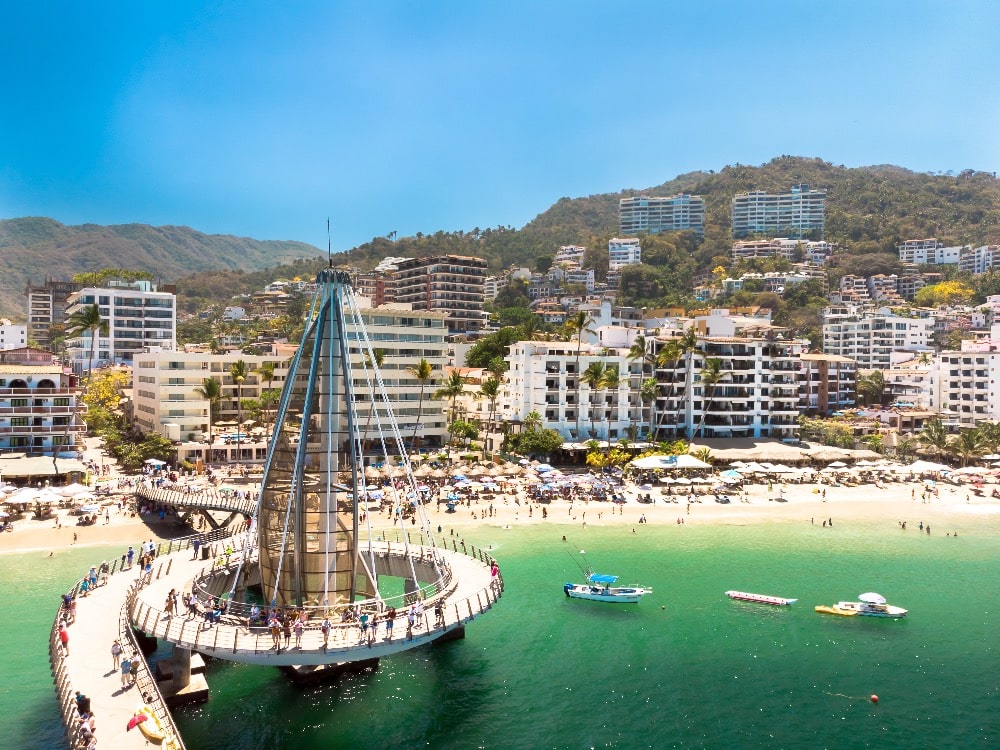 A walk on the Malećon (beach promenade) cannot be missed. We recommend either at night while watching the sunset or early in the morning when the sun is not so hot and the locals are out to walk their dog. There are spectacular views, and it's free!
Enjoy The Local Street Food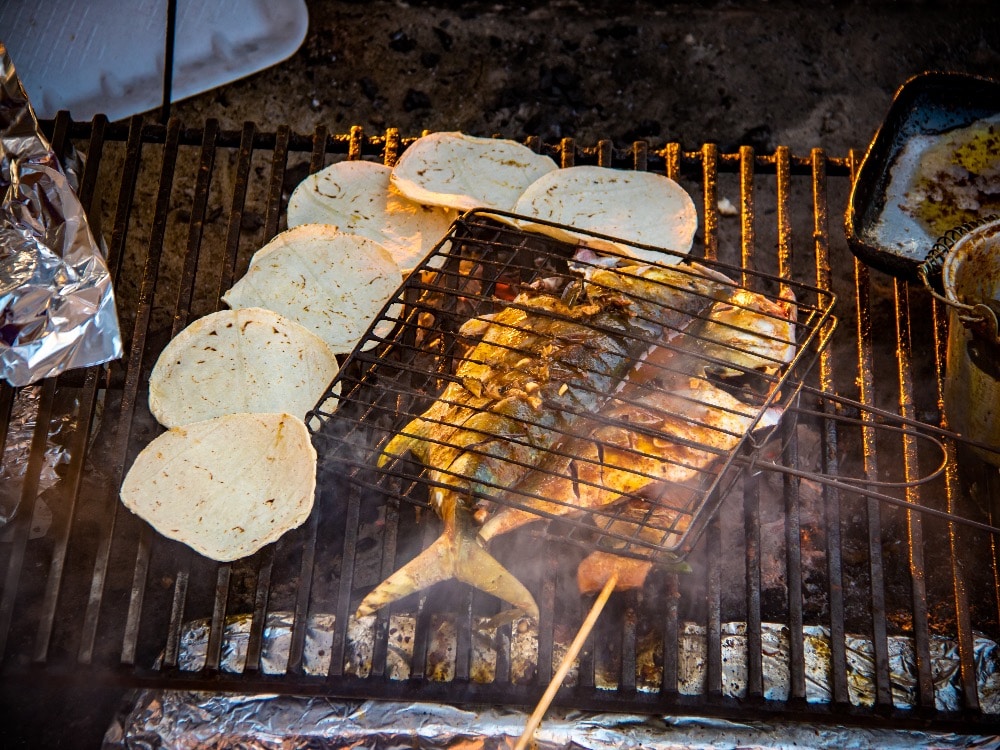 Puerto Vallarta is very popular for its delicious street food. What could be better than freshly caught and grilled fish tucked into tortillas? It doesn't get better than Soft Taco Wraps! The tourist office in Puerto Vallarta even organises free street food walking tours to discover the best stalls in town. You should join one!
Admire The Local Art
Puerto Vallarta is brimming with art. It's everywhere and you can't  it. From sand sculptures on the beach to the spectacular paintings in the local market, the art shops and the installations along the Malećon, you are surrounded. It's another one of the top things to do in Puerto Vallarta. But if you would like to understand and know more about it, ask for the free walking tour organised by the Galeria Pacifico. 
Enjoy The Beach
This goes without saying as one of the top things to do in Puerto Vallarta! Enjoy the beautiful beaches located all along Bandera Bay and beyond it. There is one for every day and more. 
Join The Free Walking Tours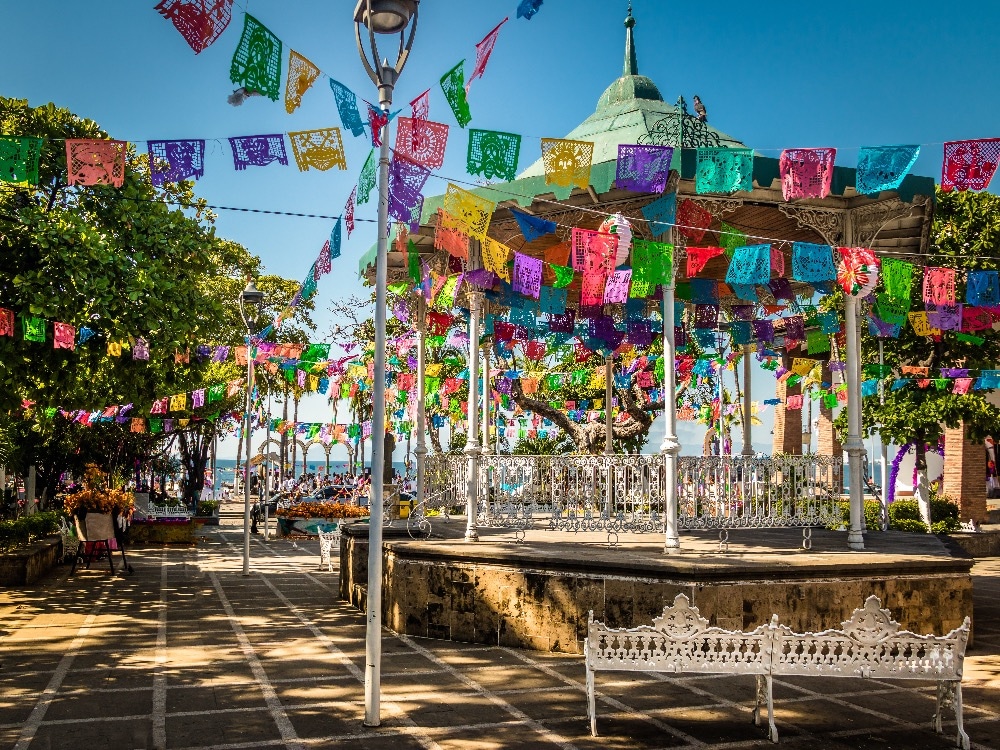 The local tourist office organises these walking tours. They are free and led by locals or expatriates now living here. They are in English and will take you around the most interesting points of the city. You are just asked to leave a tip at the end. 
Visit The Nearby Botanical Garden
A spectacular huge property at about 15 km from Puerto Vallarta is certainly worth a visit if you love nature and tranquillity. After a nice walk around tropical plants and flowers, you can enjoy a delicious lunch and watch the beautiful colourful birds and spectacular views of the valley.   
Enjoy A Day On Quimixto Beach
If you take a bus to Boca de Tomatlan and then walk to the small dock, you will be able to hop on the fishing boats ready to take you on one of the spectacular beaches along the coast. These beaches are reachable only by boat, and we think the best one is Quimixto Beach. Once you arrive there you can enjoy a nice walk to a waterfall and then you can just relax on the beach and eat at the only restaurant there, lay on the sand or rent a beach chair. In terms of things to do in Puerto Vallarta it's a great way to spend a day.
Walk to Playa Conchas Chinas
From Playa de Muertos, the most popular beach in Puerto Vallarta, you can walk to Playa Concha China. It's a 20 minutes walk and once you arrive you can enjoy the lovely and isolated beach and then splurge on a nice breakfast or lunch in the Lindo Mar Hotel while watching the beautiful bay. 
Meet The Dolphins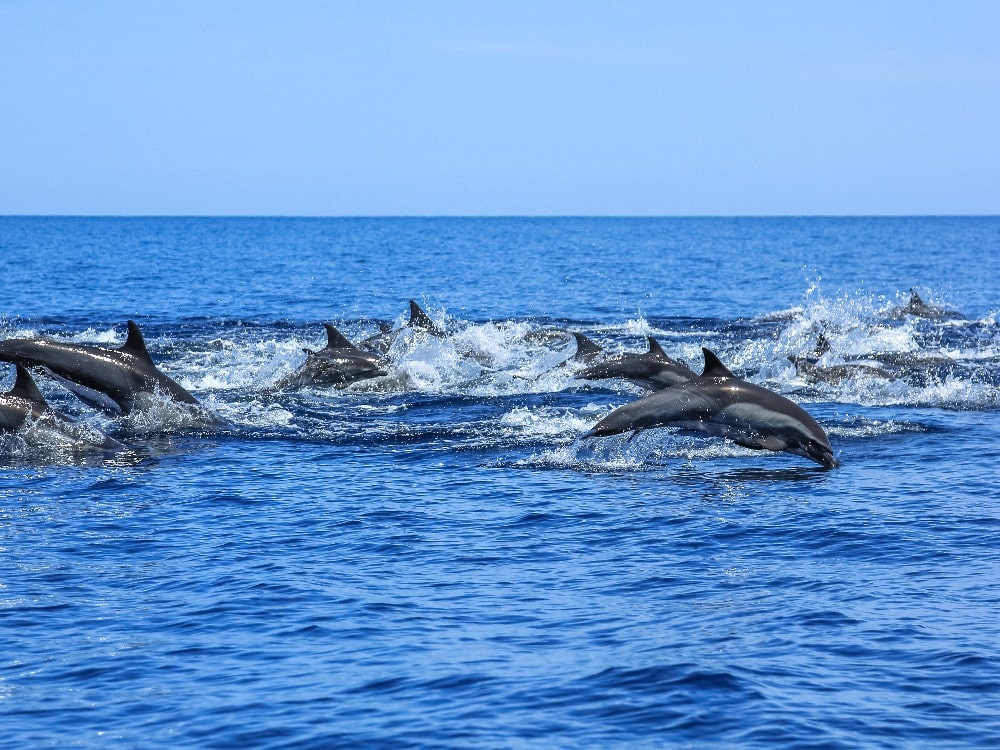 Among the plenty of activities and things to do in Mexico Puerto Vallarta, swimming with the dolphins is certainly one of the most exciting. You can go to parks to do this but they are actually free in their natural environment in the open sea too. You will have the chance to swim with them because the boat captain (who will be a marine biologist) knows where to find them. Small boats are used because its the best way to get close to them.
There are many more top things to do in Puerto Vallarta but these our favourite! We hope you've enjoyed reading about Puerto Vallarta and we've inspired you to plan a trip to Mexico. If you make it there, we would love to see – don't forget to tag us #granluchito.
If you've been super tempted by this article and want to see more on the area, do check out our blogs on Where To Stay In Puerto Vallarta, and Where To Eat In Puerto Vallarta.
For similar blogs please see: Guide To Cabo San Lucas, Things To Do In Cabo San Lucas, Places To Stay In Cabo San Lucas, Where To Eat In Cabo San Lucas, Guide To Baja California, Things To Do In Baja California, Guide To Pacific Coast Mexico, Guide To Caribbean Coast Mexico, Things To Do in Oaxaca, Things to do in the Yucatán, Guide to Riviera Maya Mexico, Things to do in the Riviera Maya, Guide to Cancun, Things to do in Cancun, Where to Stay in Cancun, Cancun Restaurants, Guide to Tulum, Where to Stay in Tulum, Tulum Restaurants, Where to Stay Playa Del Carmen