The Riviera Maya is steeped in history and has an amazing landscape. No surprise that there's loads to see and do beyond sitting on a sun lounger and taking in the view. From the awe-inspiring pyramids to diving in the cenotes, here's our list of the best things to do in the Riviera Maya. 
1. Discover the ancient Mayan pyramids
Some of the most unforgettable sightseeing in the Riviera Maya can be found visiting the remains of the Mayan civilisation at one of its ruin centres. The most visited and impressive ones are Chichén Itzá (a UNESCO's World Heritage Centre) and the Tulum Ruins (an impressive beachfront Mayan city on a cliff with the best views of the Caribbean Sea).
Nonetheless, there are many other impressive Mayan cities in the area, such as Cobá (near Tulum), Xaman-Há (in Playa del Carmen), Xcaret (do not mistake the Xcaret adventure park with the ruins near Playa del Carmen), and Kohunlich (near Chetumal, almost at the border with Belize).
Whichever site you choose, we recommend booking an archeological site official tour. A local guide can offer great insight into the history and hidden meanings and symbols of the Mayan ruins.
Tulum Ruins, Carretera Federal, Cancun – Chetumal Km 230, 307, 77780 Tulum, Q.R., Mexico
Cobá, Carretera Federal Tulum 307, 77793 Cobá, Q.R., Mexico
Xaman-Há, Playacar, 77717 Playa del Carmen, Quintana Roo, Mexico
Kohunlich, Carretera Federal 186 (Chetumal-Escárcega), 77981 Chetumal, Q.R., Mexico
2. Snorkelling and Scuba Diving
Snorkelling and scuba diving are very popular on the Riviera Maya. The Riviera Maya has the second largest coral reef system in the world. The reef's white sands and clear waters are great for discovering the underwater flora and fauna, whether you are a novice or an experienced scuba diver. While snorkelling is possible in most places, there are some truly fantastic spots for scuba diving. One of the best places to scuba dive is Cozumel; however, it is possible to also do it in places such as Pared Verde and Mox-ché in Playa del Carmen.
See Playa del Carmen on this map
3. Discover and swim in the amazing Cenotes
Cenotes (pronounced ceh-nou-tehs) are natural water caverns. They were once sacred to the Mayan civilisation and vital to their rituals and ceremonies. Today, it is possible to discover, swim, and dive into these natural wonders. Although the cenotes are all over the Yucatan Peninsula, many of the most impressive ones are located in the Riviera Maya, such as Gran Cenote and Dos Ojos in Tulum, Calavera, Cenotes Labnaha, Cenote Cristalino, and Cenote Azul.
See Cenote Dos Ojos on this map
View Cenote Calavera on this map
See Cenotes Labnaha on this map
View Cenote Cristalino on this map
4. Visit an adventure park in the jungle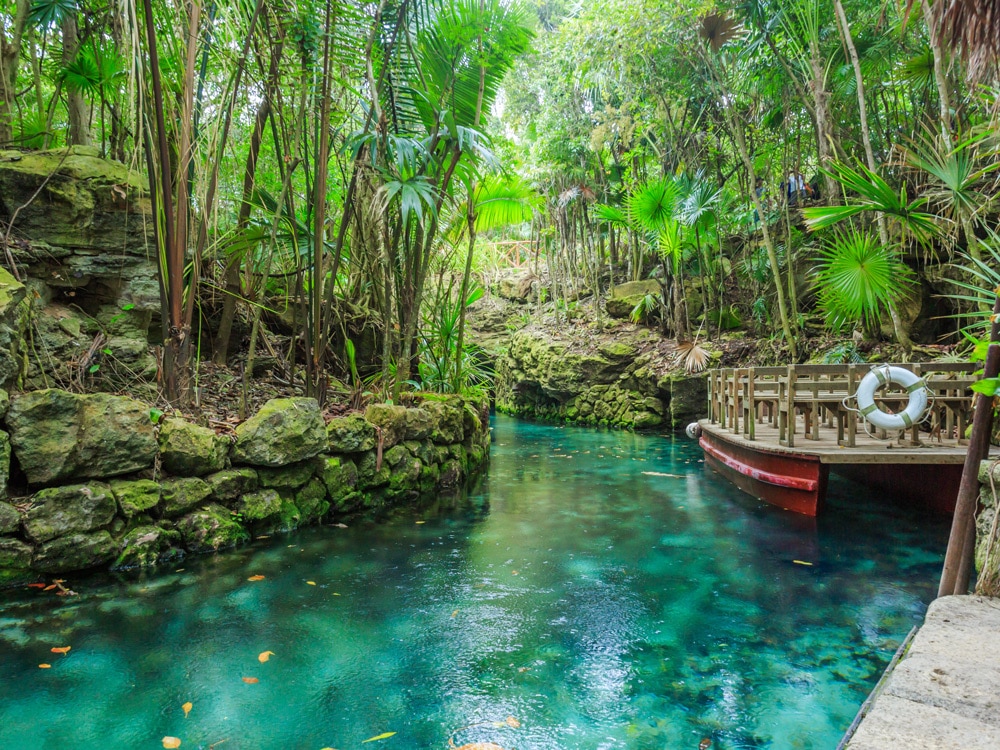 The adventure parks of the Riviera Maya combine natural open spaces and human-made water parks. Usually built in between the sea and the jungle, you can dive and snorkel at on-site cenotes, caverns, and subterranean rivers inside the parks. For the more adventurous you'll find diving with dolphins, zip-lining, hiking, and rafting. The most popular water parks alongside the Riviera Maya are Xcaret, Xplor, Xel-Ha, and Xenses.
Xcaret Park, Carretera Chetúmal-Puerto Juárez Km. 282, Solidaridad, 77710 Playa del Carmen, Q.R., Mexico
Xplor Park, Carretera Cancún -Tulum Km 282, Puerto Juarez, Solidaridad, 77710 Playa del Carmen, Q.R., Mexico
Xel-Ha Park, Carretera Chetumal Puerto Juárez Km 240, locales 1 & 2, módulo B, 77780 Q.R., Mexico
Xenses Park, Carretera Chetumal-puerto juarez. Km 282, Solidaridad, 77710 Playa del Carmer, Q.R., Mexico
So there you have our top list of things to do in the Riviera Maya! If you make it there, we would love to see your travels. Don't forget to tag us #granluchito.