Exclusive resorts, picture-perfect beaches, incredible marine life, breathtaking sunsets, and delicious food are just a few things that make Cabo San Lucas such an appealing and popular destination. 
Cabo San Lucas is a resort city located at the southern tip of the nearly 800-mile long Baja California Peninsula, within easy reach from USA and Canada.
Here we share our list of Things To Do In Cabo San Lucas.
1. Take A Boat Tour To El Arco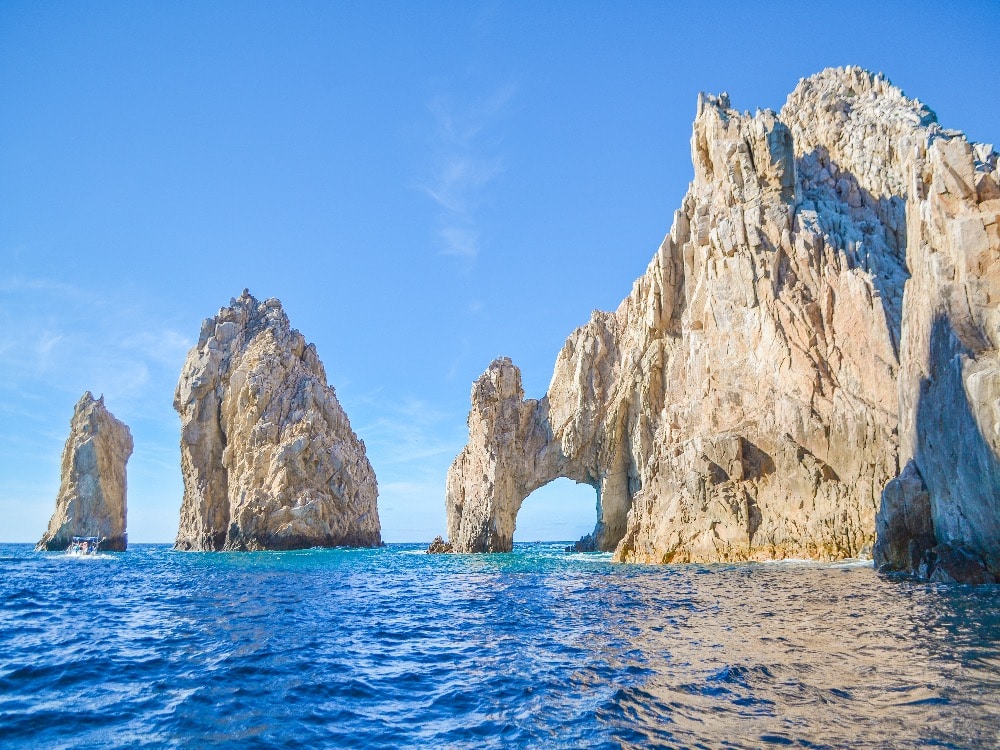 Firstly one of the main things to do in Cabo San Lucas is this very touristy but spectacular spot, where a simple arch-shaped rock in the ocean has become the symbol of Los Cabos and one of the most Instagrammed spots. Boat Tours leave from the Marina every hour. You can hop on a boat for a quick ride or you can also enjoy the Love beach, right behind the arch. Let your boat captain know so he can drop you off there, and pick you up at a set time. To sum up, you can not miss El Arco!
2. Take A Day Trip To Todos Santos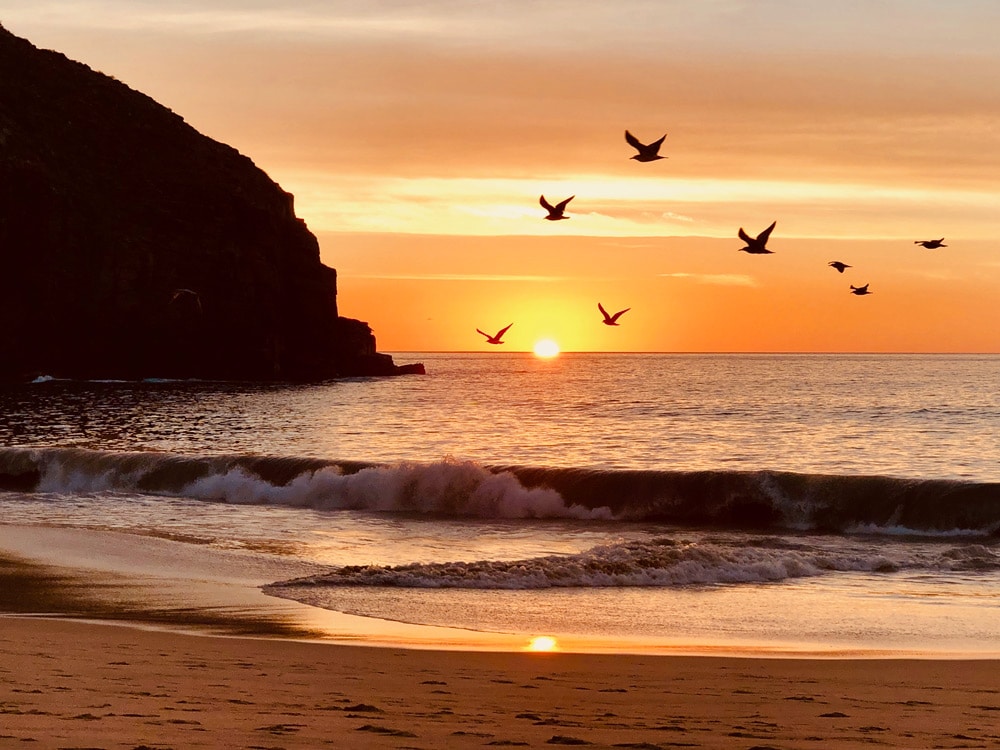 The cute little village of Todos Santos is located about 1 hour north of Cabos San Lucas. It's home to the best surfing spots, great restaurants and a historical centre where you can take a stroll. After that, you can visit some art shops and lovely cafes. 
3. Visit The Historical Centre In San Jose Del Cabo
San Jose' del Cabo is a lovely little village only 30 minutes drive from Cabo San Lucas. Here you can enjoy an evening walk through the Spanish Colonial streets that brighten up with food stalls, local vendors and artist performances by night. However, If you go there for a day trip, you can visit the colonial church in the centre and the Estuary, just a few miles away. This is a freshwater lagoon fed by an underwater river and home to different bird species. In addition, there are also kayaking tours in the lagoon. Furthermore, near to the Estuary, you can also visit the Botanical Cactus Garden to observe around 1500 varieties of cacti from all over the world, as well as a superb sculpture garden with works from some of the most renowned Mexican artists. 
4. Take A Whale Watching Tour
Whale watching is one of the main reasons many visitors come to this side of Mexico during winter, from January through to March, when the whales pass by the Mexican coast and stop along the protected bays to have their babies. Above all, it's not difficult to see them from the coast either, but it's certainly a unique experience to see them from the boat at a much closer distance.
5. Check Out Some Hidden Beaches 
In terms of breathtaking scenery and spectacular beaches, Cabos San Lucas has no rivals. Consequently, among the best beaches you might want to check out are:
Playa Santa Maria, a half-moon shaped beach protected by two rocky headlands which keep the currents low and make the turquoise and transparent water enjoyable and safe. Therefore, a good place for snorkeling. 

Playa El Chileno, Santa Maria's rival in terms of beauty. It's also well protected and great for snorkeling. Having said that, sometimes you don't even need your mask to see the spectacular and rich sea-life through the transparent water. 
6. Go Golfing
You may ask yourself what to do in Cabo San Lucas in terms of a sport. It is a great destination for golfers! There is now a choice of 7 golf courses, including top-class Cabo del Sol signed by Jack Nicklaus and Tom Weiskopf.
7. Swim With The Whale Sharks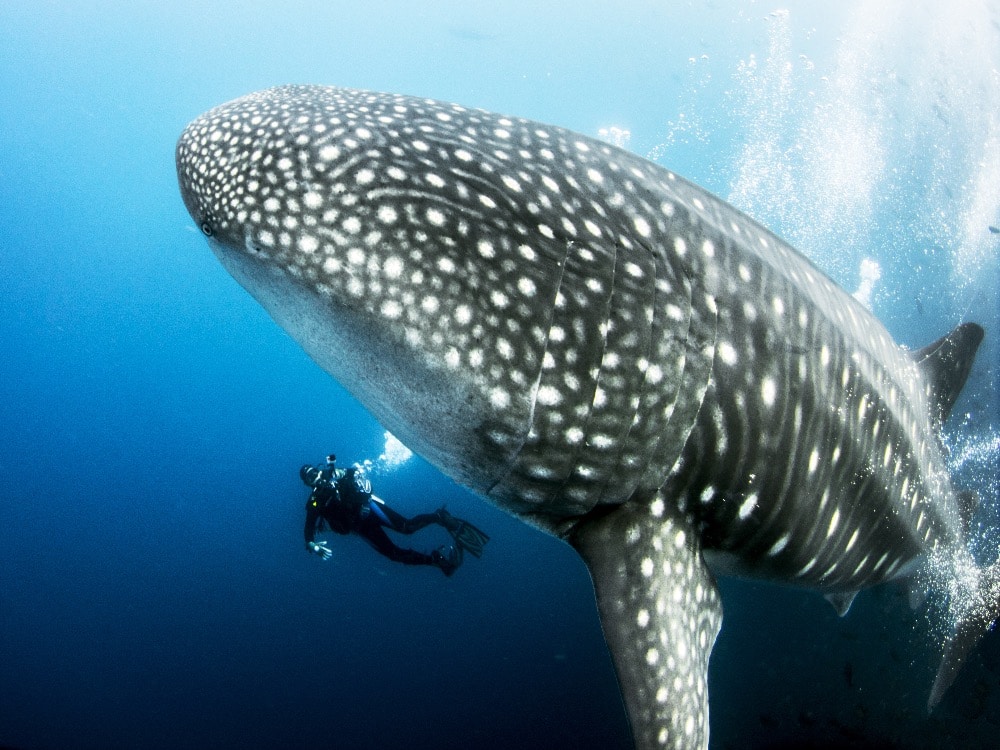 The boat tours originate from La Paz, but local travel agencies have packages that include your transportation from Cabo San Lucas to the boat. In short, it's an incredible experience that cannot be missed. Available only from December through to March, when you will have the privilege to swim with these gentle giants of the sea. 
8. Find An Oasis In The Desert
Thinking of what to do in Cabo San Lucas that involves a little expedition? Just a couple of hours from Los Cabos on the way towards La Paz, you will find an oasis in the middle of the deserted territory. It's called Sierra de La Laguna, a UNESCO biosphere reserve. Nature lovers and outdoor addicts will find their playground here among waterfalls, cold pools, hot springs, and nature trails.  Most importantly, you can book your tour at your hotel to explore this unique ecosystem. 
9. Snorkel In The Marine Park Of Cabo Pulmo
If you love snorkeling, this is your place! A marine park that is brimming with a very populated marine life at an easy reach. You can get your mask and fins and go on your own. However, if you wish to see the best of it, join a tour, and let them take you to an underwater playground. It's a spectacular experience. 
In conclusion, we hope you have been inspired by many of these things to do in Cabo San Lucas. It's a truly glorious place, with so much to offer and fun for the whole family. For ideas on accommodation during your stay have a look at our blog on Where To Stay In Cabo San Lucas, and if you're a foodie, check out these restaurants in our guide on Where To Eat In Cabo San Lucas. You won't be disappointed! 
Please check out our Guide to Baja California for more tips on the region. We would also love to see how you get on, so please make sure to tag us #granluchlito and show us your photos!
For similar travel blogs please see: Guide To Cabo San Lucas, Where To Stay In Cabo San Lucas, Where To Eat In Cabo San Lucas, Guide To Baja California, Things To Do In Baja California, Guide To Pacific Coast Mexico, Guide To Caribbean Coast Mexico, Top Things To Do In Puerto Vallarta, Things To Do in Oaxaca, Things to do in the Yucatán, Guide to Riviera Maya Mexico, Things to do in the Riviera Maya, Guide to Cancun, Things to do in Cancun, Where to Stay in Cancun, Cancun Restaurants, Guide to Tulum, Where to Stay in Tulum, Tulum Restaurants, Where to Stay Playa Del Carmen