With its colonial towns, refreshing cenotes, unrivalled beaches, archaeological sites of ancient civilisations, and exceptional food, the Yucatán peninsula is one of the most visited regions in Mexico, and it doesn't disappoint. There is so much to do and see that you can easily fill a week or two. 
Where is the Yucatán?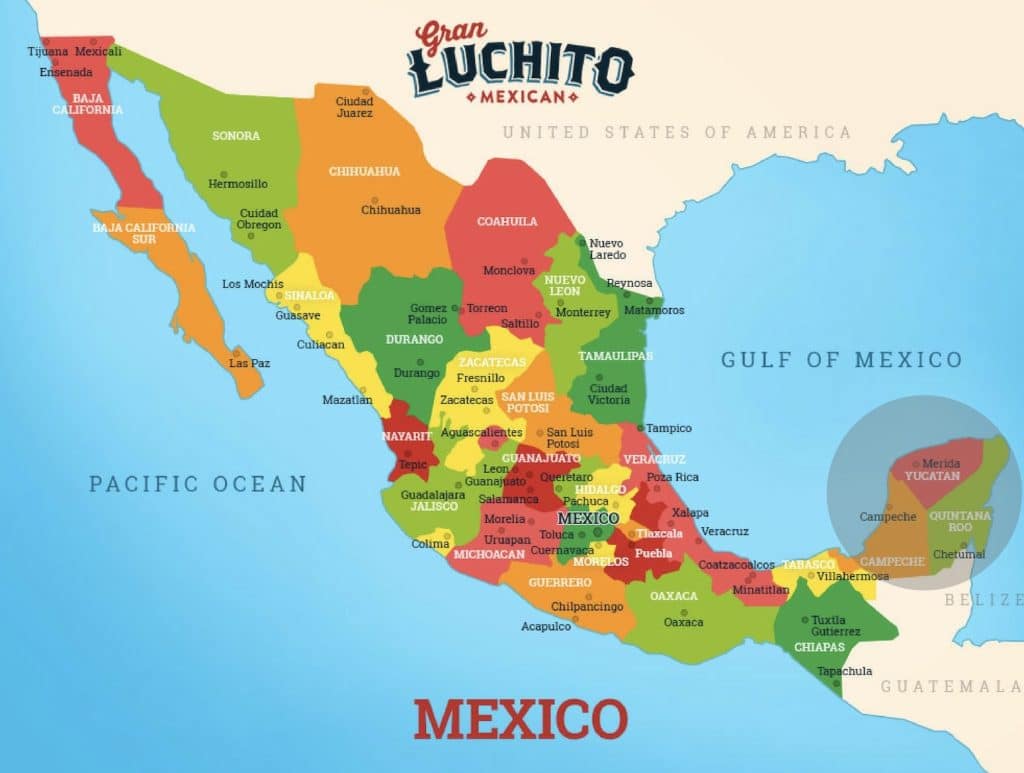 The Yucatán peninsula is in the southeast corner of Mexico separating the Gulf of Mexico from the Caribbean Sea. The Yucatán peninsula is made up of 3 states. There's the State of Yucatán with Merida as its capital. The other two states are Campeche which is also the name of its capital city and Quintana Roo whose capital is Chetumal. Chetumal is a less interesting city compared to the more touristy resorts such as Cozumel, Playa del Carmen and Cancún. Cancun has even outstripped Chetumal as the state's largest city and commercial centre. 
Now on to our list of the most interesting things to do and places to see in the Yucatán Peninsula.
1. Sail in the Spectacular Lagoon of Bacalar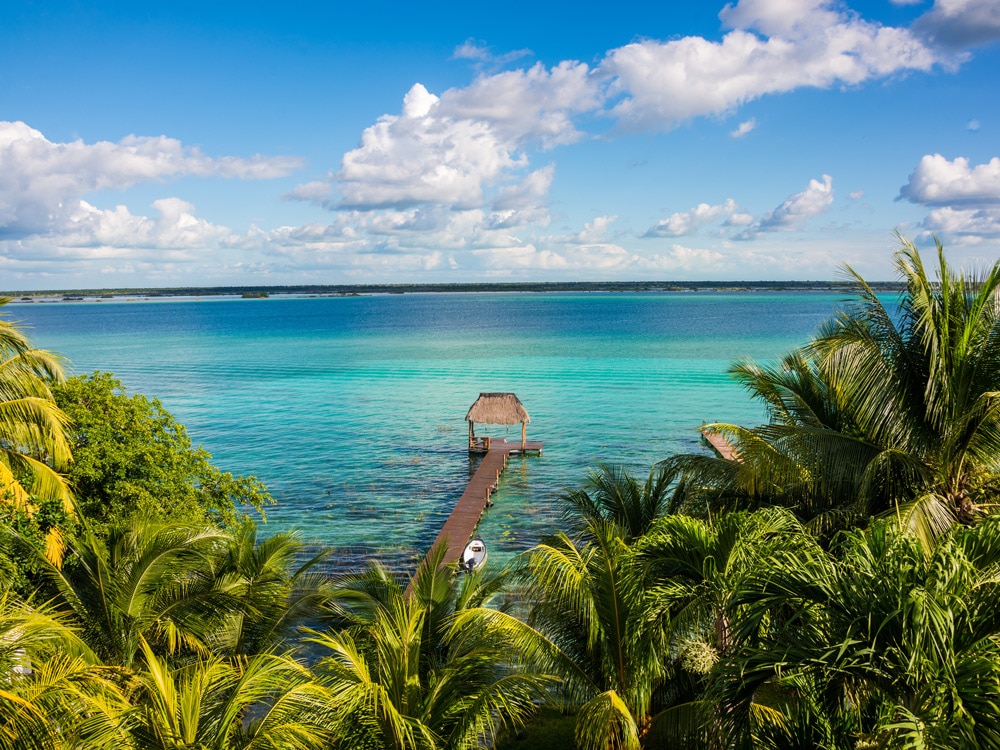 Also known as the Lagoon of the 7 Colours due to the water's mesmerising shades of blue, Bacalar lagoon will leave you speechless with its beauty. The small town is also a quaint hub with lots of cute restaurants and nice little hotels. The best way to visit Bacalar is to join a sailing tour, where you will be floating on the water at a slow pace and letting the wind take you around. It's also more eco-friendly and relaxing. For a treat, we suggest you should stay at the iconic Akalki which is one of the few real eco-lodges and has been there for ages. They pride themselves for their ecological practice. The hotel is located just outside Bacalar and it's the perfect place to rest and rejuvenate especially if you stay in one of the overwater bungalows. 
2. Immerse Yourself in Nature Exploring the Biosphere of Calakmul
Just about 2 hours' drive from Bacalar, in the state of Campeche, the biosphere of Calakmul is one of the largest protected areas in Mexico. Besides the magnificent and extensive archaeological site, the area is home of incredible biodiversity, including many bird species and jaguars. It's a real paradise for birdwatchers while the Jaguar is more difficult to spot. The closest town of Xpujil is also surrounded by other minor archaeological sites, also interesting to explore, and local communities that offer tours around their villages to show you their beautiful products, from spectacular wooden objects, to hand made jewellery, textiles and other handicrafts.
3. Bask in the Sun on a Spectacular Beach in Cancun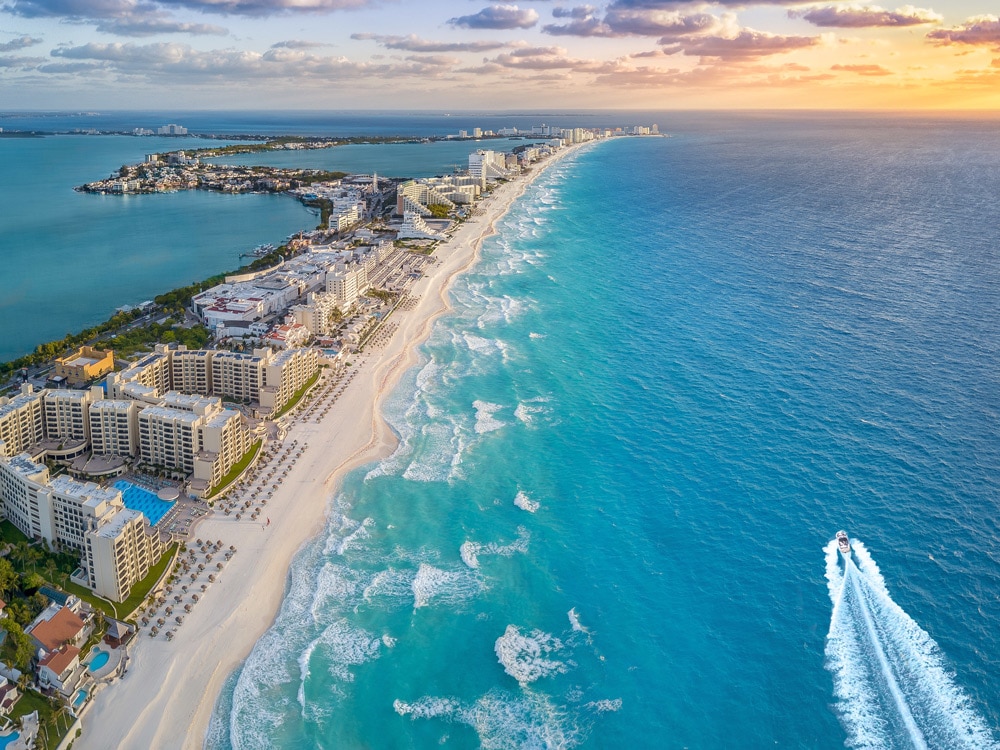 With nearly 16 miles of white sandy beaches and an unbelievably turquoise sea, Cancun is breath-taking. Watch the flag signs though as it looks so calm but currents are merciless and it can be dangerous to swim. There are many amazing hotels along the coast right on the beach for the perfect resort vacation. There are also lots more things to do when visiting Cancun, we couldn't possibly fit them all here! 
4. Walk Around The White City
This is what they call Merida, the capital of Yucatan, which is full of history and tradition. With its colonial architecture, a mix of Arabic, Spanish and local influences, museums, and markets, the city is an open museum witness of its conflicting past. Take a free tour, walk into the museums, take a stroll in the market or watch the local folklore on Sunday in the main plaza. If summer, please mind the heat as it can be hotter than you can ever imagine!
5. Visit the Archaeological Site of Chichén Itzá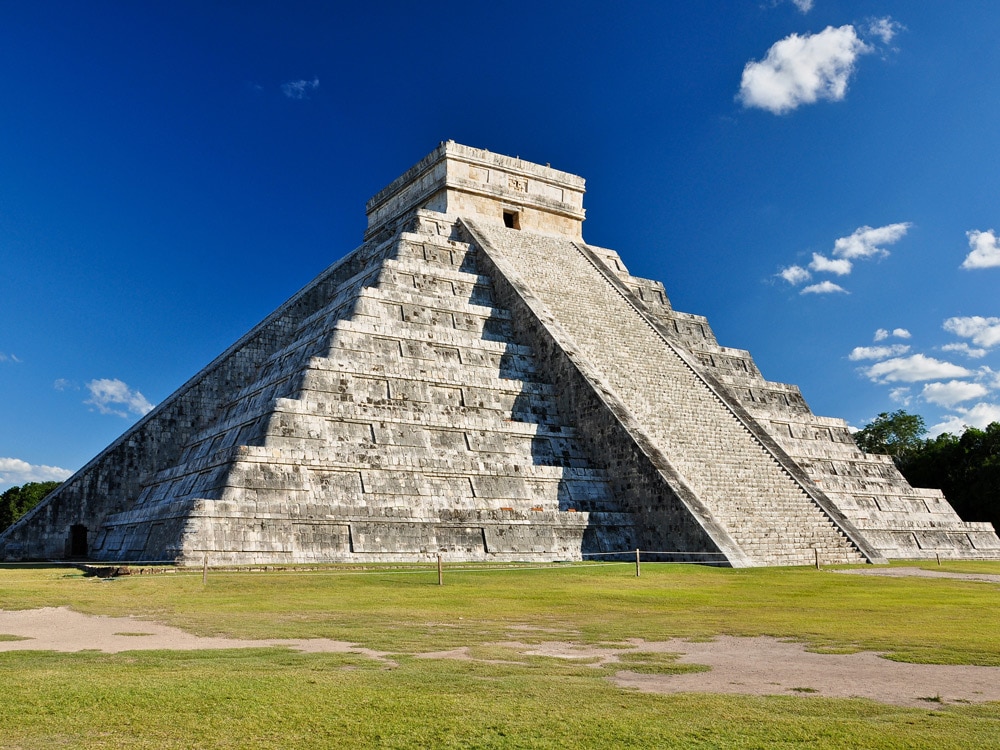 Chichén Itzá is one of the 7 wonders of the world. It is also one of the main representations of the grandeur of the Mayan civilisation. The majority of the tours that take you there include a knowledgeable, certified guide and a few other stops, such as a visit to a spectacular cenote and the colonial town of Valladolid. You can also rent a car and create a DIY itinerary. In this case we recommend you sleep nearby the site and try to get in early morning before the crowd. At the entrance, you can easily hire a guide if you wish to know some of the interesting history behind this incredible ancient site.
6. Take a Dip in One of the Refreshing Cenotes
The Yucatan peninsula is also popular for something like 3000 cenotes scattered around the region. The cenotes are natural sinkholes that were used in the Mayan civilization as spiritual and religious centres. Now they attract millions of visitors from all over the world who enjoy their refreshing water, divers who practice cave diving and explore their mysterious underwater world and photographers chasing a perfect shot of such photogenic wonders.
You don't need to go very far to have your cenote experience, no matter where you are staying either in Cancun or the Riviera Maya, you will be close enough to have a half a day trip.
See Cenote Dos Ojos on this map
View Cenote Calavera on this map
See Cenotes Labnaha on this map
View Cenote Cristalino on this map
7. Dive in an Underwater Museum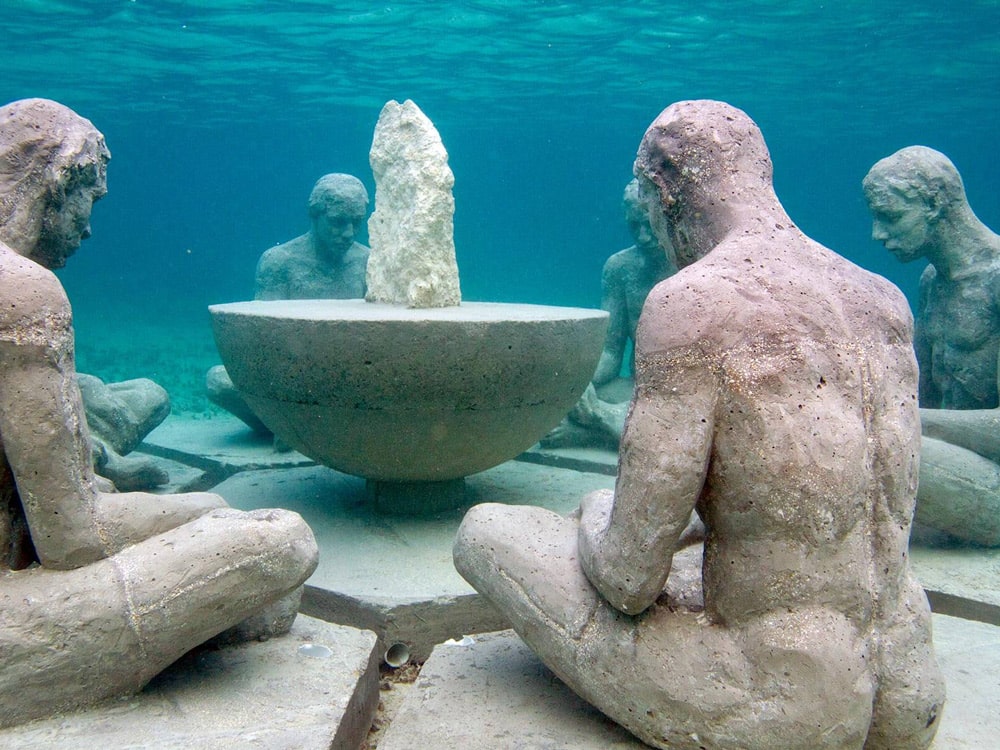 It's called MUSA, which stands for "Museo Subacuático de Arte", and it is an underwater art museum. It includes more than 500 permanent life-sized and monumental sculptures. It's probably one of the most ambitious underwater projects in the world and aims to create awareness on the interaction between art and environmental science.  Diving is the best way to explore the spectacular 420sq meters area, and with its shallow 8m depth. Many dive shops either in Cancun or Isla Mujeres organise this trip.
MUSA, Cerrada Las Golondrinas 24, Alfredo Bonfil, 77560 Cancún, Q.R., Mexico.
+52 998 206 0182
That's our list of 7 unmissable things to do in the Yucatán Peninsula. We hope we've inspired you to plan a trip to the Yucatan. If you make it there, we would love to see your trip! Don't forget to tag us #granluchito!