Playa del Carmen is one of the most popular destinations in the Riviera Maya and has been growing significantly for the last 20 years. This busy tourist resort attracts visitors all year round, and its popularity lies in its versatility. No matter what you are looking for, you will find it here. Attractions include a busy nightlife, quiet getaways, high-end resorts, cute boutique hotels, luxurious apartments, a never-ending beach, shopping centres, and excellent restaurants. This place has it all!
When it comes to choosing your hotel, first of all decide on budget and then which area you want to stay in. In short, there are three main areas: Playacar, a quiet residential area on the beach. Downtown, the busy heart of the city, close to the shops and nightclubs. Then you have a more secluded and isolated part, a few miles from the city along the Riviera Maya, where stunning high-end resorts are nestled between the beach and the jungle.
Most importantly, in terms of budget, you can find the cheapest hostels as well as the most luxurious places to stay in Playa del Carmen.  Here is our list of suggested hotels:
Downtown Hotels
Downtown is considered the core of Playa del Carmen. It stretches along the famous Quinta Avenida (5th avenue), where it's buzzing day and night. So, if you're not annoyed by the noise and want to stay close to the parties and shops, book your stay in a hotel or apartment located in this part of the town. 
Fiesta Inn 
Fiesta inn is renowned for being one of the best business hotels, but has definitely grown to cater for leisure guests. To clarify, this beautiful and modern hotel, located on 10th street, right behind the Quinta Avenida in Playa del Carmen, is definitely a gem. It offers luxury and comfort without breaking the bank. The highlight is the rooftop terrace with swimming pool and bar, for sunbathing during the day and drinks in the evening. The 129 guest rooms offer 24-hour room service, high-speed internet and a modern fitness centre.
Av. 10 Esq. con Calle 26. Col, 77710 Playa del Carmen, Q.R., Mexico
Grand Hyatt Playa del Carmen Resort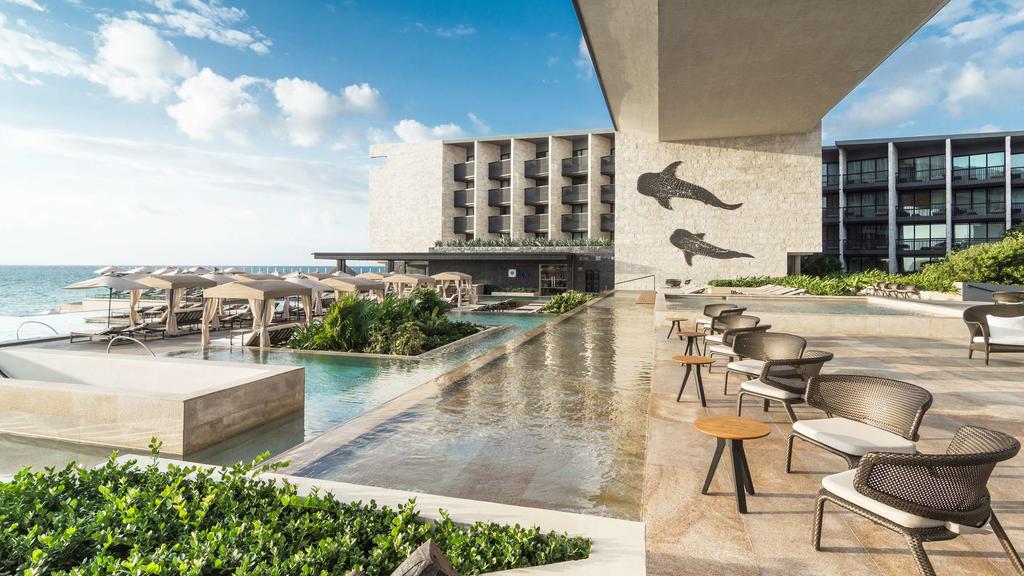 Without being too flattering, the Grand Park Hyatt is probably the coolest luxury beachfront resort in Playa del Carmen. This high-end property offers spacious rooms and suites boasting a fresh and modern look, with large balconies. Some of the rooms have their own private jacuzzis to pamper yourself after a tiring day on the beach. The hotel offers all-inclusive packages, or you can pay for your room only giving the freedom to enjoy the countless restaurants downtown.
1A Avenida Esquina Calle 26, Centro, 77710 Playa del Carmen, Q.R., Mexico
Thompson  Playa del Carmen 
Outrageously gorgeous, this fine luxury property has been designed to impress visitors with its unique layout and futuristic decor. This adult-only urban resort is aimed at sophisticated travellers. It has a sublime menu, vibrant night-time atmosphere, and modern rooms.  
Calle 12 entre 5ta Ave. y 10 S/N, Centro, 77710 Playa del Carmen, Q.R., Mexico
Riviera Maya 
A few kilometres outside the city, nestled between the jungle and pristine waters, many hotels offer an oasis of peace and rejuvenation. Here are a few of them. 
El Dorado Royale
Already a popular resort in the Riviera Maya, and built in the finest Mexican style, the El Dorado Resort is now even more popular. Consequently this is due to new and spectacular over-water bungalows! Each one has a unique service, including a full butler service, glass-bottom floors, and private infinity pools.
Carr. Cancún – Tulum Km. 45, Riviera Maya, 77710 Tulum, Q.R., Mexico
Fairmont Mayakoba
Besides renowned elegance and glamour, the Fairmont Mayakoba resort offers quite a unique experience. Located within 240 acres of tropical forest crossed by waterways, and the shoreline is flanked by a pristine and turquoise Caribbean sea. In addition, the property is a luxury AAA-5 Diamond and also Rainforest Certified.
Carretera Federal Cancún Playa del Carmen Km 298, 77710 Playa del Carmen, Q.R., Mexico
Belmond Maroma
At the Belmond Maroma we see sophistication at its best. With a unique fusion of Balinese style and Mexican art, topped with world-class service and exquisite dining, this hotel has kept up with its name, and guarantees a dreamlike beach getaway.   
Carretera Cancún-Tulum KM 51 Punta Maroma, 77710 Playa del Carmen, Q.R., Mexico
Playacar
Playacar is the residential side of Playa del Carmen. A gated community of high-end private homes and hotels surrounding an 18 hole golf club. 
Royal Hideaway
The Royal Hideaway is a classic, one of the most elegant adults-only all-inclusive resorts, which has been there from the very beginning. Ideal for a romantic escape, with private suites and startling beachfront views.  
Calle Lote Hotelero 6 Desarrollo, Playacar, 77710 Playa del Carmen, Q.R., Mexico
Allegro 
The Allegro Resort belongs to the Barcelo' group, which guarantees quality of service and great dining. You will find spacious rooms  scattered around a lush garden and the beautiful beach offers an array of water sport activities for the whole family. Therefore, this particular resort in Playacar is a great option for a family holiday.
Lote Hotelero 7 Desarrollo, Playacar, 77710 Playa del Carmen, Q.R., Mexico
Boho Beach Hostel (budget hotel)
You will find lots of hostel options in Playa del Carmen. As a result, it attracts backpackers and budget-conscious travellers. Boho Beach is located right on the beach, just outside Playacar and close to the ferry to Cozumel.
Plaza Marina, Bahía del Espíritu Santo, Centro, 77710 Playa del Carmen, Q.R., Mexico
Have you stayed in Playa Del Carmen? Let us know if you are thinking about it, or have been to one of these places. We'd love to hear from you!
Other blogs to check out in this region are Guide to Riviera Maya Mexico, Things to do in the Riviera Maya, Things to do in the Yucatán, Guide to Tulum, Where to stay in Tulum, Guide to Cancun, Where to stay in Cancun, Things to do in Cancun, and Best Hotels in Mexico