Puerto Vallarta is one of the oldest and most interesting beach resorts in Mexico. Firstly, it is renowned amongst the LGBT community as being the first gay-friendly destination for Americans. The historical centre and Zona Rosa (Old Vallarta) are overloaded with charm. They have little pebble-stone lanes, quaint little restaurants, and art cute shops. The delicious street food and the beautiful beaches are also part of it's appeal. 
Tourists come from all over the world to spend at least a week, most of the time two, enjoying the local vibes and wealth of activities that this region has to offer. When it comes to deciding where to stay, Puerto Vallarta is not short of options either. There are plenty of amazing places for any preference or budget. Cheap hostels, bed and breakfasts, condos, as well as luxury all-inclusive resorts and boutique hotels. 
In our Where to Stay in Puerto Vallarta guide, we will share our favourites to help you find the perfect accommodation for your stay. For inspiration on other places that you can visit from Puerto Vallarta, check out our Guide To Pacific Coast Mexico.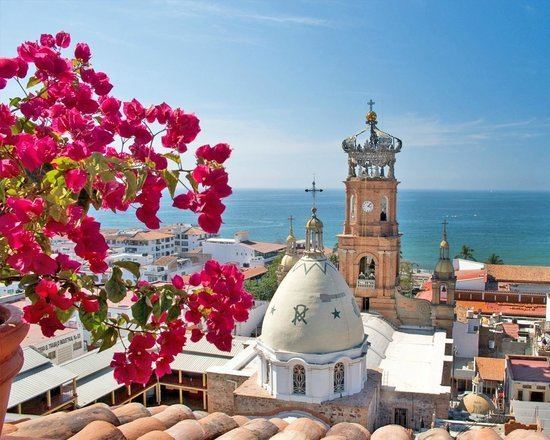 Luxury Hotels in Puerto Vallarta
Villa Premiere
Villa Premier is a spectacular and trendy property, situated right on the beach in the heart of Puerto Vallarta. The spacious rooms and main areas are beautifully decorated, with selected pieces of modern art brightening up the space. The restaurants offer a variety of international cuisines but it's also easy to venture out and explore the local restaurants. They are all within walking distance from the hotel. 
San Salvador 117, 5 de Diciembre, 48350 Puerto Vallarta, Jal., Mexico
Casa Kimberly 
The iconic Casa Kimberly is a luxury modern hotel located in the heart of the historical centre of Puerto Vallarta. It's most commonly known for being the love nest of Richard Burton and Elizabeth Taylor in the 60s, before being bought and turned into an elegant hotel and classy restaurant, The Iguana. 
The spacious suites are exquisite, and make you feel like you are in someone's home. They are attentively decorated in the most opulent way, with marbles, Swarovski crystals, and beautiful antiques from the owner's own collection. 
The views are stunning throughout the property, but if you are willing to splurge, go for the Elizabeth Taylor suite! It has a wrap-around terrace, its own pool and jacuzzi, and is completely secluded. If this isn't enough, it has breathtaking views of Banderas Bay and the Sierra Madre mountains.
Calle Zaragoza 445, Centro, 48300 Puerto Vallarta, Jal., Mexico
Casa Velas
This is one of the most popular adults only boutique hotels in Puerto Vallarta. Casa Vela feels like a home away from home, literally. It resembles typical Mexican haciendas with a colonial feel but also modern vibes. The beautiful rooms are decorated in the finest of Mexican styles, equipped with the most modern facilities and surrounded by an immaculate garden. 
The hotel also has a private beach club where you can admire the spectacular views of the Pacific Ocean. The fantastic cuisine as well as outstanding personal service that the wonderful staff provide is another delightful detail that entices guests to return. Among the other perks are 24 hour suite service, daily restocked in-suite minibar, Nespresso coffee maker, and last but not least a pillow menu!
Calle Pelícanos 311, Marina Vallarta, 48354 Puerto Vallarta, Jal., Mexico
Mid-Range Hotels in Puerto Vallarta
Hyatt Ziva
This beautiful family hotel is located a few miles south from the centre of Puerto Vallarta, on a spectacular stretch of beach. In fact, all of the rooms on the upper floors offer a breathtaking sea view of the ocean. Some of the ground floor suites enjoy a swim-up pool, something to keep in mind when you book. Guests only have good things to say about this hotel, especially on the exceptional service and world class food.
Carretera A Barra De Navidad Km. 3.5 Zona Hotelera Sur, Zona Hotelera, Sur, 48390 Puerto Vallarta, Jal., Mexico
Garlands Del Rio Boutique Hotel
If you don't mind being away from the beach, but you would rather stay in a place with character and charm, then you should choose this hotel. Garlands Del Rio is a lovely boutique hotel situated right on the Cuele River. It is walking distance from shops, restaurants, and the beach. 
 Aquiles Serdán 367, Zona Romántica, Emiliano Zapata, 48380 Puerto Vallarta, Jal., Mexico
Hotel Luna Liquida
This little gem is located right in the heart of the historical centre on the hill, where you can admire spectacular views of Banderas Bay. The beautiful rooms at Hotel Luna Liquida are finely decorated in true Mexican style, each one with a different theme and colour. They also come with a kitchenette, which is very convenient. Further, a small pool with lounge chairs on the terrace is the perfect spot to relax whilst watching the spectacular sunsets.
Iturbide 408, Centro, 48310 Puerto Vallarta, Jal., Mexico
Budget Hotels in Puerto Vallarta
Hotel Petit Mercedes 
This lovely tiny little property is located only two blocks from the famous Playa de Muertos. It's walking distance from the best restaurants in the Zona Rosa, and is a colourful and stylish, yet simple property. It has artsy wall paintings around the pool and bedrooms, and colourful cushions and bedspreads. This, combined with decorative objects creates a joyous and positive vibe throughout the property. In other words, it's definitely great value for money!
Amapas 175, Zona Romántica, Amapas, 48380 Puerto Vallarta, Jal., Mexico
Hotel Encino
Conveniently located opposite the local market by the Cuele River, it is also walking distance from the beachfront promenade. This simple hotel is the perfect choice for budget travellers. The rooms are very simple but clean and air-conditioned. The surrounding area offers many restaurants and coffee shops as well as night-time entertainment.
Calle Juárez 122, Centro, 48300 Puerto Vallarta, Jal., Mexico
Finally, have you stayed in Puerto Vallarta? Let us know if you are thinking about it, or have been to one of these places. Above all, we'd love to hear from you in the comments section below! Please check out our guide Top Things To Do In Puerta Vallarta, and Where to Eat in Puerto Vallarta. If you make it there, we would love to see your photos. Be sure to tag us #granluchito!
Check out our other blogs in the Pacific Coast region: Top Things To Do In Puerto Vallarta, Guide To Pacific Coast Mexico, Guide To Baja California, Things To Do In Baja California, Guide To Cabo San Lucas, Things To Do in Oaxaca