Along with its amazing weather, delicious food, breathtaking beaches and superbly friendly people, another top reason to visit Mexico is the abundance of epic hotels. From beach resorts on the Pacific Coast to urban retreats in San Miguel, you are guaranteed to find an amazing hotel to suit your needs and budget. Having said that, compiling this list of the best hotels in Mexico has been tricky. Thank you to Gran Luchito's amigos and suppliers all over Mexico who have given us their insider tips for the best hotels to stay in Mexico.
1. Casa Oaxaca
Firstly, situated in an amazing location in the heart of Oaxaca, the sister hotel of the amazing Casa Oaxaca restaurant is charming, understated and extremely comfortable. Quite simply, if you're headed to Oaxaca you have to stay here but book early as the hotel only has seven rooms!
Hotel Casa Oaxaca, Calle de Manuel García Vigil 407, RUTA INDEPENDENCIA, Centro, 68000 Oaxaca de Juárez, Oax., Mexico
+52 951 514 4173
2. Live Aqua
Live Aqua is a converted nunnery turned into San Miguels newest and chicest hotel. Having said that, don't let the fact that there are over 150 rooms put you off. There is ample outdoor space (2 pools), a couple of restaurants and a lovely terrace so even when full the hotel doesn't feel crowded.
Live Aqua Urban Resort, Calz. De La Presa 85, Zona Centro, 37700 San Miguel de Allende, Gto., Mexico
+52 415 150 2300
3. Casa Malca
Tulum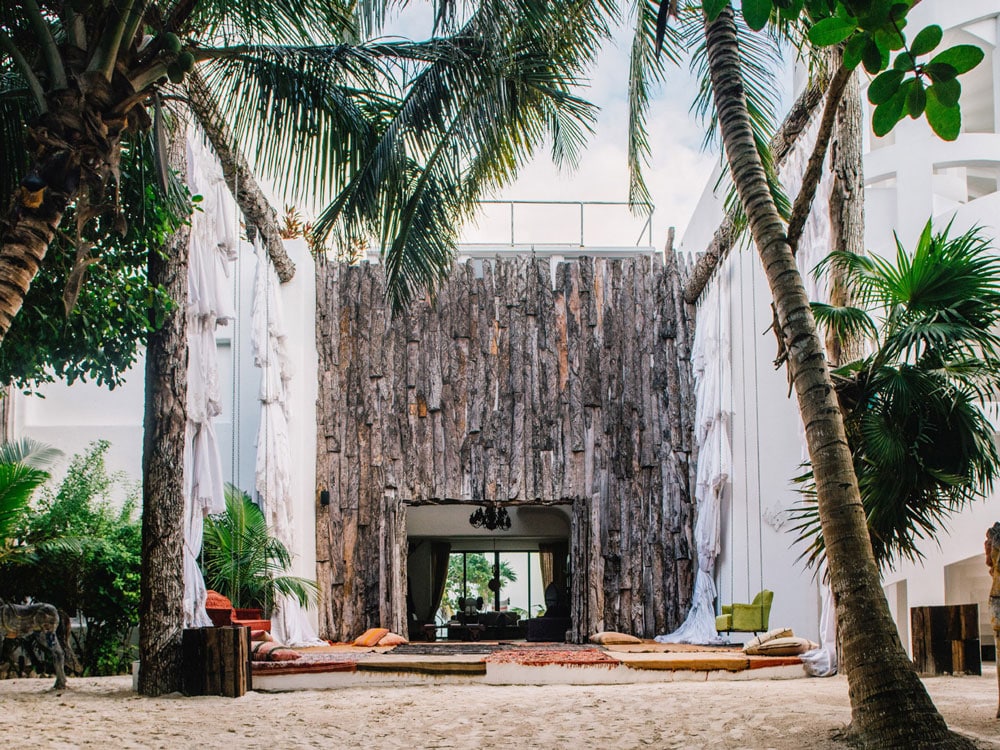 At the far (and quiet) end of Tulum beach, the Casa Malca is a worthy entrant in our list of the best hotels in Mexico. Rumoured to be the former hideout of Colombian Drug lord Pablo Escobar, the beachfront restaurant serves excellent Tacos and possibly the best margarita we've had in Mexico. Therefore it's a must-do!
Casa Malca, Carretera Fed, Av. Boca Paila km 9.5, 77780 Tulum, Q.R., Mexico
+52 998 502 0363
4. Condesa DF
Mexico City 
This is a charming boutique hotel in the heart of the Condesa district of Mexico City. Most importantly, the small but lovely rooms sit above a central courtyard and there is a fantastic roof terrace which serves Sushi and excellent cocktails. Likewise, sipping sundowners on the roof terrace is featured in our guide to three days in Mexico City.
Hotel Condesa DF, Av. Veracruz 102, Roma Nte., Cuauhtémoc, 06700 Ciudad de México, CDMX, Mexico
+52 55 5241 2600
5. St Regis
When it comes to location you don't get much better then the St Regis in Mexico City. To clarify, its situated on one of the main thoroughfares through Mexico City, Reforma the hotel has a fantastic view of the Angel Of Independence Statue. Venturing south from the hotel you have, within easy walking distance, the districts of Roma and Codesa with everything they have to offer.
St Regis Mexico City, Av. Paseo de la Reforma 439, Cuauhtémoc, 06500 Ciudad de México, CDMX, Mexico
+52 55 5228 1818
6. Casa Blanca
San Miguel
A stone throw from the central Jardin Allendea garden, this newly opened luxury hotel feels like a Riad plucked from Morrocco. Above all, each of the small hotels 10 rooms are decorated to a fantastic quality and there is a roof terrace with fantastic views of the Parroquia de Miguel Arcángel. As a result, we had to feature this one on our list of best hotels in Mexico.
Hotel Casa Blanca 7, Juárez 7, Zona Centro, 37700 San Miguel de Allende, Gto., Mexico
+52 415 688 1438
7. Casa Sandra
Situated on one of the most stunning beaches on the Yucatan, Casa Sandra is a small and adult-only hotel. The 18 rooms are situated in bungalows just a stone's throw from the sea and pool. Further, the fantastic food is cooked by Cuban chef Roberto Solis and if you ask him nicely he might even cook you a Reuben Sandwich.
Ser Casasandra Holbox Mexico, Calle Igualdad, 77310 Holbox, Q.R., Mexico
+52 998 120 7061
8. Casa Adela
Guanajuato
A twenty-minute drive outside of San Miguel, Casa Adela is simple yet luxurious and well deserves its place in our list of the best hotels in Mexico. Moreover, its seven rooms can be booked individually or the whole villa can block-booked accommodating up to 14 people. In addition to this, there's a fantastic pool, spa and horse riding on offer the kitchen serves amazing food including an epic Tortilla Soup.
Casa Adela, 66.5 KM, San Miguel de Allende, 37800 Gto., Mexico
+1 585-200-5394
9. Azul Talavera Hotel
Recently under new management, the former Rosewood is the place to stay if you are visiting Puebla. The hotel is just 10 minutes from the Zocalo and also boasts amazing city centre views from its rooftop terrace and pool. Finally, the American breakfast is delicious but for those of you who are a little more adventurous, we recommend you try a more authentic Mexican breakfast dish such as Chilaquiles.
Azul Talavera Hotel, Calle 10 Nte. 1402, Barrio del Alto, 72000 Puebla, Pue., Mexico
+52 222 122 2300
To sum up, if you are looking for resort hotels please check our list of the best resort hotels in Mexico.