Packed with culture and great food, Mexico is a great holiday destination for families.  In this blog we share our top picks to help you plan an unforgettable family friendly holiday in Mexico.
All-inclusive resorts, kids clubs, and more…

 
Mexico offers not only spectacular beaches, food and culture but also amazing resorts, many all-inclusive, packed full of activities and amenities as well as the exceptional service that Mexicans provide. With so many choices there's stiff competition to deliver the best experience, and it can be very difficult to choose where to stay.
1. Grand Velas – Los Cabos

 
Grand Velas resorts are considered to be amongst the top luxury brands in Mexico. Their Los Cabos resort is one of the region's newest and most impressive and did we mention all-inclusive?!
They offer modern and finely decorated suites with breath-taking views of the Pacific Ocean and luxury amenities. They also have top notch dining options, soothing holistic spa treatments and impeccable service. We love the range of activities they offer that go above and beyond including art, culture and nature tours.
But why we most love the Grand Velas is that they offer an outstanding Kids' Club. The club is for children aged 4 to 12 years old and is open from 9:00 a.m. to 11:00 p.m. Grown-ups can enjoy some alone time and be reassured the kids are under the supervision of trained staff. There's creative crafting, board games, bingo, Wii, Xbox and stories narrated by the staff.
Teens also have their own space with a modern and stylish bar with free non-alcoholic drinks and places to chill out and socialise. They can play ping pong, karaoke, gaming pods, and there's a supervised night club open until midnight.
All these activities are free, but a baby-sitting service is also available at an extra fee.
The Grand Vela Riviera Maya, its stunning sister property, offers the same service for kids and teens.
Grand Velas Los Cabos, México 1 Km 17, Tourist Corridor, Corredor Turístico, 23405 Cabo San Lucas, B.C.S., Mexico
+52 624 104 9800
2. Seadust Family Resort – Cancun 
This family friendly resort, located in the Cancun Hotel Zone, was formerly the Great Parnassus Family Resort. It reopened in 2017 after a major renovation and under the new name, but it still offers an amazing array of activities for families.
They even have a Spa with a full menu of services just for kids!
Also, the little ones can enjoy a climbing wall, zip line, mini golf, the water park "Treasure Island", a nursery, a kids club, and a baby club.
This beachfront resort has a total of 505 suites, all of them very spacious and completely renovated in a simple and laid-back style to guarantee relaxation and comfort.
A total of 11 restaurants and 2 snack bars offer a wide range of flavours for every taste and need. WIFI is free and available throughout the resort.
Seadust Cancun Family Resort, Blvd. Kukulcan, Zona Hotelera, 77500 Cancún, Q.R., Mexico
+52 998 881 0088
3. Fiesta Americana Condesa – Cancun

Located on a spectacular stretch of beach in Cancun Zona Hotelera, this resort is close to perfection when it comes to an all-inclusive family getaway.
The hotel is a celebration of Mexican culture from its colourful yet stylish décor to the great food and impressive entertainment. And for those who wish to explore, the kind staff will be happy to organise daily trips to visit the surrounding attractions.
An array of activities is available for kids and teenagers to keep them well looked after all day long and give parents the freedom to enjoy the resort stress free.
Fiesta Americana Condesa Cancun, Blvd. Kukulcan Lote 3, Zona Hotelera, 77500 Cancún, Q.R., Mexico
+52 998 881 4200
4. Moon Palace – Cancun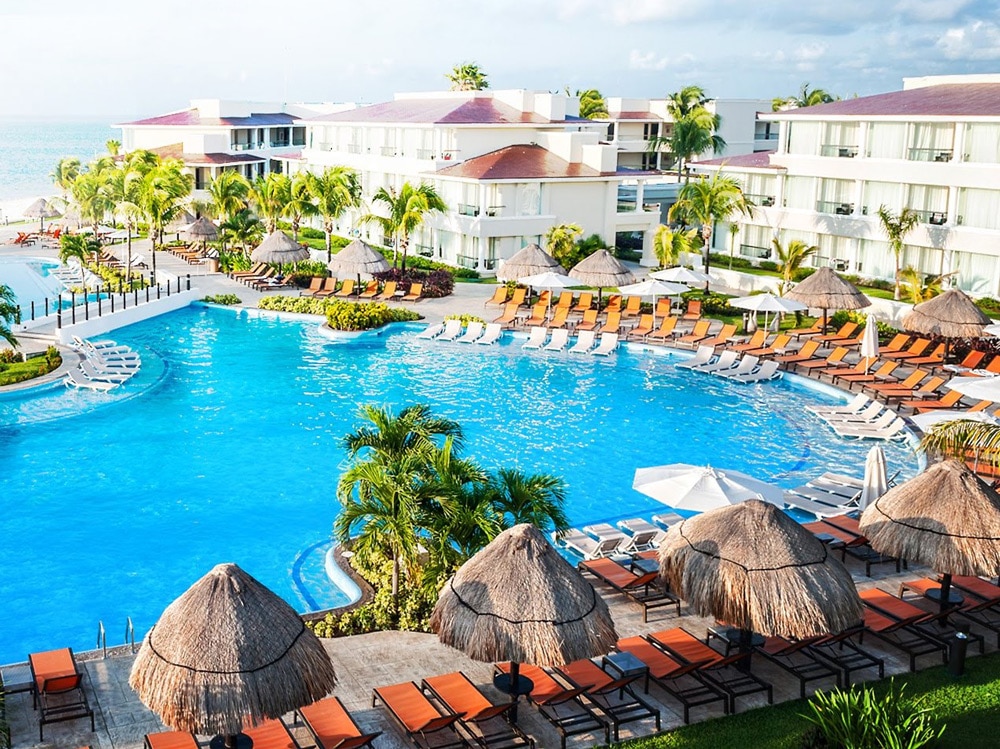 Next on our list and located just a few kilometres from the Cancun Airport, this spectacular complex is made up of three connected properties. It's no surprise it's one of our top picks for where to stay in Cancun. The all-inclusive family resort boasts 10 types of suites to choose from. Our favourite is the family deluxe which consists of 2 connecting rooms with beautiful garden views.
It's also a kiddie paradise with 2 creative play rooms full of the most entertaining games and activities. Teenagers are well taken care of as well.
Hotel Moon Palace Cancun, Carretera Cancun-Chetumal Km. 36.5, Riviera Maya, 77500 Cancún, Q.R., Mexico.
+1 800 986 5632
5. The Royal Haciendas – Playa del Carmen
Located on the Riviera Maya just before Playa del Carmen, the Royal Haciendas has 251 villas. They are in a horse-shoe shaped building surrounded by a grassy courtyard and pools. With exactly the same amenities at each end, guests can enjoy the resort without ever having to walk too far.
The Royal Haciendas is not short of activities for every age and need. From kids' club to yoga, diving and many other water sport activities and tours, it has everything.
There also is a good variety of room types to choose from. We recommend the family rooms which are perfect for larger groups of three to six and have a dining area as well.
6. Dreams Tulum Resort & Spa – Tulum
Located a few kilometres from the popular Mayan Archaeological site of Tulum is Dreams one of our favourite picks in Tulum. This spectacular resort  offers a plethora of activities for every age. The little kids can enjoy the many kids' club activities. For the older ones (including adults) there's the ocean trampoline which is definitely our pick for the main attraction! Other notable amenities are the swimming pools, great dining, entertainment for the whole family and tours.  There is also a section for adult only for those who are looking for a more relaxed vacation.
Dreams Tulum Resort & Spa, Carretera Chetumal-Puerto Juárez Km. 236.7, No. 1, Col. Tankah, 77761 Tulum, Q.R., Mexico
+52 984 871 3333
7. Las Brisas – Ixtapa
Finally on our list of family holidays in Mexico is Las Brisas. Situated on the Pacific Coast of Mexico in the town of Ixtapa, Las Brisas is a cosy hotel. Immersed in lush vegetation on a tranquil private bay, Las Brisas offers simple accommodation decorated in a delicate Mexican style and overlooking the spectacular blue ocean.
In addition the hotel offers a series of activities, related to the surrounding nature including hikes, walks, and bike tours. Furthermore guests can enjoy spa service, golf course and sometimes even sea turtle release (which is amazing!) A kids' club takes care of the little ones from 4 to 12 years old with different activities like crafts, pool time and sport, in a safe environment.
Las Brisas, Playa, Vista Hermosa s/n, 40880 Ixtapa Zihuatanejo, Gro., Mexico
+52 755 553 2121
We hope we've inspired you to plan a family-friendly holiday to Mexico. If you make it there, we would love to see your pics. Don't forget to tag us #granluchito.