Traditionally in Mexico, dinner is a lighter meal than lunch. It's eaten around 8pm and consists of something simple such as lunch leftovers piled into a soft flour tortilla, or a light taco. Therefore this Mexican Dinner Party blog is aimed at Fiesta nights! Alternatively any night you fancy making lots of Mexican food for your friends and loved ones. Here we will give you a little help in deciding how to plan it, some inspiration on recipe ideas, as well as some tried and tested dinner party tips. Enjoy!
The Vibe | Casual Party | Formal Party | Dinner Party Tips | Tableware | Music
The Vibe
First decide on the vibe that your Mexican dinner party is going to have. It will depend on the number of people that are coming. To make things simple, we would suggest two different choices. For numbers over 8 people (currently not allowed, but one can dream!) we would suggest an informal and very casual DIY style Mexican buffet feel, with appetisers that your loved ones can pick at, and a big Taco or Fajita spread for the main course. There is nothing to stop you from doing this for smaller numbers too! However, the second option would be a sit-down affair, and more formal. This is better suited to a group of 8 or less, and could involve a proper starter for each guest, and then a main Mexican showstopper of a dish!
Casual Mexican Dinner Party
If you've decided on an informal and very casual Mexican dinner party, check this out for a perfect meal plan:
Starter
Do an appetiser spread. This would be displayed on a table in your living room, kitchen, or outside terrace/garden (wherever everyone is having pre-dinner drinks). The idea being that everyone would pick at it whilst enjoying drinks. Completely laid back!
It would involve any of the following:
If you need further inspiration check out our Snack and Starter recipes!
Main Course
The easiest thing to do for the main course would be to arrange a big Taco or Fajita spread on the kitchen table, so that everyone can help themselves! They can each do this sitting down, and easily help themselves to more without having to keep getting up. Of course if your table isn't big enough, you can have a separate DIY station very close by.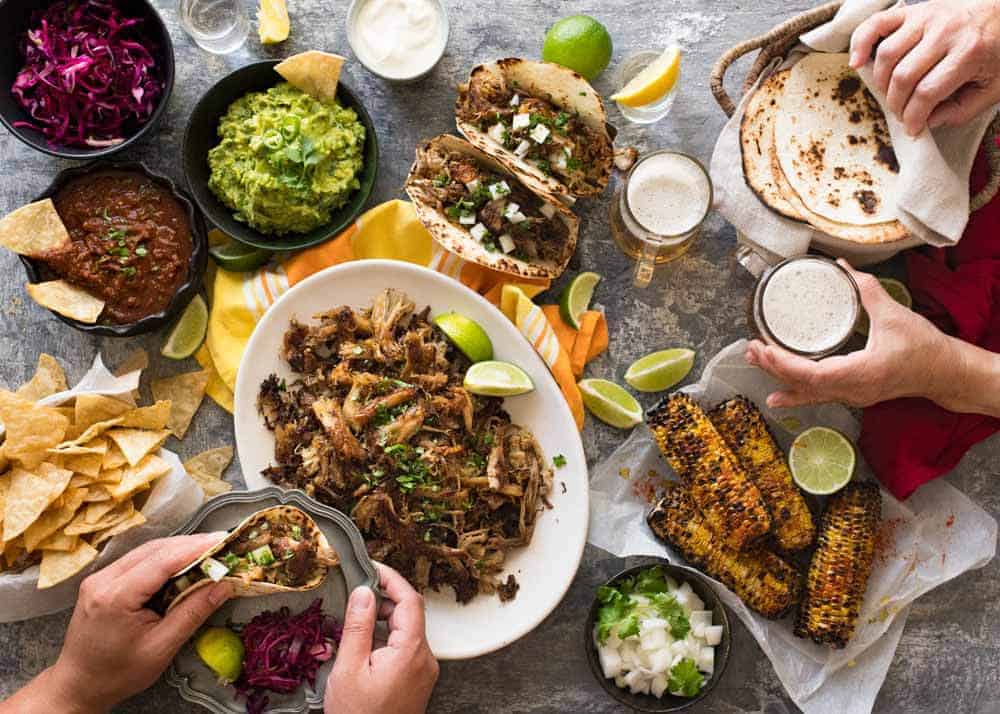 Alternatively (if it's tacos), though a bit more work for you, would be to pre-arrange the tacos on big platters and allow your guests to help themselves.
Taco recipes that you could do:
Why not do a couple of different fillings! Check out our blog on How To Make Tacos and our full Taco Recipes list here. When thinking about Mexican side dishes to go with your main taco fillings, we have a whole blog dedicated to this. Check out What To Serve With Tacos, for some inspired choices. Anything from Mexican Rice, to Mexican Corn to Refried Beans would go very well with tacos. 
If you would rather do Fajitas for your main course, then you can learn How To Make Fajitas here, along with What To Serve With Fajitas, and our Best Fajita Recipes.
TOP TIP: Make sure you keep your flour tortillas and meats/beans nice and toasty by covering with tin foil until everyone is ready to tuck in! Chop and prep all of your toppings in small bowls, with a spoon in each one.
Pudding
A fun and easy pudding idea, albeit Spanish (not Mexican), is to make a big homemade batch of Churros! Take a look here for a sublime Churros recipe.
Formal (Sit Down) Mexican Dinner Party
No Mexican dinner party can start without Margaritas, chips and salsa. We therefore recommend kicking off your formal dinner party by offering each guest an icy Chipotle Margarita when they arrive.
They are amazing when paired with some Chipotle Salsa, Tomatillo Salsa and Lightly Salted Tortilla Chips.
Starter
For your formal Mexican dinner party starter, you could serve a Mexican Bean Soup. This would be a very authentic Mexican dish, and great for a cold and rainy day, as a kind of Mexican-inspired gazpacho.
Another light, and warming soup idea would be our Chipotle Butternut Squash Soup. It combines the amazing flavours of roasted butternut squash and our Chipotle Paste. After all of those chips and salsa, and before the main course, it might be a good idea to have a light starter!
Main Course
The main course needs to be a real showstopper of a dish! Something that is bound to impress your guests and have them asking for seconds. For this, we would recommend making Enchiladas. Aside from being an authentic Mexican dish, it's great because most of the work is done in advance, so there is no last minute cooking or tidying to do. All you do is slip the dish you prepared earlier into the oven and hey presto! A bubbling, oozing, gorgeous smelling work of art emerges from the oven before your guests' eyes. You'll have them gasping at the sight of it!
Our Enchilada Lasagne With Beef Short Ribs would be a real crowd pleaser.
Another beauty is our Slow Cooked Chicken Enchiladas.
A completely different idea? How about making our Ultimate Chilli Con Carne. Serve it with rice typically, or in a bowl with toppings such as grated cheese, diced onions, sour cream, tortilla chips or cornbread for dunking. For a quicker, less extravagant version check out our Easy Chilli Con Carne.
Perhaps you're thinking of a Mexican fish recipe instead. How about a Mexican Fish Stew? This one pot idea is brimming with health, and is full of fresh fish, shellfish and chorizo, all mixed up with our Chipotle Paste. Other tasty ingredients and herbs round it off, such as fennel, thyme, red onion, potatoes and sweetcorn. Once everything is added, leave it bubbling away before serving with crusty bread.
Side Dishes
In terms of side dish to go with your chosen main course, check out our blog dedicated to this subject, Mexican Side Dishes. For the Enchiladas, you could go for a delicious, crispy and green Authentic Cactus Salad. For the Chilli Con Carne recipe, some cornbread, guacamole, and Mexican Rice. Lastly, the Mexican Fish Stew, how about some  Baked Mexican Elotes, Mexican Mash or simply some crusty bread.
Pudding
Thinking of a more formal Mexican dinner party pudding, why not go for something like Thomasina Miers' Orange and Tequila Crème Caramel.
Dinner Party Tips
Figure out which parts of your various dishes can be prepared the day before the party, and then the morning of the party. This will seriously help your workload on the day!
Heating up already cooked meat: remove it from the fridge and bring it to room temperature (approx. 30 minutes), then transfer to a shallow pan. It'll then go directly from the oven to the table.
Heating up already cooked beans: reheat over a medium heat on the hob. Rice can be reheated in the microwave.
Don't forget, guests can easily be a mix of vegetarian & meat eaters, with allergies or food intolerances. You need to make sure you have asked ahead, and that there will be something for everyone.
Finally, relax! The great thing about soup and Enchiladas is that it can be made in advance. A taco spread can be mainly all laid out in advance too. Avoid anything that's going to keep you in the kitchen too long during the party and fluster you out!
Tableware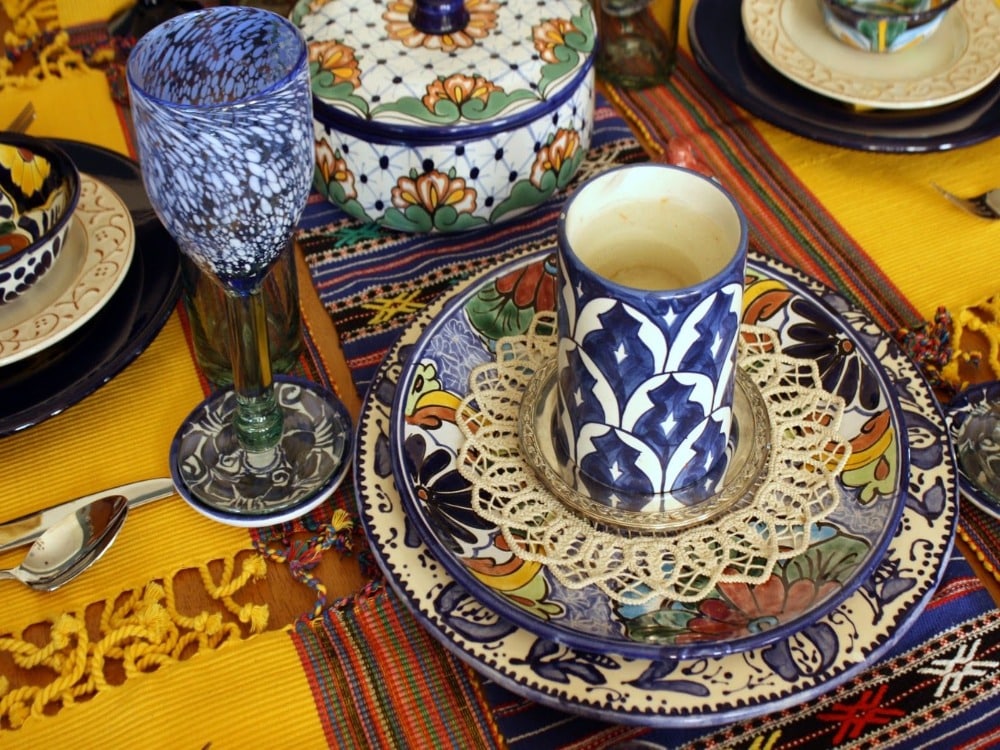 Once all of the food has been chosen, you can then start decorating! Albeit much nearer the time. Of course you can go all out with your tableware, as the Mexican's like to do. Here is a beautiful image that might help inspire you to find anything and everything you can in your house to add bold colour to the table and help to present your dishes in style! If you own any Talavera pottery, ramekins, colourful glassware and napkins, vintage or handmade figurines, candles and cactus', and anything that will give your table that look and feel of authentic Mexico.
Music
Finally, we couldn't finish without giving you a few tunes to get the party started! Make a little playlist on Spotify, call it Taco Tuesday or Nacho Playlist, and download these:
Paco De Lucia, Entre Dos Aguas
The Champs, Tequila Song
James Taylor, Mexico
Gypsy Kings, Bamboleo
Los Rancheros, El Che y Los Rolling Stones
No Llores Mas Morena, Pedro Suarez-Vertiz
La Flaca, Jarabe de Palo
Willy Ferrer, Dejame
Ruben Blades, Plastico
Mana, Oye Mi Amor
That's it for our Mexican Dinner Party blog! We hope you've enjoyed reading this one, and it's inspired you to throw that dinner party that you've been meaning to for a while. Having said that, numbers will be small for the time being! If you do have one, be sure to tag us #granluchito
For similar blogs to this one, please visit: Best Mexican Cookbook, A Beginner's Guide To Mexican Food, What Is Authentic Mexican Food, Guide To Vegetarian and Vegan Mexican Food, Chipotle Paste Recipes, Vegan Mexican Recipes, Healthy Mexican Recipes, Chorizo Recipes, Mexican Beef Recipes, Mexican Pork Recipes, Mexican Chicken Recipes, Batch Cooking Recipes, Slow Cooker Mexican Recipes, Easy Mexican Recipes To Try At Home, Mexican Chicken Recipes, Mexican Beef Recipes, Mexican Pork Recipes, Mild Mexican Recipes For Fussy Eaters, Family Meal Ideas That Will Have Your Kids Asking For More