In our Guide to Vegetarian and Vegan Mexican food, we explore how to successfully eat your way through Mexico if you are on a plant-based diet. Mexico is known for its meat-based cuisine but the times they are a-changing! With all the fresh veg, exotic fruits and wonderful seasonings and spices you can find some truly delicious foods to try.
Advice for Vegetarians and Vegans in Mexico
Your definition of vegetarian and/or vegan and the cook's may not be the same! In some of the quainter, more rural destinations in Mexico, you may find that something is "vegetarian" if it doesn't have large chunks of red meat in it!

Rather than saying you are vegetarian "Soy vegetarians/a", we recommend that you be as direct and specific as possible and let the restaurant know that you cannot eat meat, chicken, fish or seafood – "no puedo comer carne, pollo, pescado ni mariscos".

Rather than asking if a restaurant has vegetarian menu items, we recommend that you order the form that you would like to eat whether it's a taco, enchilada, quesadilla, etc and then ask to substitute the meat for a vegetarian filling.

Some of our favourite veggie ingredients are rajas (grilled poblano pepper strips), nopales (cactus), seta or champiñones (mushrooms), frijoles ( refried beans), queso (cheese), flor de calabaza (squash blossom), papa (potato), and huitlacoche (a corn fungus that grows on organic corn, similar to mushrooms).
Beware of lard "manteca de cerdo"! It lurks in refried beans and can be found brushed on various different things such as tamales. (Gran Luchito Refried Beans are Vegan-friendly)

Soups will often be made with animal based broth such as chicken stock so we recommend you look for vegetable or tomato based soups – ask for "caldo de vegetales" or "caldo de jitomate"
Top Vegetarian and Vegan Friendly Dishes
1. Chile Relleno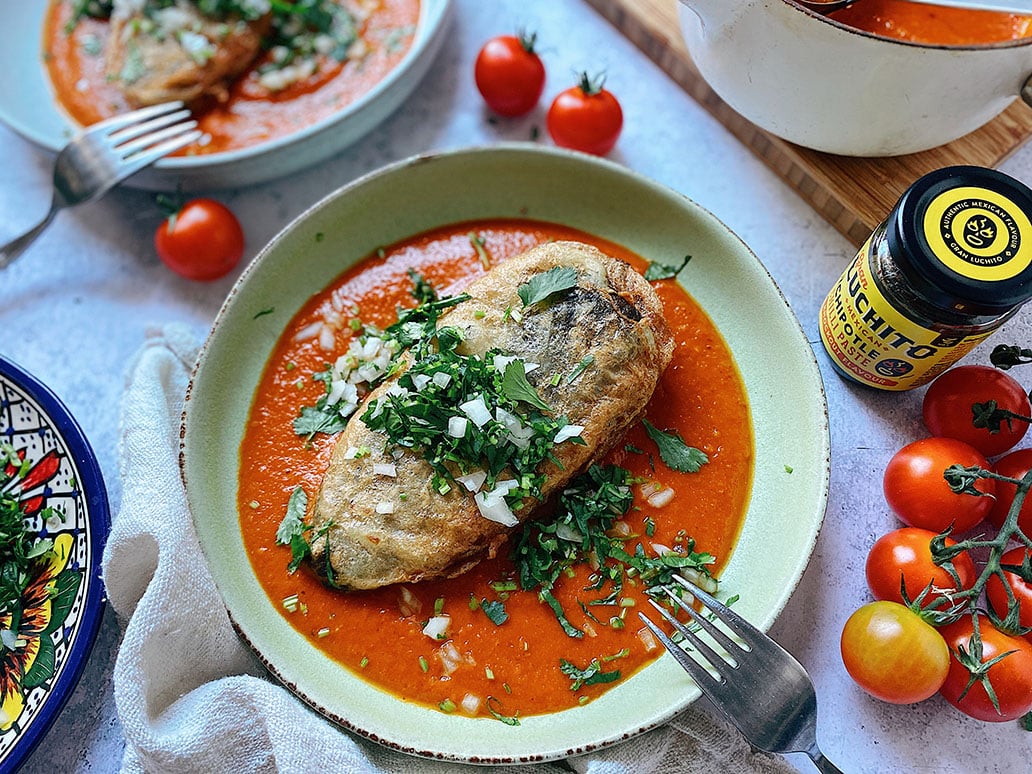 This dish consists of a fresh poblano pepper that is stuffed and fried and originates from the city of Puebla. You will typically find Chile Rellenos stuffed with meat or cheese but it's really up to the chef's creativity. They are totally delicious and a real change from the usual vegetarian fare.
2. Quesadillas
Next on our list of vegetarian Mexican food is the Quesadilla. Made with a flour tortilla folded over and containing melted cheese, you will often find Quesadillas with different kinds of vegetables. We love them, especially with cactus, mushrooms or squash blossoms. You must check out our recipe for a vegetarian quesadilla.
Guacamole is a safe and delicious choice if you are vegan! Made with smashed avocado, lemon juice, salt, sometimes onion, tomatoes and coriander, depending on the recipe. We have a quick and easy Guacamole recipe if you cannot wait for Mexico!
4. Vegetarian Fajitas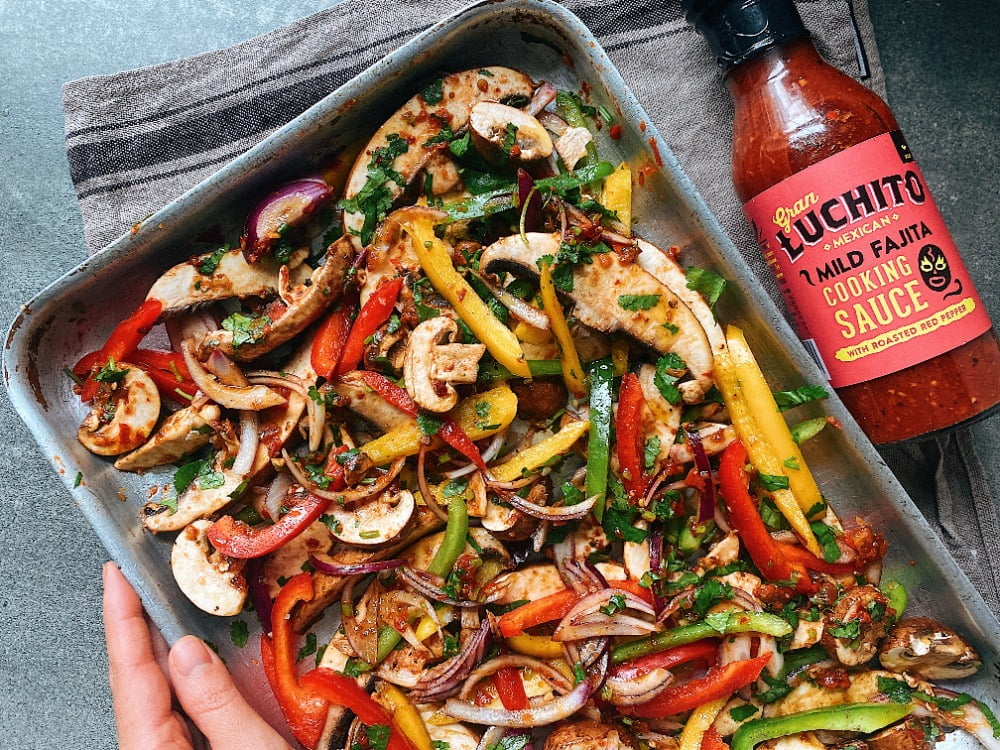 Mushroom Fajitas
Sometimes on menus, you can find vegetarian fajitas. As it is easy to skip the cheese and other dairy toppings such as crema, veggie fajitas also work well for a vegan diet. We recommend asking whether the veggies are sautéed in butter or oil. Served with tortillas on the side and the veggies sizzling on their cooking pan. A simple and yet delicious dish.
5. Vegetarian or Vegan Burger
Burgers may not be very traditional but they are very common in the Mexican diet. It's also one of the easiest dishes to transform into a vegan delicacy. The most elaborate one substitutes the meat with a quinoa or lentils burger, others just use a huge Portobello mushroom seasoned with spices and herbs and then sautéed or baked. They also come with salad or mashed potatoes on the side. Make sure you ask whether the potatoes have butter.
Tacos are the most "Mexican" food that you can possibly have. Original tacos have finely chopped meat (carnitas). Needless to say, people considered the first truly vegan restaurants, such as Los Loosers, an insult to the Mexican tradition! Now more and more taco places offer vegetarian and even vegan versions, with soy, seitan (wheat protein) or mushrooms as a substitute for meat. We think they are naturally delicious and as enjoyable as the original ones.
Well, for the vegetarian, this is an easy choice. You can often find cheese burritos which won't contain any meat. However, you can still ask for the vegan version in some restaurants. Rather than melted cheese, you will find a velvety cashew sauce or scrambled tofu sofritas. Either of them will be a great match with the other veggies, all stuffed in the wrapped tortilla. Be sure to check out our recipe for vegan burritos.
Mexican breakfasts are absolutely epic and one of our favourite dishes, Chilaquiles, is no exception! A rich, spicy tomato sauce is poured over crispy tortilla chips and then topped with cheese and fried eggs. We highly recommend it.
We hope you've enjoyed reading our Guide to Vegetarian and Vegan Mexican food. Here at Gran Luchito, we plan to be busy in the kitchen cooking up some new vegetarian and vegan recipes to share! In the meantime, be sure to check out our other Vegetarian and Vegan Recipes. We would love to see what you get up to in the kitchen or if you make it to Mexico for a veggie food excursion. Don't forget to tag us #granluchito.