It's easy to think that every Mexican dish is just some variation of meat and tortilla. With these two ingredients playing a key role, you may be asking yourself how there can possibly be so many different dishes? Don't know the difference between Fajitas and Enchiladas, or a Taco from a Burrito? Then our Beginner's Guide to Mexican Food is a must-read!
Tacos | Burritos | Fajitas | Quesadillas | Tostadas | Enchiladas | Nachos
What Is Mexico's Most Popular Dish?
When we think about Mexican food the first word that comes to mind is usually Tacos. You might even think that this is the only food that Mexicans eat. This is certainly the favoured meal, often the cheapest, and being handheld also the most practical to eat. Tacos have been around for centuries in Mexican cuisine and stood the test of time.
What Makes Up A Taco?
It's a fact that when Mexicans travel abroad, aside from their spicy habanero sauce, they miss their tacos! But which one and how are they made? You will be surprised to know that there are more than 60 kinds of tacos, and the best part is that while we are counting them, there's most likely a new kind being born.  
There are two main differences between the multiple variations of tacos. The first is about the tortilla itself – corn vs. flour. Corn tortillas are often found in the southern part of Mexico. In the northern part of Mexico, flour tortillas reign supreme. Here at Gran Luchito we are big fans of the tortillas you find in street food. We think they provide just the right ratio of tortilla to the filling and they inspired our Street Taco wraps.
The second main difference between the variations of tacos is the filling. Tacos generally have a single filling and there are quite a wide variety of fillings to choose from. With the increasing number of plant-based eaters, there has been a proliferation of even vegan tacos, much to the dismay of the more conservative meat-eating Mexicans. 
The filling is then typically topped with a variety of taco toppings including finely cut onion and cilantro, sliced Green Serranos, Sliced Cactus and of course the unmissable habanero hot sauce. 
As taco fanatics, it's no surprise we have a number of taco recipes, so be sure to check them out! To make things even easier, you can order from our webshop a Gran Luchito Soft Taco Wraps Bundle Box, or the even greater super duper Taco Tuesday Bundle Box! These contain all of our products that you will need to seriously impress your loved ones and have the ultimate Taco Night! 
Different Types Of Tacos
In our Guide to Tacos we delve deeper into the different popular tacos by region but here are a few of the highlights:
Al Pastor: the king of the tacos, made with pork meat or veal normally cooked over coal.
Gobernador: made with prawns and cheese.
Carnitas: these are most commonly found on the street stalls, and are the cheapest version made with different cuts of pork and cooked with lard and various spices.
Barbacoa: (barbeque tacos) made with different types of meat cooked on the BBQ either with lemon juice or steamed. Different types of meat can be used, from goat, to chicken, rabbit or fish.
How Does A Burrito Differ From A Taco?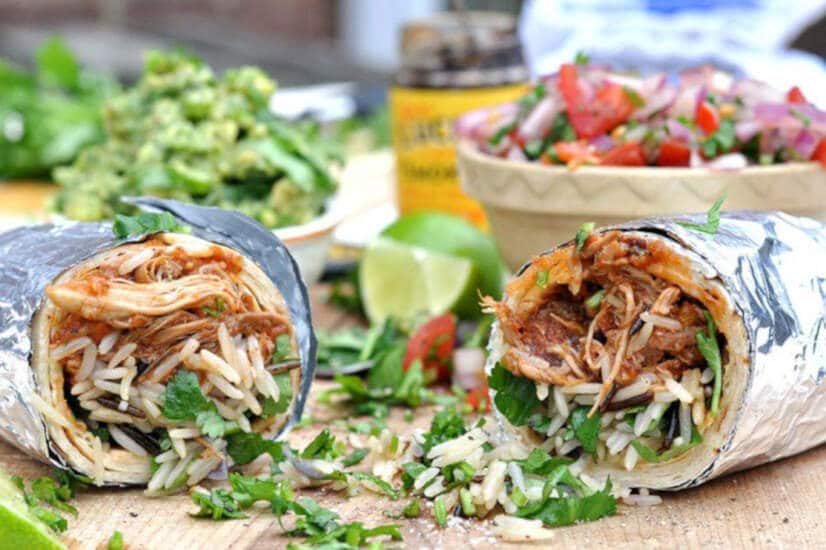 Next, on our Beginner's Guide to Mexican Food we have the difference between tacos and burritos. The key difference here is quantity and size. Tacos are small and open, and you might need 3 or 4 to satisfy your appetite. A burrito, on the other hand, has a much larger tortilla and a variety of fillings. Certainly, a single burrito would make up a meal. Burritos are made with flour tortillas as corn would break with that size of tortilla. The ends of the soft flour tortilla are folded in and then it's rolled closed. Inside, you will often find meat along with rice and beans for a hefty all in one. Check out our burrito recipes for inspiration! Our recipe for a Chicken Burrito has tender slow-cooked chicken with chipotle paste for a delicious smoky flavour.  
How Are Fajitas Different From Tacos?
The term Fajitas refers to the filling. They originally contained sizzling strips of steak, but now you will find fajitas with just about every variation of protein. They always contain peppers and onions though. If you do want a meat free version, check out our Veggie Fajitas recipe. The fun with fajitas is that you make your own, so can build them just how you want them! Be sure to check out our Fajita recipes.
As we mentioned before, Tacos can either be hard or soft shelled, and the veggies inside are cold (as opposed to the hot onions and peppers in fajitas). Typical veggies inside tacos are lettuce, raw onions, pico de gallo, etc.
How Are Quesadillas Different From Tacos And Burritos?
When it comes to Quesadillas, it's all about the melted cheese! A tortilla is filled with cheese along with other fillings such as carne asada steak, chicken or veggies and then toasted. In Mexico, Queso Oaxaca is used which is a stringy cheese. As Queso Oaxaca can be quite hard to find in the UK, we recommend using a ball of mozzarella in your quesadillas. Be sure to check out our quesadilla recipes.
What's The Difference Between Tacos And Tostadas?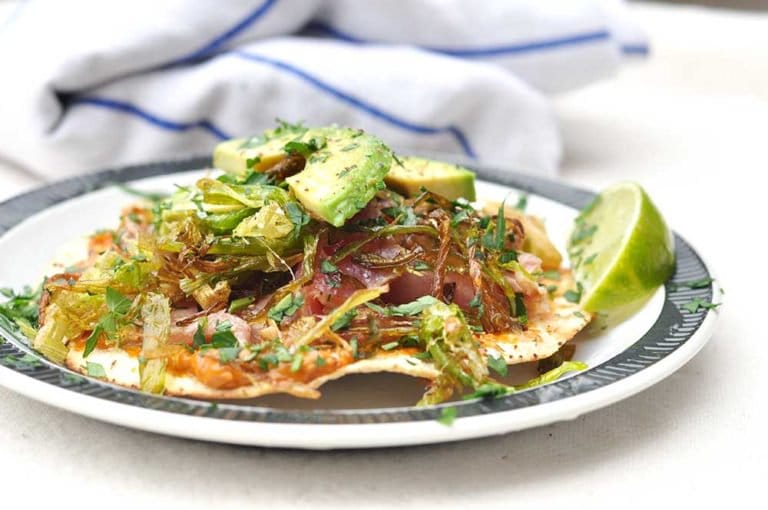 Tostadas have a crunchy, fried flat tortilla as a base. You will typically find tostadas spread with refried beans, cheese, shredded lettuce and then topped with any variety of meat, veggies and salsa. Another popular and quite different variation is the Tuna Tostada made with delicious tuna ceviche, fried leeks and a good dollop of our Chipotle Mayo.
What Are Enchiladas?



Enchiladas are smothered in sauce and melted cheese and meant to be eaten with a knife and fork. Flour tortillas are filled with meat or cheese and rolled up, with a sauce which can be green, red or white poured over the top, and sprinkled with shredded cheese that is then melted in the oven. Our Enchilada Cooking Sauce with tomatillo and jalapeño makes it easy to make delicious Chicken Enchiladas Verdes. If you have more time though, our Slow Cooked Chicken Enchiladas with a red sauce is a major crowd-pleaser. 
What Are Nachos?
Last on our list of the Beginner's Guide to Mexican Food is Nachos. Nachos use lightly salted tortilla chips which are tortillas that have been cut into triangles and quickly fried. They are then served with melted cheese and a variety of toppings. A great dish to make when entertaining, be sure to check out our Nacho recipes. For the ultimate Nacho Night experience, order from our webshop a Gran Luchito Nacho Meal Box! 
We hope you've enjoyed reading our Beginner's Guide to Mexican Food and now confidently know the difference between an Enchilada and Fajitas! We hope we've also inspired you to try making some Mexican food at home and would love to see what you get up to in the kitchen. Be sure to tag us #granluchito and happy cooking from all of us!
For more blogs on cooking please visit: What Is Authentic Mexican Food?, Guide To Vegetarian and Vegan Mexican Food, Best Mexican Cookbook, Chipotle Paste Recipes, Vegan Mexican Recipes, Healthy Mexican Recipes, Chorizo Recipes, Mexican Beef Recipes, Mexican Pork Recipes, Mexican Chicken Recipes, Batch Cooking Recipes, Slow Cooker Mexican Recipes, Easy Mexican Recipes To Try At Home, Mexican Chicken Recipes, Mexican Beef Recipes, Mexican Pork Recipes, Mild Mexican Recipes For Fussy Eaters, Family Meal Ideas That Will Have Your Kids Asking For More