Estimated reading time: 16 minutes
Mexican food is so loved because it is packed full of flavour, fresh ingredients and a fusion of its history. But if you've never tried cooking it at home, then it can be a little daunting.
---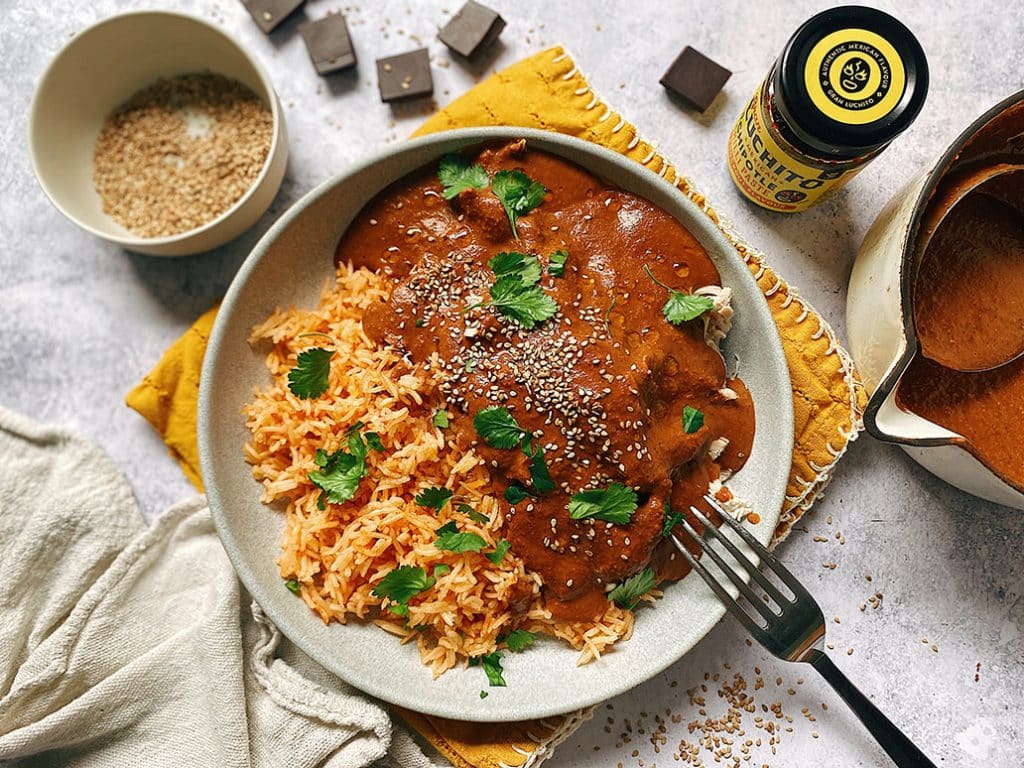 ---
Ingredients Used In Mexican Food
---
Beans
No Guide to Mexican Food would be complete without discussing Beans the staple of the Mexican diet! Most common in Mexico are black beans which are used to make Frijoles or pinto beans, used for refried beans. Beans would also be a common ingredient in Mexican stews
Read More:
---
Making this delicious restaurant-style rice at home is much easier to make than you might think! The secret is in the base you make from roasted tomato, onion and garlic with a generous dollop of Chipotle Paste.
---
---
Tortilla Wraps
You can't have Mexican without Tortilla wraps. They are the carrier and the holder of all the delicious things we talk about below.
---
---
Popular Mexican Dishes
Tacos
When we think about authentic Mexican food the first word that comes to mind is usually tacos. Tortillas are the everyday bread of Mexican food and just about everything gets wrapped up to make a taco. Tacos are eaten for breakfast, lunch, dinner and snacks. Tacos have been around for centuries in Mexican cuisine and stood the test of time.
What Makes Up A Taco?
There are two main differences between the multiple variations of tacos. The first is about the tortilla itself – corn vs. flour. Corn tortillas are often found in the southern part of Mexico. In the northern part of Mexico, flour tortillas reign supreme.
The filling is then typically topped with a variety of taco toppings including finely cut onion and cilantro, a quick slaw or pickle, Green Serranos, Sliced Cactus and/or salsa.
---
Different Types Of Tacos
In our Guide to Tacos we delve deeper into the different popular tacos by region but here are a few of the highlights:
Read More About Tacos
---
Burritos
Next, on our guide to Authentic Mexican Food, we have burritos. The main difference between tacos and burritos is the size of the tortilla used and how many you eat! Tacos are small and open, and you might need 3 or 4 to satisfy your appetite. A burrito, on the other hand, has a much larger tortilla and a variety of fillings. Certainly, a single burrito would make up a meal.
Burritos are made with flour tortillas as corn would break with that size of a tortilla. The ends of the soft flour tortilla are folded in and then it's rolled closed. Inside, you will often find meat along with rice and beans for a hefty all in one.
Our recipe for a Chicken Burrito has tender slow-cooked chicken with Chipotle Paste for a delicious smoky flavour.
Read More About Burritos
---
Fajitas
The term Fajitas refers to the filling. They originally contained sizzling strips of steak, but now you will find fajitas with just about every variation of protein. They always contain peppers and onions though.
If you do want a meat-free version, check out our Veggie Fajitas recipe. The fun with fajitas is that you make your own, so can build them just how you want them!
Read More About Fajitas
---
Quesadillas
Next up in this guide to Mexican cuisine are Quesadillas! When it comes to Quesadillas, it's all about the melted cheese. For a quesadilla, you fill a tortilla with cheese and toast in a hot pan until the cheese melts. You can add other fillings such as carne asada steak, chicken or veggies.
In Mexico, Queso Oaxaca is used which is a stringy cheese. As Queso Oaxaca can be quite hard to find, we recommend using a good melting cheese such as gruyere, gouda, or cheddar.
Read More About Quesadillas:
---
Enchiladas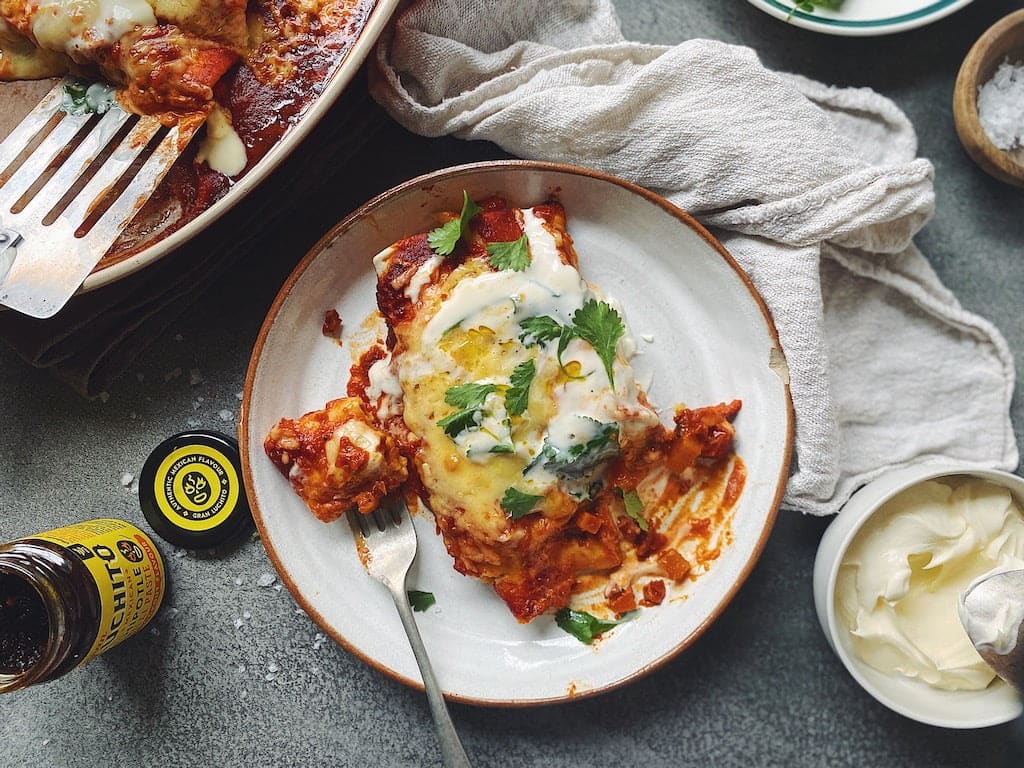 Chorizo Enchiladas With Winter Veg
Enchiladas are smothered in sauce and melted cheese and meant to be eaten with a knife and fork. Flour tortillas are filled with meat or cheese and rolled up, with a sauce which can be green, red or white poured over the top, and sprinkled with shredded cheese that is then melted in the oven.
Our Enchilada Cooking Sauce with tomatillo and jalapeño makes it easy to make delicious Easy Chicken Enchiladas. If you have more time though, our Slow Cooked Chicken Enchiladas with a red sauce is a major crowd-pleaser.
Read More About Enchiladas
---
Nachos
Next on our list of the Beginner's Guide to Mexican Food is Nachos. Nachos use lightly salted tortilla chips which are tortillas that have been cut into triangles and quickly fried. Served with melted cheese and a variety of toppings. A great dish to make when entertaining, as a snack or starter.
In Mexico a common dish for breakfast is chilaquiles. These are a form of breakfast nachos. Normally made with Salsa Verde and topped with a fried egg they are defiantly worth a try!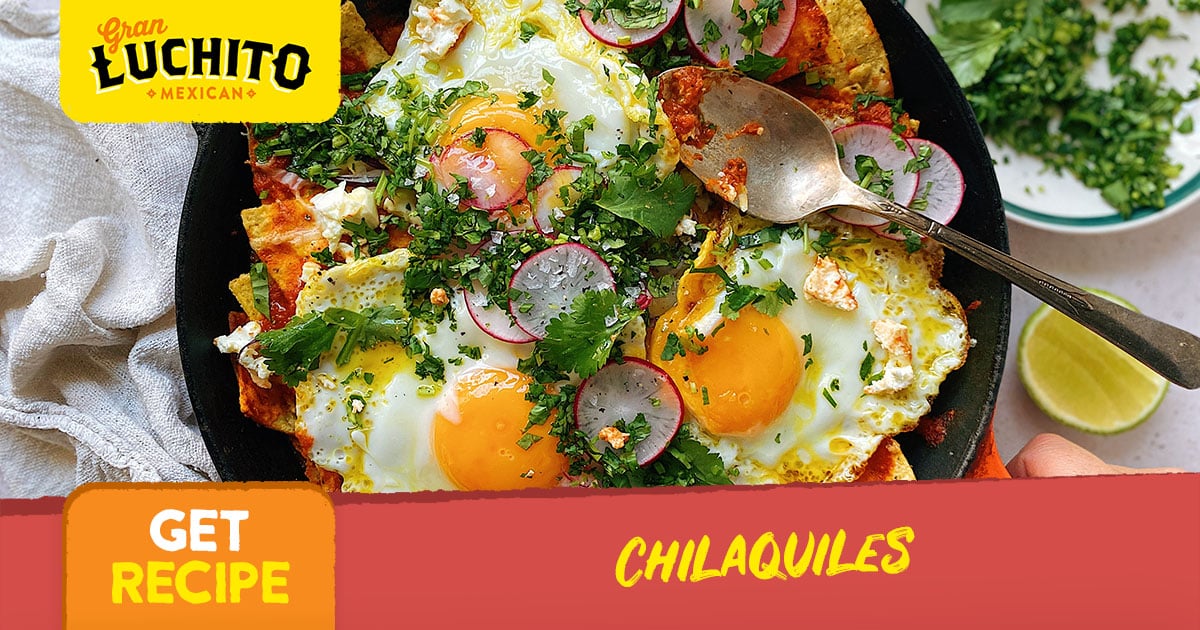 Read More About Nachos
---
Tostadas
Tostadas have a crunchy, fried flat tortilla as a base. You will typically find tostadas spread with refried beans, cheese, shredded lettuce and then topped with any variety of meat, veggies and salsa. Another popular and quite different variation is the Tuna Tostada made with delicious tuna ceviche, fried leeks and a good dollop of our Chipotle Mayo.
Read More:
---
Huevos Rancheros
---
We hope you enjoyed reading our Beginner's Guide to Mexican Food and now confidently know the difference between an Enchilada and Fajitas! We hope we inspired you to try making some Mexican food at home and would love to see what you get up to in the kitchen. Be sure to tag us #granluchito and happy cooking from all of us!