Estimated reading time: 10 minutes
Whether it's Fajita Friday, a midweek TV dinner or a summer BBQ vibe, Fajita recipes are always guaranteed to go down a treat. But what to serve with fajitas? Well, here is our round-up of some authentic Mexican dishes to serve with fajitas. Of course, any leftovers can be kept in the fridge for the next day!
---
---
In Mexico corn off the cob is called Esquites. but we like to call it Mexican Street Corn. It's a delicious salad that goes really well with Fajitas.
Best Served With: Steak Fajitas
---
Mexican Rice with chipotle is a winner with most of our dishes and goes really well as a fajita side dish. An authentic Mexican classic. Our recipe uses our Chipotle Paste to inject some smoky heat into the dish. Rice to serve with fajitas sorted!
Best Served With: Chicken Fajitas With Chipotle
---
More ideas of what to serve with fajitas? well, you can't go wrong with Homemade creamy Guacamole! The guac goes well with every fajita filling you could possibly imagine. The secret to our delicious homemade guacamole recipe is adding a couple of spoons of our Tomatillo Salsa to it.
Best Served With: Mushroom Fajitas
Sign Up To Download Our Free Guide To Fajitas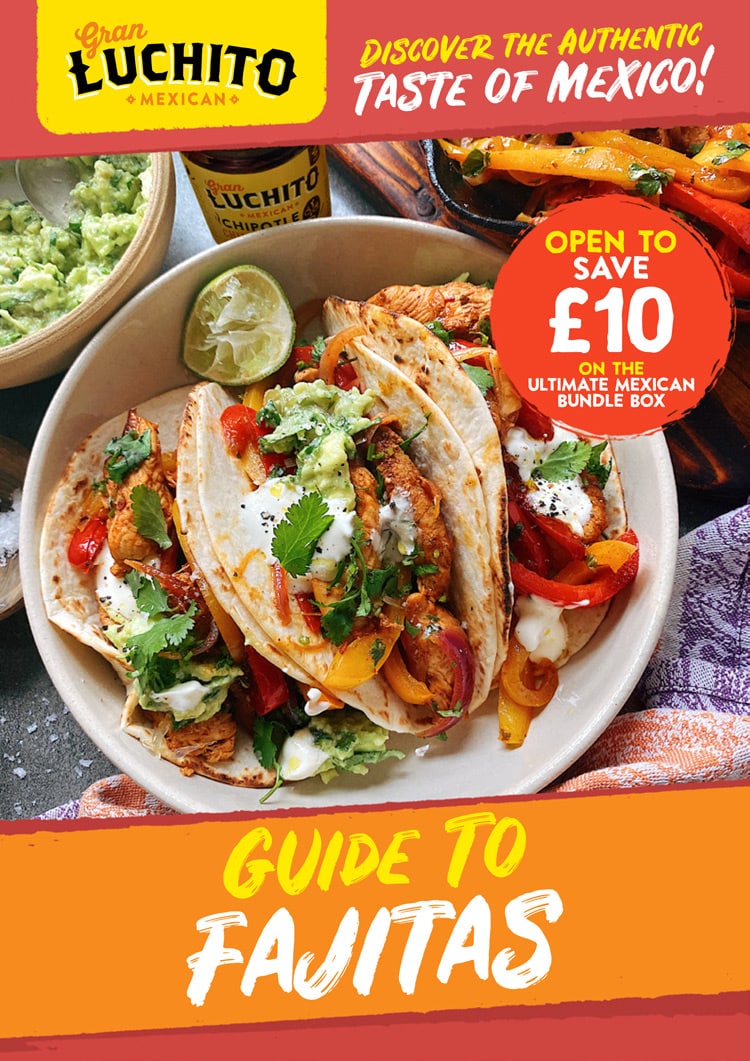 Free Fajita Cook Book
Save £10 On Our Ultimate Mexican Bundle Box (UK Only)
Monthly Newsletters with our latest recipes and special offers
---
In this homemade queso fundido recipe, we used roasted cauliflower flavoured with Gran Luchito Chipotle Honey glaze and a bit of Smoky Chipotle Fajita and Taco Mix. It's another great idea of what to put in fajitas either as a side or as a starter.
Best Served With: Fajita Platter
---
A side portion of Frijoles wouldn't go amiss. In fact, Frijoles go amazingly well with almost all Mexican meals so we had to add them to our what to serve with fajitas blog! They would certainly work stuffed inside the fajitas as well.
Best Served With: Halloumi Fajitas
---
Our beautiful and fresh Mexican Salad is a perfect fajita side dish. Something light and green with a Chipotle Paste dressing. Fill up that plate amigos!
Best Served With: Vegetarian Fajitas
---
We could advise anyone from anywhere to pick up a packet of these Lightly Salted Tortilla Chips and they would go with absolutely everything! Crunchy and incredibly moreish corn chips, they are perfect as an authentic Mexican fajita side dish.
Best Served With: Chicken Fajitas with Chipotle
---
Nacho average chicken fajitas side dish! This classic Tex-Mex dish has so many different possibilities. Here we went for Chilli beef, guacamole, sour cream and Chipotle Salsa before finishing them off with grated cheese, coriander, spring onions and lime. Yum!
Best Served With: Spicy Chicken Fajitas
---
Mexican black beans go well with fajitas. Our lovely Cantina Beans (authentic black beans with their juices) are waiting for you to warm up and dollop inside them. You can garnish them with some finely chopped onion, tomatoes, chillies, coriander, some scoops of avocado and dollops of creme fraiche!
Best Served With: Steak Fajitas
---
Hopefully, now we have solved the problem of what to serve with your fajita recipes!
For more on fajitas please visit:
We've also got loads more Mexican side dishes that would work perfectly with fajitas. Please keep us posted on your fajita fun in the comments section below!