There are many side dishes that would work perfectly with this dish. Whether it's a Friday night dinner, a TV dinner or a BBQ vibe, here we give you a round up of what to serve with fajitas, with a link to each recipe. Any leftovers can be kept in the fridge for the next day!
What To Serve With Fajitas?
Perhaps you are doing a barbecue and outside fajita spread in the garden with some scrummy barbecued chicken. This Mexican Elotes recipe would be a perfect side for that. Hot, melty and delicious!
Mexican Chipotle Rice is a winner with most of our dishes, and goes really well as a fajita side dish. An authentic Mexican classic. Our recipe uses our Chipotle Paste to inject heat into the dish.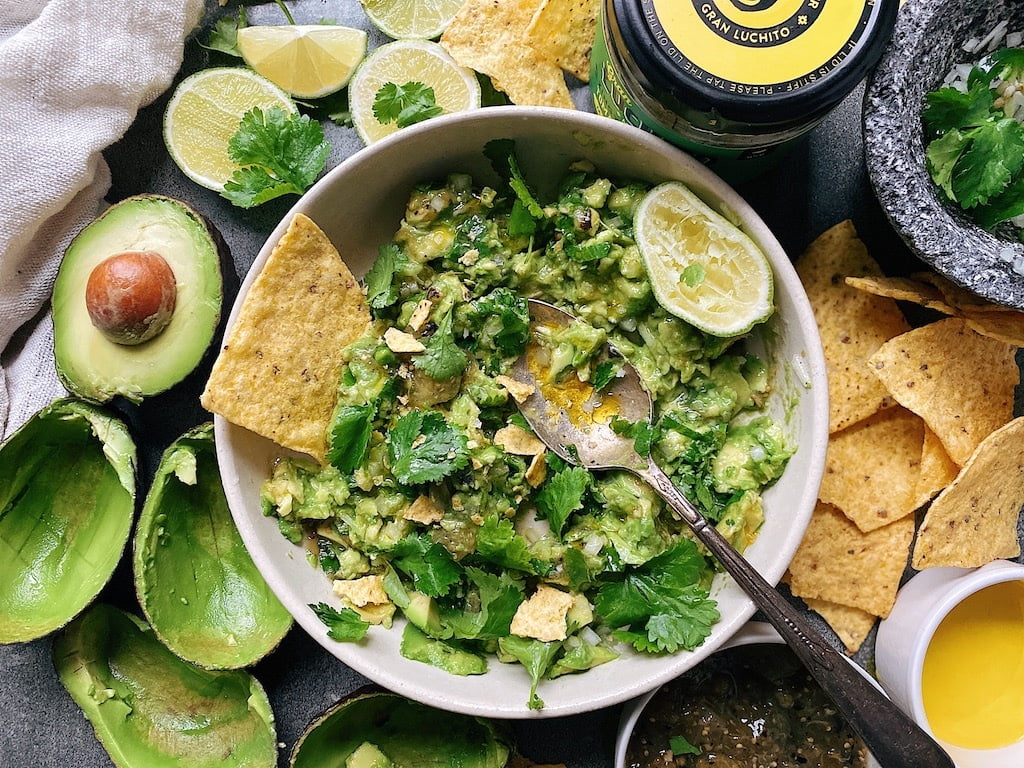 What to serve with fajitas? Creamy Guacamole is a must! It goes well with every filling you could choose. The secret to our delicious recipe is adding a couple of spoons of our Tomatillo Salsa to it.
Our Mexican Corn recipe is another great accompaniment to fajitas. Also another good one for that barbeque! Colourful, bright and fun, but more importantly discover our Chipotle Mayo!
A side portion of our Refried Beans wouldn't go amiss. They go well with most of our main dishes so we had to add them to our What To Serve With Fajitas blog! They would certainly work stuffed inside the fajitas as well.
These crunchy little bites of joy are perfect sides or pre-fajita snacks. Each one of our Lightly Salted Tortilla Chips is loaded with cheese and smoky chicken, and then topped with Chipotle Salsa. Just don't forget all about your fajitas!
Our beautiful and fresh Courgette Salad is a perfect accompaniment to fajitas. Something light and green with a Chipotle Paste dressing. Fill up that plate!
We could advise anyone from anywhere to pick up a packet of these Lightly Salted Tortilla Chips and they would go with absolutely everything! Crunchy and incredibly moreish corn chips, they are perfect as an authentic Mexican side to your fajitas.
Easy Nachos, easily decided! A classic Tex-Mex side or starter to fajitas. Firstly, our guacamole, sour cream and Chipotle Salsa is dolloped on top of Lightly Salted Tortilla Chips. They are then finished off with grated cheese, coriander, spring onions and lime.
A lovely rich little starter for before you serve your fajitas. Just serve with some of our Lightly Salted Tortilla Chips. It's hot and cheesy, need we say more!
Hopefully now we have solved the problem of what to serve with fajitas. For more on fajitas please visit: What Are Fajitas?, How To Make Fajitas, and Favourite Fajita Recipes