Taco time! Here at Gran Luchito we're fanatical about tacos. Travelling in Mexico and experiencing first-hand the unique tastes and variety of tacos available really ignited our passion. Check out our Taco Recipes!
---
Top of our best taco recipes is this healthy chicken tacos recipe. It's perfect because it's an everyday quick and easy taco recipe, that is packed full of goodness, a healthy taco! Besides, who doesn't love easy grilled chicken with a bit of pico de gallo and some fresh homemade guacamole in their tacos. A super quick way of marinating your chicken is to use our Smoky Chipotle Fajita and Taco Mix as we've done here.
---
These Pork in Salsa Verde Tacos are inspired by the Mexican stews known as "Guisados" or "Guisos". There isn't just one best taco recipe for guisados! Our guisado is made using pork shoulder cooked with fried onions, potatoes and seasoned with our Garlic & Guajillo Fajita and Taco Mix. They are then covered and simmered in our delicious Enchilada Cooking Sauce. Finally they are finished with freshly chopped coriander, and served with Soft Taco Wraps.
---
Cauliflower has become a hero vegetable in the last few years. It's used to make pizza crust, fishless ceviche and even a carbless version of rice! We think cauliflower is a pretty tasty vegetable and it makes a delicious filling in our Roasted Cauliflower Tacos recipe. For this taco recipe we rub the cauliflower with a full-flavoured paste made from white tahini, our bestselling Chipotle Paste, Garlic and Guajillo Fajita & Taco Mix, garlic cloves and lemon juice.
---
This beautiful Breakfast Tacos With Carne Asada recipe is more of a brunch taco idea. When it comes to our favourite brunch recipes one of the first things that comes to mind is steak and eggs! There is something so satisfying about a nice grilled steak and fried egg on the side. With a bit of our epic Smoky Chipotle Fajita & Taco Mix, this taco recipe gets the Luchito touch!
---
There is nothing better than making good use of leftover ingredients in our fridge and cupboard and repurposing them into a tasty recipe for the family. With the help of a few Gran Luchito ingredients, we can transform leftover chicken into a whole new meal in the form of these delicious Easy Chicken & Chorizo Tacos. That's why having Chipotle Paste in your cupboard becomes really handy, as it's the best way to spruce up and add flavour to any meal.
---
Fish tacos are one of our favourite taco recipes. What's not to love about beautiful fresh fish marinated in Mexican taco seasoning and served over delicious warm tortillas, fresh salsa and a touch of lime? Just perfect! For this stunning taco recipe, the haddock fillets are coated with a good amount of Garlic and Guajillo Fajita & Taco Mix, olive oil, lemon (zest and juice), salt and pepper. The garnish and best accompaniment for this fish taco is a fresh and spicy salad. This is made out of crunchy veg and seasoned with our amazingly delicious Chipotle Mayo.
---
These Pulled Pork Tacos are a really simple way to use up leftover pulled pork using our deliciously smoky Chipotle Paste. However, if you have decided to make the pulled pork from scratch, we recommend making a big batch the day before, perhaps freeze some, and then enjoy it throughout the week in tacos! This delicious taco recipe also comes with a quick red cabbage pickle.
---
These are very popular tacos in Mexico. If you love your steak, then this is the taco recipe for you! Carne asada is a dish of grilled and sliced steak. It's usually marinated and then put on the bbq to give it that charred and smoky flavour. Serve your steak sliced and wrapped in Soft Taco Wraps, topped with fresh homemade guacamole and our Chipotle Salsa, with lime wedges and some delicious grilled onions on the side. In short, how does that sound?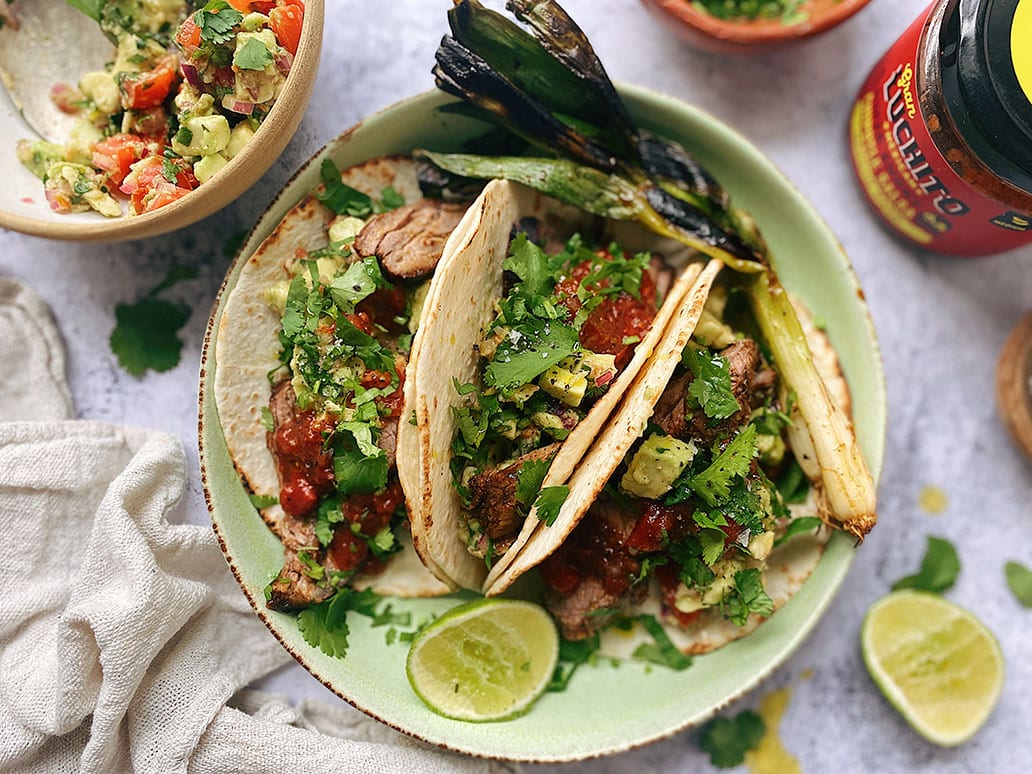 ---
When we say fried Mexican chicken tacos, you say hell yeah! This delicious chicken taco recipe is perfect for outdoor summer eating with some of your bestie amigos. Add some cold beers and we reckon you're in Mexican food heaven! 
---
These delicious and moreish Easy Beef Tacos are a great recipe to try if it is your first trip into taco land. You will need some Soft Taco Wraps to fill the ingredients into, and some of our Jalapeño & Pineapple as a topping. Other toppings that go very well with this dish are our Chipotle Salsa, some homemade guacamole, and a dollop of sour cream! 
---
This recipe makes use of our Hard Shell Tacos, and is so incredibly moreish, it might be your new favourite Taco Tuesday dish! For our Crunchy Beef Tacos we have cooked the short ribs slow and low in stock, wine and our special Chipotle Paste which gives the beef short ribs a delicious and smoky depth of flavour. Serve the tacos with our Smoky Chipotle Refried Beans, Mexican Rice, Mexican Corn, and Mexican Coleslaw for a feast!
---
Finally, which of our Taco Recipes are you most drawn to? These are the best taco recipes, in our opinion. Let us know how it goes! We always love to hear from you. If you are after some speciality taco recipes from different regions in Mexico, take a look at our Regional Guide To Tacos In Mexico. For more on tacos in general, please visit: How To Make Tacos and What To Serve With Tacos