Quesadillas, a staple of Mexican food, are always filled with cheese and warmed over a hot pan until the cheese is melted. Not only are Quesadillas quick and easy to make at home, they are also a great way to reinvent leftovers. Here's our selection of easy to make Quesadilla Recipes with chicken, pork, veggie, and beef versions as well as our signature Luchito style, there's sure to be a Quesadilla recipe for every taste! Perfect for a snack, lunch or light dinner. Not too sure what quesadillas are, or how to make them? Check out our blog on How To Make Quesadillas, which tells you everything you need to know.
---
This Quesadilla Recipe Luchito Style has to be our favourite! If you were looking for a simple recipe to nail the perfect quesadilla, this is it! They are super simple and contain chorizo, red onion and grated cheese. Our Chipotle Honey is used to crisp up the chorizo in the pan, and everything is filled up into our Street Taco wraps. Finally, our Tomatillo Salsa is dolloped on top for a zingy finish.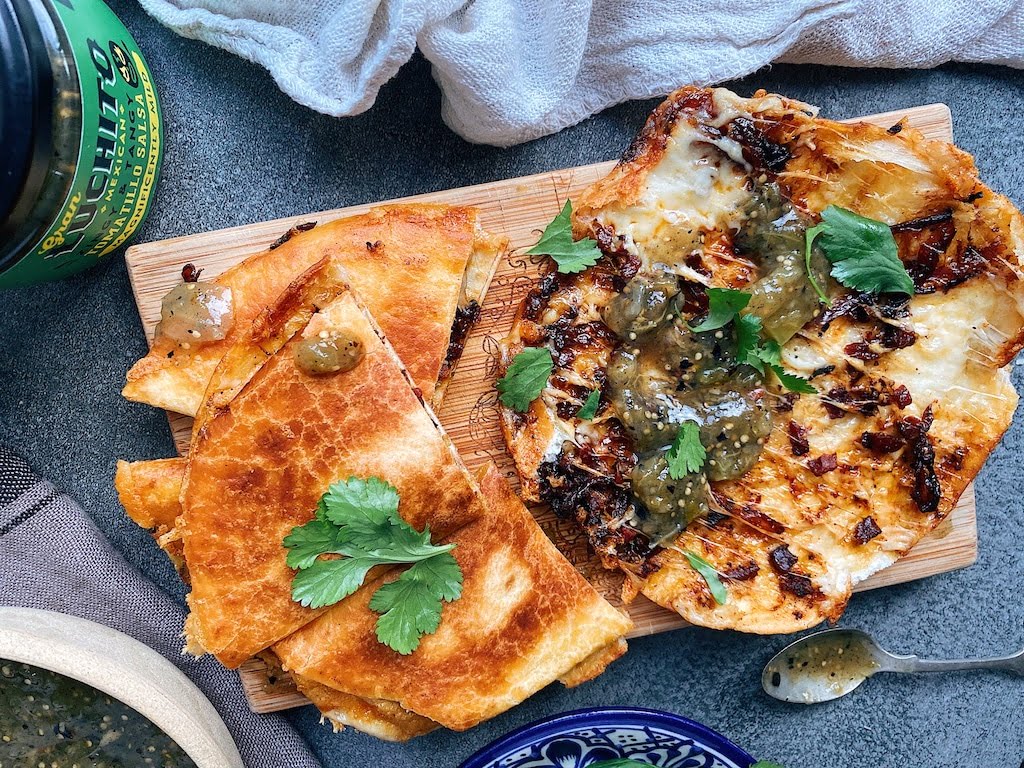 ---
Our Brussel Sprout and Chorizo Quesadilla is so delicious it can even transform the biggest sprout hater! No wonder quesadillas are so popular these days. Besides being delicious, they are easy to prepare and satisfying for adults as well as little ones. They are very versatile as you can have a bit of fun and add a variety of fillings. They are suitable for vegetarians as well as meat eaters too. For this recipe we have seasoned chorizo, onions and sliced brussel sprouts with our Smoky Chipotle Fajita and Taco Mix and Tomatillo Salsa. They're then finished off with a bit of butter and freshly chopped coriander.
---
Next up for our Quesadilla Recipes is this easy Chicken Quesadilla recipe. This is a great recipe to do early in the week, after that Sunday roast. It incorporates the breast and dark meat from half a cooked roast chicken. We have made our own fresh salsa, but if you wanted it even easier you could use Gran Luchito Chipotle Salsa.
---
A classic must-try Beef Quesadilla dish! For these we have used the economical chuck steak as well as brisket, marinated in Chipotle Paste. Cumin seeds, ale or stout, spring onions, cheddar cheese, soy sauce, and black pepper have also been added. It's then slow cooked for a couple of hours until so tender that it falls apart.
---
Vegetarian Quesadilla's are the ultimate meat-free snack, starter or light meal. Here we have used corn, yellow peppers, white onion, Serrano Green Chillies and our black Cantina Beans. Fresh coriander and grated cheddar cheese round them off perfectly! Serve with guacamole and sour cream.
---
This is such a delicious Quesadilla Recipe, using leftover pulled pork. Crispy Burrito Wraps are stuffed full of slow cooker pulled pork and caramelised red onion. Toasted corn kernels and oodles of melted stringy cheese are then served with the fresh flavours of our perfect guacamole.
---
Our Quesadilla with Cactus recipe is a super easy and authentic Mexican recipe. Certainly a humble recipe, made with just our Sliced Cactus, Tomatillo Salsa, grated cheese and fresh coriander. Those ingredients are all then fried up in our soft Burrito Wraps. They're similar to ones you'd find on the Mexican street food scene!
---
Anyone for a Fajita Quesadilla? How delicious do these look? A nice variation on classic fajitas, with scrummy melted cheese and toasted wraps! In short, we've used rib-eye steak marinated in Chipotle Paste, along with classic fajita ingredients – peppers, onions, cheese. After that, they are topped off with our Jalapeño & Pineapple, taking them to the next level.
---
Next on the list, these Mushroom Quesadillas are a really tasty meat-free option. Mushrooms, Cantina Beans, red onions, spinach, mozzarella and Tomatillo Salsa are toasted up in our soft flour Soft Taco Wraps. Such an easy dish to whip together, yet utterly satisfying and totally moreish. The ingredients go so well together, you'll just keep coming back for more!
---
In conclusion, there's some pretty amazing options when it comes to toasty, melty Quesadillas! Which of our Quesadilla Recipes are you most drawn to and let us know how it goes in the kitchen! Tag us #granluchito
Moreover, check out our other food and cooking blogs:
A Beginner's Guide to Mexican Food
What To Serve With Quesadillas?