Feast your eyes on this mouthwatering collection of our favourite Mexican summer recipes! Summer is all about warm long evenings and being able to, for the most part, enjoy al fresco meals with your loved ones. These will inspire you to try new summer recipes for kids, easy summer dinner recipes for a family in general, but also to keep that BBQ going! From the ultimate summer burger, how to marinade your chicken, what to fill those wraps with, and some light salad and fish options. We've got it covered!
---
Pico De Gallo is the quintessential Mexican summer recipe. Whether you're putting it on top of Tacos or simply dipping in Tortilla Chips, Pico de Gallo is a must! 
---
Fish tacos are one of our favourite taco recipes. What's not to love about beautiful fresh fish marinated in Mexican spices and served over delicious warm tortillas, fresh salsa and a touch of lime? Just perfect! For this stunning recipe, the haddock fillets are coated with a good amount of Garlic and Guajillo Fajita & Taco Mix, olive oil, lemon (zest and juice), salt and pepper. The garnish and best accompaniment for this fish taco is a fresh and spicy salad. This is made out of crunchy veg and seasoned with our amazingly delicious Chipotle Mayo.
---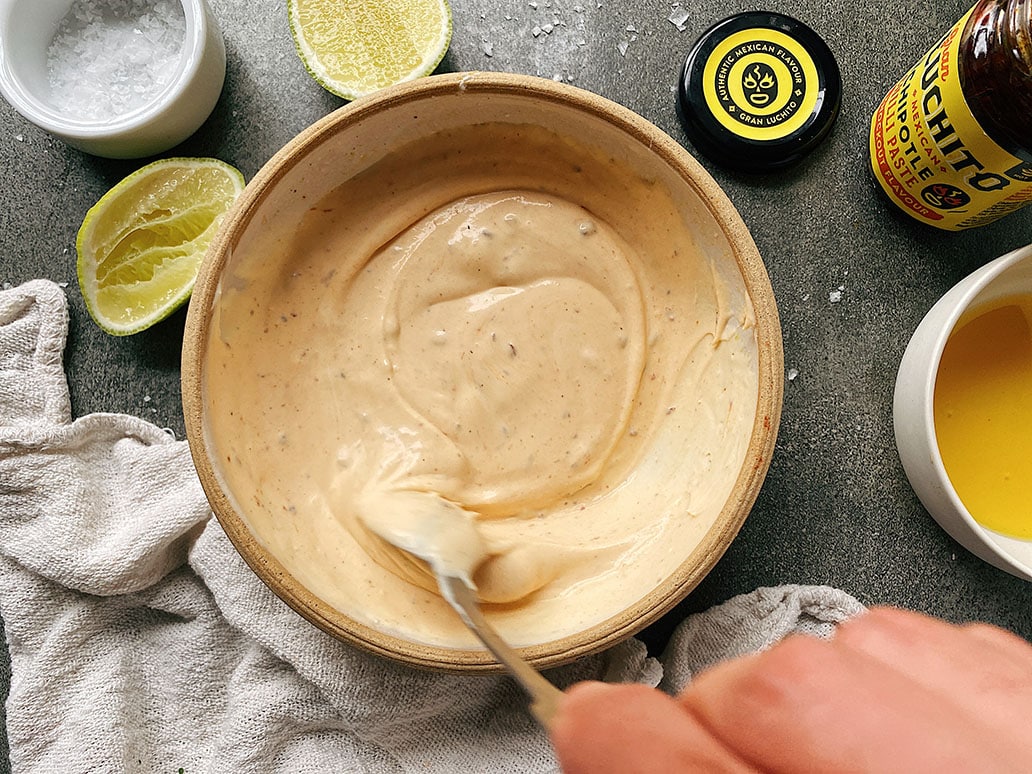 Not really a summer recipe but more of a summer ingredient this Chipotle crema is a fantastic topping. Its Chipotle paste mixed with Sour Cream and as well as going epically well on top of taco it will work a treat on BBQ food such as grilled chicken and hot dogs. 
---
Next up for our Mexican Summer Recipes is our beautiful Taco Salad! Look no further if you're looking for a healthy reset without depriving yourself of everything that's tasty in life. Likewise if you are trying to eat a bit lighter but still have meals that feel satisfying and actually fill you up, then this is for you.
---
What's more summery than a salad? We love a good salad at Gran Luchito and we really believe that they never have to be boring. This Mexican Salad recipe is proof of that and it can be served either as a main meal or as a side, with any protein you might be already cooking for your family. It's perfect for those days when you feel like something a bit lighter, but still tasty. It's fresh, colourful, satisfying and a tiny bit spicy (but just the right amount!). Our Chipotle Paste has many uses, but it's also a great ingredient to make dressings, so for this recipe we've popped in a spoonful of this to make a quick and spicy dressing.
Black Beans are a staple in Mexico and they make a simple side for your Mexican summer feast. These beans would be a great accompaniment to BBQ meats such as pork sausages. Enjoy
---
Now here's some amazing inspiration for that chicken that's going on the BBQ over the weekend! Blend our Chipotle Mayo with oregano, cumin, garlic and fresh lime for a Chipotle Chicken Marinade that you'll be doing every summer from now on. A really tasty combination. Just make sure you leave the chicken in it for a good few hours so that it soaks up all of the flavour. Serve with our Chipotle Coleslaw or Panzanella Salad recipe.
---
Prawn Fajitas are great for summer, and its one of the more fun Mexican summer recipes for kids as well. Just lay out a little spread for them to then assemble their own wraps! For this recipe we use our Garlic & Guajillo Fajita & Taco Mix to coat the prawns in before frying up until juicy and sizzling. Along with veggies they are then loaded into our Soft Wheat Street Tacos. Just pop some Lightly Salted Tortilla Chips on the side too and you're good to go!
---
Another one of our Mexican summer recipes is our Vegan Shiitake Mushroom Tacos. Try and find the best and freshest ingredients for this vegan recipe.  Our Smoky Chipotle Fajita & Taco Mix is added to the veggies as they are cooking, and it's all then served with a delicious avocado, lime, and jalapeño sauce. Top with freshly chopped tomatoes and cilantro. Delicious! For another meat-free recipe, try our Vegan Tacos!
---
Spicy Lamb Koftas have a really summery feel about them. We have made them Mexican, of course, by mixing our Chipotle Paste into the lamb, as well as crunchy pine nuts and fresh coriander. If you'd rather not serve them with flatbreads, as we have here, you can always wrap them in Soft Wheat Soft Taco Wraps and mix in a side of Guacamole. Mexican lamb koftas, a great little fusion dish, who would've thought!
---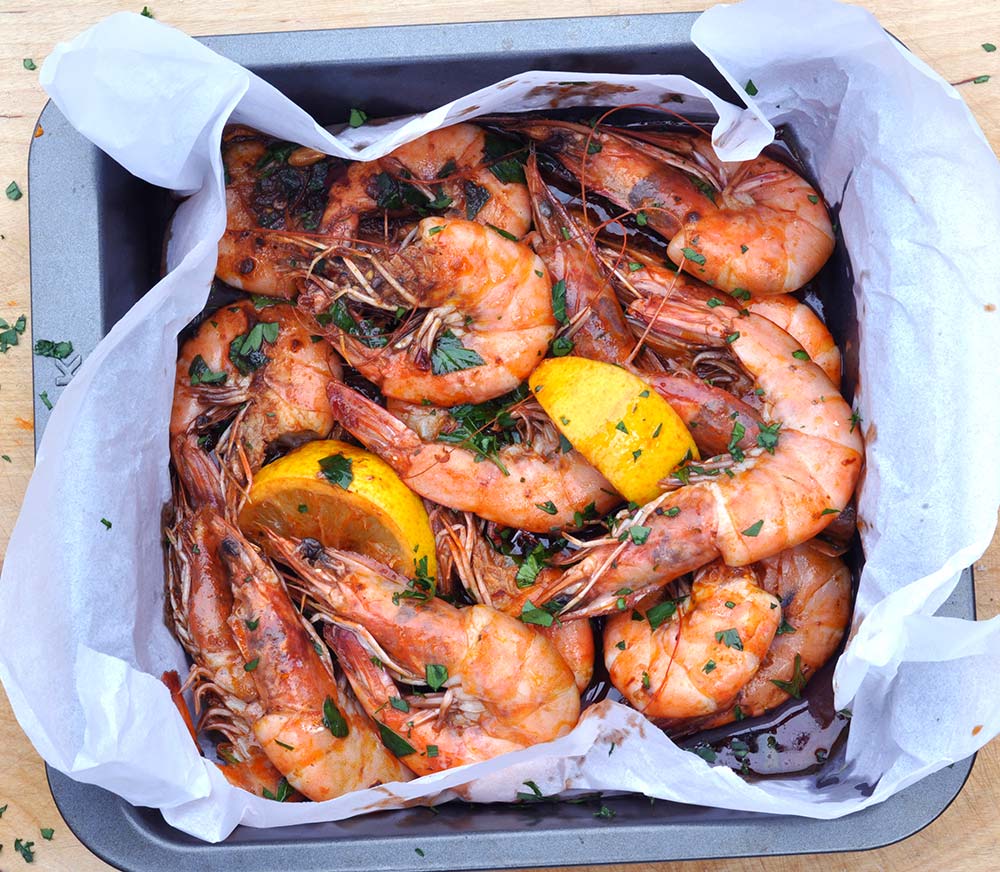 This Chipotle Chilli King Prawns recipe is proving to be a real crowd pleaser, so get involved and give it a try! We have made our own little Chipotle Paste butter, and coated the prawns in it before frying them up. Make sure you give them a good squeeze of lemon and sprinkle some parsley over them before serving. This dish as a main course would be complemented perfectly with our Roasted Pepper and Halloumi Salad and some crusty bread.
---
Here's to another one of our favourite Mexican summer recipes! Our Sticky Chicken Skewers recipe is a knockout due to its irresistible finger licking, sticky and smoky Chipotle Honey glaze. It's a very easy dish to make, and they can be oven cooked or put on the BBQ. Simply mix the Chipotle Honey with sesame oil, soy sauce and ginger, then baste the chicken in them. Add peppers, onions and even pineapple to the skewers!
---
Influenced by the classic Tuscan Panzanella, this Roasted Pepper Salad with Halloumi is much better! You've got the chunks of crunchy ciabatta, as well as colourful peppers and courgette, all rounded off nicely with crispy and golden brown halloumi. A beautiful dressing of capers, coriander, Chipotle Paste, and lime juice bring this summer salad to new highs! Just make sure you add your croûtons at the last minute to prevent them from going soggy.
---
We simply had to add a summer stir fry to our list, and this Spicy Chicken Stir Fry ticks all the boxes. Here we've used our Chipotle Paste to marinate the meat for maximum flavour. Prepare all of your ingredients before you turn on the heat, as stir fry's are cooked fast and hot with lots of stirring. You don't want to overcook it, as you're looking for crispy vegetables with juicy and tender chicken. Finish off with a sprinkle of coriander, toasted peanuts and wedges of fresh lime.
---
So there are our favourite Mexican summer recipes! Do keep us posted on how you get on recreating these healthy summer recipes for dinner or lunch. You can give feedback under each recipe in the comments section or tag us #granluchito with your images!