Here you can find our collection of popular authentic Mexican Starters. Super easy to knock together, they include Nachos, Queso, Quesadillas, Taquitos, Tostadas, and of course Guacamole. Guaranteed as a crowd-pleaser at a party, or just for picking at whilst cooking the main course, have a go at trying one of these!

First on our list of favourite Mexican starters are Nachos. They are a Tex-Mex dish from northern Mexico that consist of heated tortilla chips covered with melted cheese, salsa, sour cream and guacamole. It is a typical Mexican Starter. Having said that, for a more substantial version that could be served as a main dish, just add chicken, beef or pulled pork.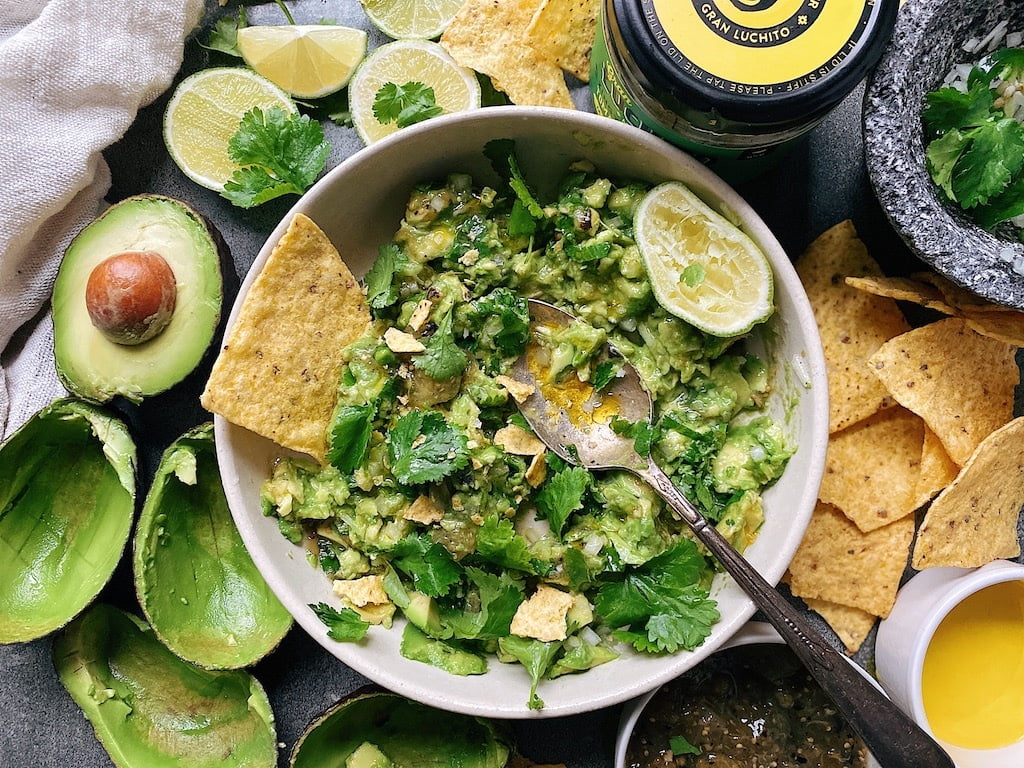 Guacamole, the famous avocado-based dip, is probably the most well-known Mexican recipe, let alone starter. It is now a firm favourite in International and American cuisine, as a dip, simply paired with our Lightly Salted Tortilla Chips. In addition, serve it alongside our Super Smoky Chipotle Salsa. 

Mexico's iconic cactus is a kitchen staple in authentic Mexican cooking. Here, we give you an Authentic Cactus Salad as a fresh and light alternative to make as a Mexican Starter. Fresh salad is combined with our Sliced Cactus, tomatoes, spring onions, lime, fresh coriander, and our crunchy Jalapeño & Pineapple. Once arranged, the ingredients are all wrapped up in warmed Street Taco wraps.

Next on our list of favourite Mexican starters is Queso. Queso is a soft Mexican cheese used to make this popular dip. Here, we have taken the standard Queso dip and given it a kick using chorizo and our Chipotle Paste. Packed full of smoky flavour, serve it with Lightly Salted Tortilla Chips, relax and enjoy!

These little parcels of joy are perfect as a starter. They are fun, delicious and packed full of your 5 A Day! Fill our Street Taco wraps with peppers, red onions, Refried Beans, grated cheese and Serrano Green Chillis.

Small rolled-up tortillas are firstly filled with beef, chicken or cheese. They are then pan fried until crispy and golden. Meat can be marinaded first with our Smoky Chipotle Fajita and Taco Mix, and the Taquitos can be topped with our Jalapeño & Pineapple afterwards. As a result, these are extremely moreish, so be careful not to eat too many before your main course!

Chicken Tostadas are crispy and colourful Mexican starter favourites. Normally used for the base would be Lightly Salted Tortilla Chips. Having said that, they are also a great way of using up stale tortillas, just by toasting or frying them. Best served with a Margarita! 

A smoky, sweet, and spicy sauce that is great for tossing on wings, or just about anything, is our Chipotle Honey. Chipotle is a smoked jalapeno pepper, and paired with sweet honey, it is a winning combination. This is an incredibly simple dish to create, and therefore will no doubt be repeated again and again.

For something a bit different to these other starters, why not try Mexican Bean Soup? Furthermore, it can also be batch cooked and eaten the next day. Delicious, warming and healthy, get that stove bubbling away! Make sure you have our Chipotle Paste, but most of the other ingredients are likely to be in your cupboard anyway.
Finally on our favourite Mexican starters are Mexican Croquettes are perfect to pick at before a main course. Golden, crisp, potato and chorizo balls straight out of the oven, who would not be craving them again the next day! Piled high in a bowl, and topped with fresh chives, the only other things you will need to accompany them is our Chipotle Mayo and Chipotle Ketchup.
Have you tried any of these Mexican Starters? We'd love to hear from you. For more blogs like this please visit: Mexican Snacks, Late Night Snacks That Are Easy To Make and Party Food Ideas You Can Eat With Your Fingers