Here is a collection of our most heartwarming Mexican Soups and Stews to comfort and warm the cockles of the heart on a cold winter's day. Make up a big batch and snuggle up on the sofa and enjoy! Any leftovers can be frozen, which will save you time when you want some more next week!
---
First up on our Mexican Soups and Stews is our Mexican Chicken Soup. All the deliciousness of a hearty soup but without having to work in the kitchen for hours to make it. It's also the perfect way to use that leftover rotisserie chicken in your fridge. Our Chipotle Paste is the star of this recipe alongside our delicious Cantina Beans!
---
Perhaps we would normally associate a stew with meat, but our Vegan Mexican Stew is a plant-based option that carries all the flavour without having to use any meat. Our Chipotle Paste is a brilliant ingredient to add to your soups or stews; it not only adds a kick to your meals but it is also packed with loads of flavour in itself.
---
Beef Picadillo has to be one of the easiest meals to prepare, a secret weapon that many Mexican cooks use to feed their families during a busy week. It mainly consists of beef mince fried with onions and garlic, then cooked with diced vegetables, which can be spicy or mild (as you prefer), normally served with refried beans and Mexican rice on the side. A perfect Mexican Soups and Stews recipe!
---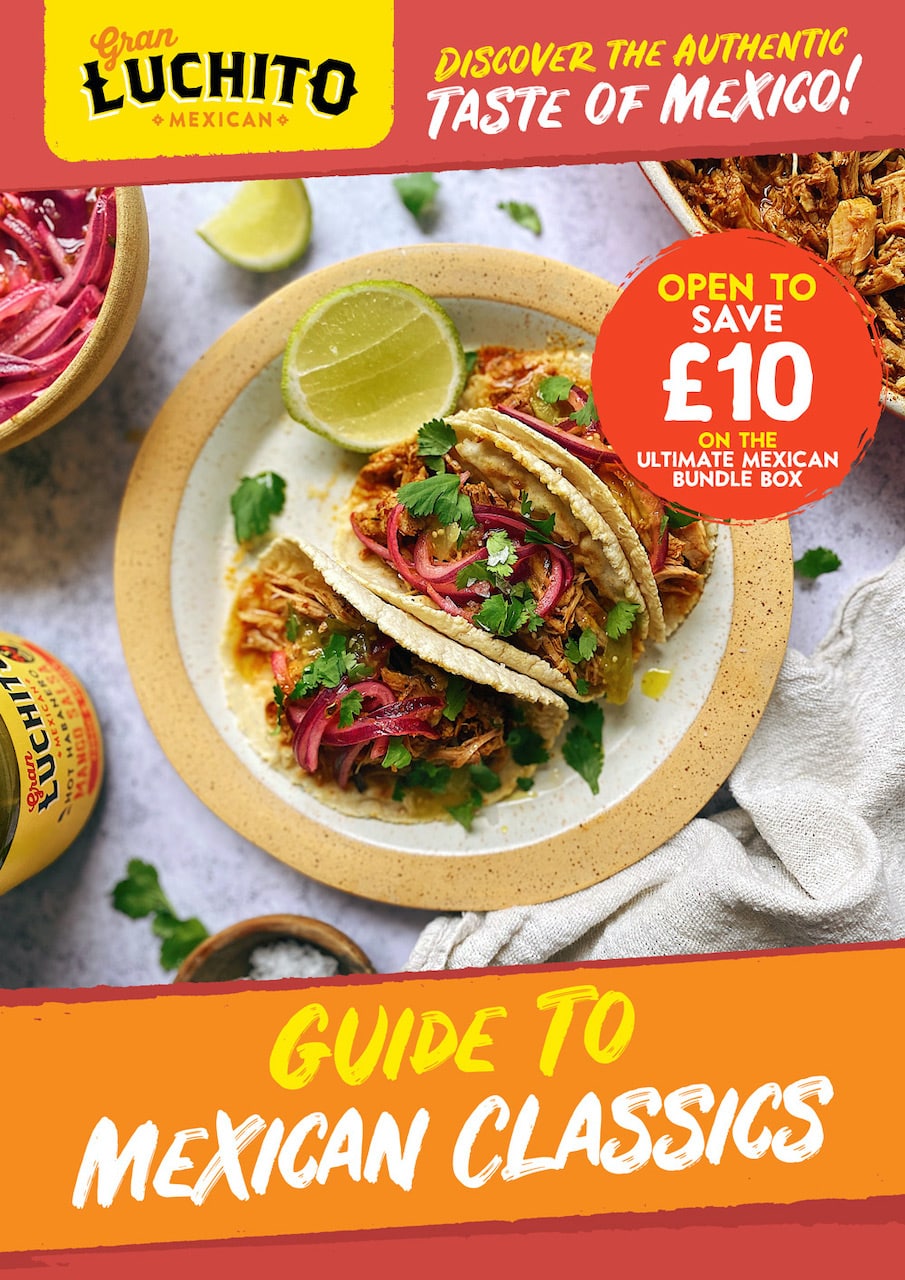 Sign Up To Download Our Free Guide To Mexican Classics
Free Mexican Cook Book

Save £10 On Our Ultimate Mexican Bundle Box  (UK Only)

Monthly Newsletters with our latest recipes and special offers
---
Our Chipotle Butternut Squash Soup is a lovely little recipe which combines the amazing flavours of roasted butternut squash and our Chipotle Paste. This recipe goes nicely with some fresh herbs such as rosemary and parsley sprinkled on top, some grated parmesan and toasted crusty bread.
---
This tasty Chipotle Carrot Soup is a great way to use our Chipotle Honey. Perfect for a chilly night when you need warming up. This soup starts as Honey Glazed Carrots which are then transformed into delicious chipotle carrot soup. Perfect for lunchtime with a drizzle of sour cream on top!
---
Mexican Tortilla Soup is a rich chicken dish packed full of tasty and fresh ingredients. A spicy tomato base with roast chicken is topped with crumbly cheese such as feta, chopped coriander, lime juice, avocado and roughly breaking up our Lightly Salted Tortilla Chips.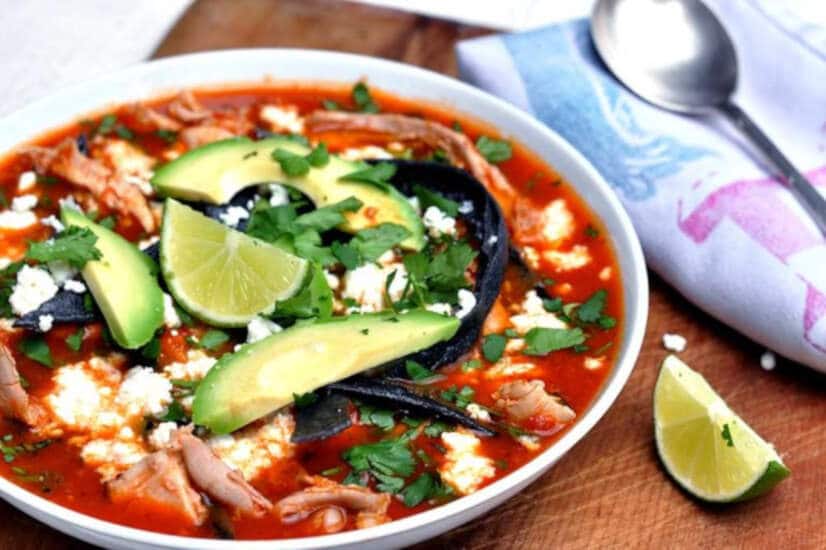 ---
This Mexican soup is based on the traditional Pozole Soup (usually made using hominy, a type of maize that's common in Latin America). Pozole is also often made with pork, but we went with beef, specifically ox cheeks along with our Chipotle Paste to make what is essentially a really rich beef stew.
---
A Mexican Fish Stew isn't something you have every week, so when you do have one it should be a really special treat. We used a flavoursome mix of fish and shellfish in ours, picking out what looked good and exciting on the day at the fishmongers. You should do the same – for fish or any other fresh produce – to get the best flavour! We used monkfish, clams, mussels, prawns, cod cheeks and hake.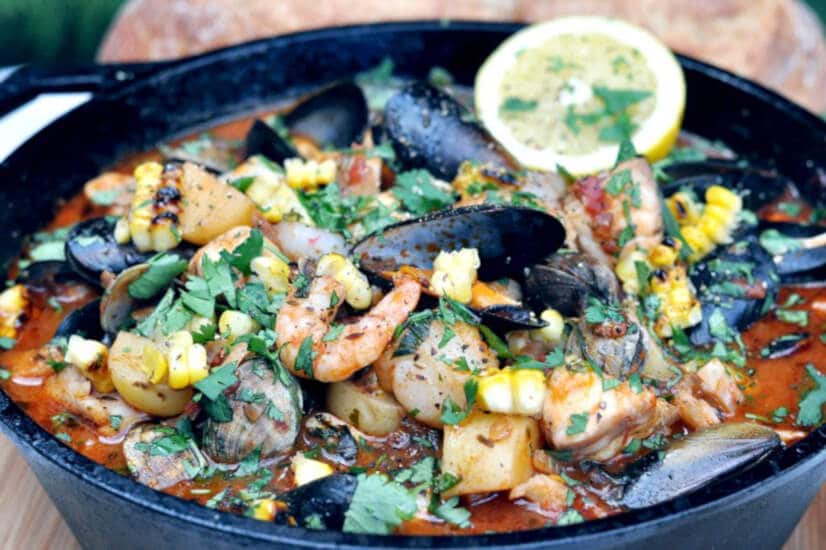 ---
If you've never cooked with pork cheeks before, we can't recommend them highly enough. They are perfectly suited to long, slow cooking which unlocks and releases all of their natural marbling and big flavour and that's exactly what we did with them. We served the pork cheek stew with a really tasty potato, celeriac and parmesan mash.
---
As far as slow cooker Mexican recipes go, this is certainly one to try. For this Mexican Chicken Stew, just throw everything into a pot, including our Chipotle Paste, and let it cook slow 'n' low for a few hours. The meat will fall apart and the big Mexican flavours will blend together to make something really special and one of the easiest recipes you'll ever cook!
---
The great thing about this Easy Chilli Con Carne recipe is that it doesn't take hours to make and is easy enough to make for a quick midweek meal. There is nothing better or more comforting than this! We recommend making a double or triple batch, freezing some off and then finding creative ways to use it throughout the week. Our blog post on Leftover Chilli Con Carne Recipes will provide you with lots of inspiration and different ways to enjoy your chilli con carne.
---
This Vegan Chilli Con Carne is perfect for a healthy, meat-free meal. If you're a meat-eater, the roasted butternut squash and smoky flavour from the Chipotle Paste means that you won't miss the taste of meat whatsoever in this vegan dish, we promise. For further inspiration on vegan dishes, please see our blog on Vegan Mexican Recipes.
---
Lastly on our list of Mexican Soups and Stews is this one. There are chilli con carne recipes and then there's the Ultimate Chilli Con Carne recipe and this one is truly epic! We take this chilli con carne recipe up a notch with melt-in-your-mouth chunks of slow-smoked chuck steak. Of course the secret ingredient and star in this recipe is Chipotle Paste. In our opinion, this recipe gives the best chilli con carne you will find and you need to give it a go!
---
Test Heading
We've covered every Mexican soup and stew recipe! Which one are you going to try first? Do let us know how you get on or if you have any questions please leave them in the comments section below. Do tag us at #granluchito if you try one of the recipes!
For more food and cooking blogs check these out: