Here are some light and fresh Mexican fish recipes to wet your appetite for the summer months ahead! We have incorporated a few different fishy taco ideas as well as a fish stew, seriously amazing chipotle prawns, and even some monkfish kebabs for the BBQ. The list goes on!
Fish tacos are one of our favourite taco recipes. What's not to love about beautiful fresh fish marinated in Mexican spices and served over delicious warm tortillas, a fresh salsa and a touch of lime? Just perfect! For this stunning recipe, the haddock fillets are coated with a good amount of Garlic and Guajillo Fajita & Taco Mix, olive oil, lemon (zest and juice), salt and pepper. The garnish and best accompaniment for this fish taco is a fresh and spicy salad. This is made out of crunchy veg and seasoned with our amazingly delicious Chipotle Mayo.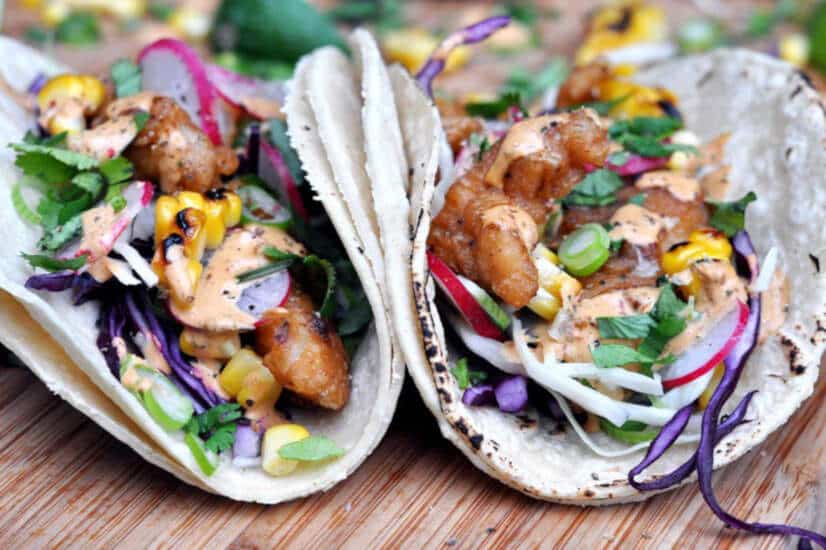 Next up for our Mexican fish recipes are these tasty Baja Fish Tacos. They will immediately transport you straight to the sunny coastal town itself! We have used chunks of white fish that have been coated in Chipotle Paste and beer battered. Crunchy veg, fresh lime and Chipotle Mayo then round it off, and it's all loaded into our Soft Wheat Soft Taco Wraps.
You don't automatically think of salmon when you think of Tacos, but Salmon Tacos are incredible and must be tried! For this recipe the salmon is coated in our Habanero & Lime Fajita & Taco Mix before cooking, to make it flavoursome and Mexican! Finish off by piling the ingredients into Soft Wheat Soft Taco Wraps, and topping with some fiery hot Serrano Chillies!
For another taco alternative, try our Habanero & Lime Prawn Tacos. These soft flour tortillas are loaded with prawns (the juicier the better), and a heavenly pineapple salsa. Red onion, red chilli pepper, pineapple, fresh cilantro and a squeeze of lime is all it takes to make this vibrant and colourful dish, brimming with health. These days, delicious and healthy is all the rage!
Chipotle Chilli King Prawns is a bit of a show stopper dish. For the recipe we have fried the prawns in a spicy and smoky Chipotle Paste butter. A good squeeze of lemon and sprinkle of parsley is all that is needed to finish it off! It's a great little starter, or can be a main course served with some fresh crusty bread and our Roasted Pepper and Halloumi Salad.
Next up for our Mexican fish recipes is an easy one pot idea. It's brimming with health, and is a classic Mexican Fish Stew! Our one is full of fresh fish, shellfish and chorizo, all mixed up with our Chipotle Paste. Other tasty ingredients and herbs round it off, such as fennel, thyme, red onion, potatoes and sweetcorn. Once everything is added, leave it bubbling away before serving with crusty bread.
Another twist on the classic chicken or beef fajitas, this Prawn Fajitas recipe works a treat! The authentic Mexican flavours of lime, peppers, chilli and coriander infuse with the juicy and sizzling prawns perfectly. We have used our Garlic & Guajillo Fajita & Taco Mix to coat the prawns in before frying, and make them Mexican.
If you are after inspiration for a fresh and new BBQ idea look no further. These Monkfish Kebabs are perfect for this! Nice big chunks of monkfish tail have been marinated in zingy lime, Chipotle Honey and thyme. They've then been wrapped in wafer-thin strips of pancetta before quickly flame-grilling on a barbecue.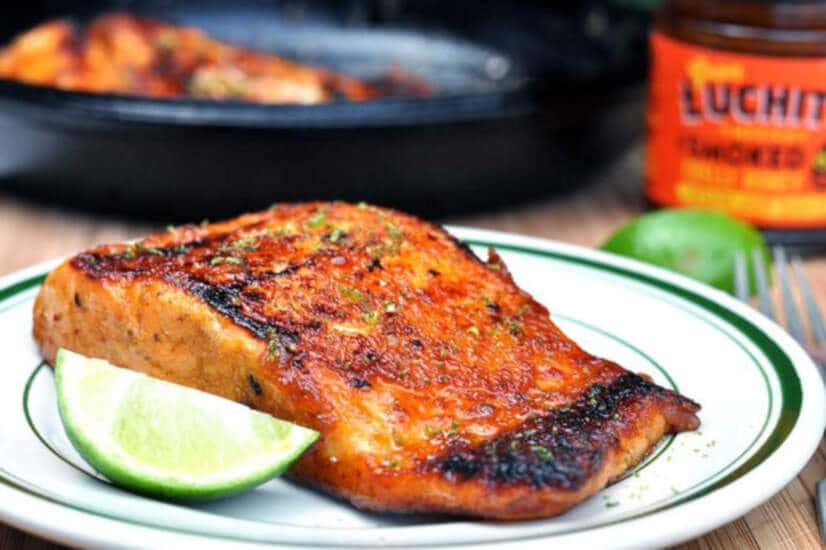 Honey & Chipotle Glazed Salmon is our quick and easy Mexican fish recipes pick! It's the ultimate one-pan weekday dinner. All you do is coat the salmon in our Chipotle Honey and fry up until crispy and squeeze some lime on top. You'll never go back to plain baked salmon again! Serve it with our Mexican Rice recipe.
This BBQ Avocado With Chipotle Prawns is another great summer recipe, and perfect to do as a BBQ starter, or a light lunch. Halved avocados are charred in a griddle pan giving them a nice rustic appearance, and then topped with king prawns marinated in our Chipotle Paste. A squeeze of lime and handful of chopped coriander leaves finishes this dish off perfectly.
For this Prawn and Chorizo Risotto, we have used nice big and juicy tiger prawns and marinated them in our Chipotle Paste for a bit before frying them up. The pairing of prawns and chorizo work so well together, it's no wonder we've had such great feedback on this dish. This is a slightly different take on our very popular Chicken and Chorizo Risotto recipe.
Tostadas are an authentic Mexican bar snack. They are so delicious and moreish, and would work well as canapes, a starter, or snack during that big game! To assemble these Tuna Tostadas, you will need our Lightly Salted Tortilla Chips, avocados, coriander, some Chipotle Mayo and fresh tuna steaks. A pretty healthy way of snacking, we say!
We hope you have been inspired by some of these Mexican fish recipes for the summer. Keep us posted on how you get on! You can give feedback under each recipe in the comments section or tag us #granluchito with images of your Mexican creations!
For further Mexican Fish Dishes please see: Easy Fish Tacos, Crispy Fish Tacos, Chipotle Prawn Tacos, Zesty Prawn Tacos, Zesty Prawn Stirfry, Chipotle Prawn Cocktail, Chilli Honey, Sesame & Soy Salmon Stir Fry, Mexican Fish Pie, Zesty Salmon Fishcakes, Chipotle Cream Cheese & Salmon Bagel