As the nights draw in and the temperatures drop, all we can think about is having a warming bowl of comfort! In this blog we are going to share our favourite autumn and winter recipes including warming soups, stews, chilli con carne, melty enchiladas and even pies with a Mexican twist. We hope you enjoy, and don't forget to comment and show us  photos of your kitchen creations in the comments section below.
First on our list of favourite autumn and winter recipes is our Mexican Tortilla Soup. Seasoned with Gran Luchito Chipotle Paste this is a rich chicken soup packed full of tasty  and fresh ingredients. We start with a spicy tomato base, add roast chicken and top with cheese, coriander, lime, avocado and tortilla strips. An authentic Mexican soup recipe.
Pozole (meaning "hominy") is another authentic Mexican soup that is traditionally made with meat and hominy. Hominy is a type of maize found in Latin America. Our version uses chickpeas as a substitute for the hominy as we weren't able to find any in the UK. We slow cooked ox tail but other cuts suitable for slow cooking would work including beef short ribs or pork shoulder. we served it with shredded white cabbage, sliced radish, roughly chopped fresh coriander, and wedges of lime to squeeze.
Next on our list of favourite autumn and winter recipes is one of the best recipes to make from a raid in the pantry! Made with store cupboard essentials including kidney beans, chopped tomatoes and Chipotle Paste and a few bits of veg, it's super easy to whip up and packed full of flavour.
Another soul warming, healthy and not to mention delicious Mexican soup recipe for this autumn/winter! Here, we have teamed roasted butternut squash with the smokiness of our Chipotle Paste. It certainly makes for a delicious combination! This soup is the perfect accompaniment to either our king prawn sandwich or our chicken and bacon sandwich.
We love those super easy recipes where you throw everything into a pot, cook low and slow until the meat is falling apart and everything tastes amazing – and this is one of those recipes! Above all, a dollop of Chipotle Paste brings the flavour, and the slow cooker does all the work.
Here we have an authentic twist on Mexican Chipotle Chicken Stew with a smoky chipotle sauce and our Sliced Mexican Green Cactus. This Mexican winter recipe pairs well with Mexican Mashed Potato and our Lightly Salted Tortilla Chips, which are the perfect dipper for that yummy chipotle goodness.
If you've never cooked with pork cheeks before, we can't recommend them highly enough. They are perfectly suited to long, slow cooking which unlocks and releases all of their natural marbling and big flavour and that's exactly what we did with them. We served the pork cheek stew with a really tasty potato, celeriac and parmesan mash.
There is nothing more comforting than a big bowl of a warm and hearty stew on a cold winter day. Perhaps we would normally associate a stew with meat, but our Spicy Vegan Stew is a plant based option that carries all the flavour without having to use any meat. It's all about building flavours, using aromatics and good seasoning. Our Chipotle Paste is a brilliant ingredient to add to your soups or stews; it not only adds a kick to your meals but it is also packed with loads of flavour in itself.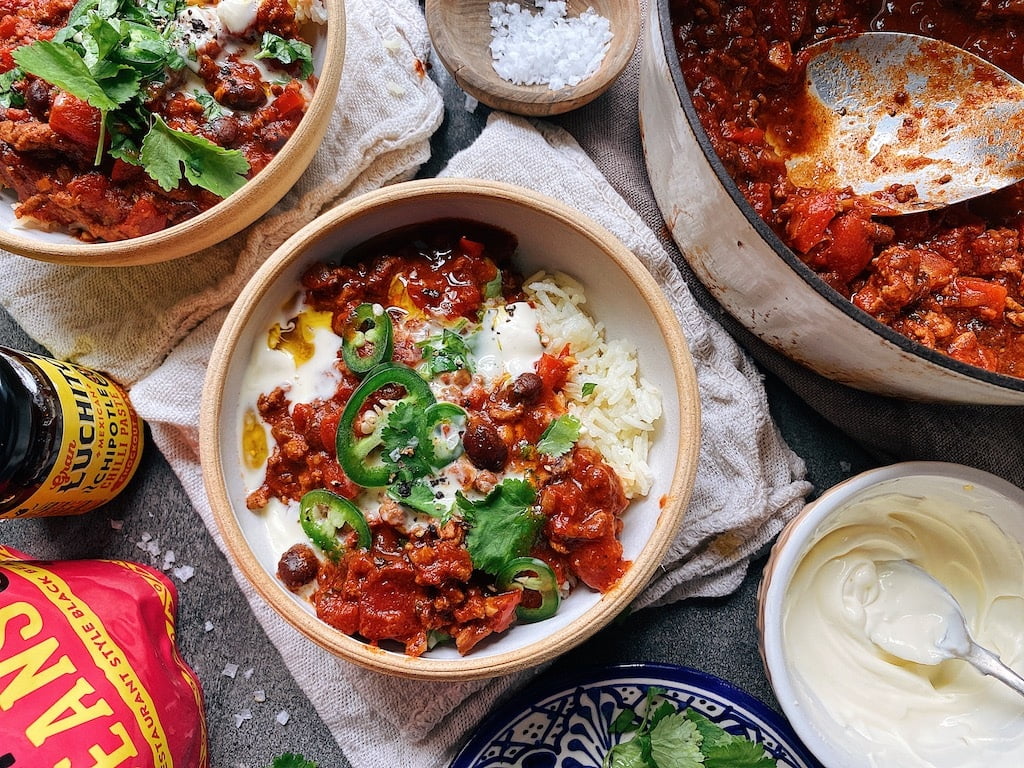 Chilli Con Carne works really well for batch cooking and can be made ahead for low stress entertaining. The great thing about this easy chilli con carne recipe is that it doesn't take hours to make and is easy enough to make for a quick midweek meal, there is nothing better or more comforting than this! If you have a little more time on your hands you should check out our ultimate chilli con carne recipe.

This vegan chilli con carne recipe is perfect for a healthy, meat-free meal. If you're a meat-eater, the roasted butternut squash, kidney beans, chickpeas and smoky flavour from the Chipotle Paste means that you won't miss the taste of meat whatsoever in this vegan dish, we promise. Serve it with a side of rice, guacamole and some of our Lightly Salted Tortilla Chips.
No list of comforting autumn and winter recipes would be complete without saucy, hot and melty enchiladas.. First up is our tender, slow cooked Pulled Pork Enchiladas. For this Mexican enchilada recipe, the meat has been coated in a beautiful blend of brown sugar, oregano and our secret weapon, Chipotle Paste. It is then slow cooked for hours along with orange juice and garlic, with the juices steaming the meat inside. If you are looking for a veggie version, be sure to take a look at our Vegetarian Enchiladas.
For a true show stopper of a dish, try this Enchilada Lasagne With Beef Short Ribs & our NEW Cantina Beans. There are a few different phases to it, and like the pulled pork recipe it's slow cooked in the oven, so do it one day when you have the time. It would be perfect for a weekend dinner, especially if you have guests coming round. When it comes out of the oven, the smell is absolutely divine!
This is one of the most popular recipes on our website. Who can resist tender slow-cooked chicken thighs in a rich and smoky tomato sauce wrapped in tortillas and baked with oodles of gooey cheese?! Again, this is a great dish for entertaining as you do all the preparation in advance. Our Chipotle Paste, made with a secret blend of Chipotle and Mexican chillies, is the perfect ingredient to give this dish the big bold flavour that it needs.
This is one of the first recipes we developed using our Chipotle Paste and still one of our favourites! There's a gentle warming, smoky Mexican chilli kick that takes this dish to another level! If you are keen for more recipes with a twist on your favourite pie, try our Mexican Cottage Pie or Mexican Fish Pie.
Finally on our list of favourite autumn and winter recipes is our Mexican Chicken Pie recipe. Made with filo pastry, we spiced up the creamy white sauce with some of our, you guessed it, Chipotle Paste and threw in some chorizo for extra flavour. Hearty, warming, and a good one to try on a weekend or to tuck into midweek.
We hope you enjoyed reading our favourite autumn and winter recipes. If you make one of the recipes featured here, we would love to hear from you! Be sure to leave your review! Comments are open at the bottom of every recipe. Don't forget to tag us #granluchito
For further cooking blogs like this one, please check out: Batch Cooking Recipes, Mexican Fish Recipes, Mexican Starters, Avocado Recipes, 10 Easy Mexican Recipes, Healthy Mexican Recipes, Chorizo Recipes, Leftover Chicken Recipes, Vegan Mexican Recipes, Chipotle Paste Recipes, Non Spicy Mexican Food, Family Meal Ideas That Will Have Your Kids Asking For More