Now for our Enchilada Recipes…Why do we love Enchiladas so much here at Gran Luchito? Here are the reasons:
Did we say melted cheese?!
Enchiladas are super versatile, you can fill them with just about anything
Furthermore, they can be made ahead so are perfect for entertaining a crowd with no stress
Finally, it just feels so comforting and satisfying eating a plate of something hot, saucy and oozing. The combination of ingredients, and the way they are put together just hits the spot!
---
This easy enchilada recipe is slightly different as it uses our delicious Enchilada Cooking Sauce! Easy Chicken Enchiladas has a green enchilada sauce, instead of the usual homemade tomato version. So it's time-saving as well! The flavours are mild and fresh, packed full of tomatillos, jalapeños, onion and garlic. A lovely change to the more traditional style of Enchiladas.
---
For these Chorizo & Winter Veg Enchiladas the filling is made using seasonal winter vegetables, but you can prepare this enchilada recipe all year round and adapt your veggies to what is in season. Winter veggies are fried with chorizo, onion, garlic and seasoned with our Smoky Chipotle Fajita and Taco Mix – a match made in Mexican heaven! Once you wrap the enchiladas up in our Soft Taco Wraps they can be covered in the Red Enchilada Sauce prepared with Chipotle Paste. Use the luscious bright red sauce and pour it over your enchiladas, the last touch is adding the grated cheese on top and placing your baking dish into the oven until the cheese creates a beautiful melted golden layer.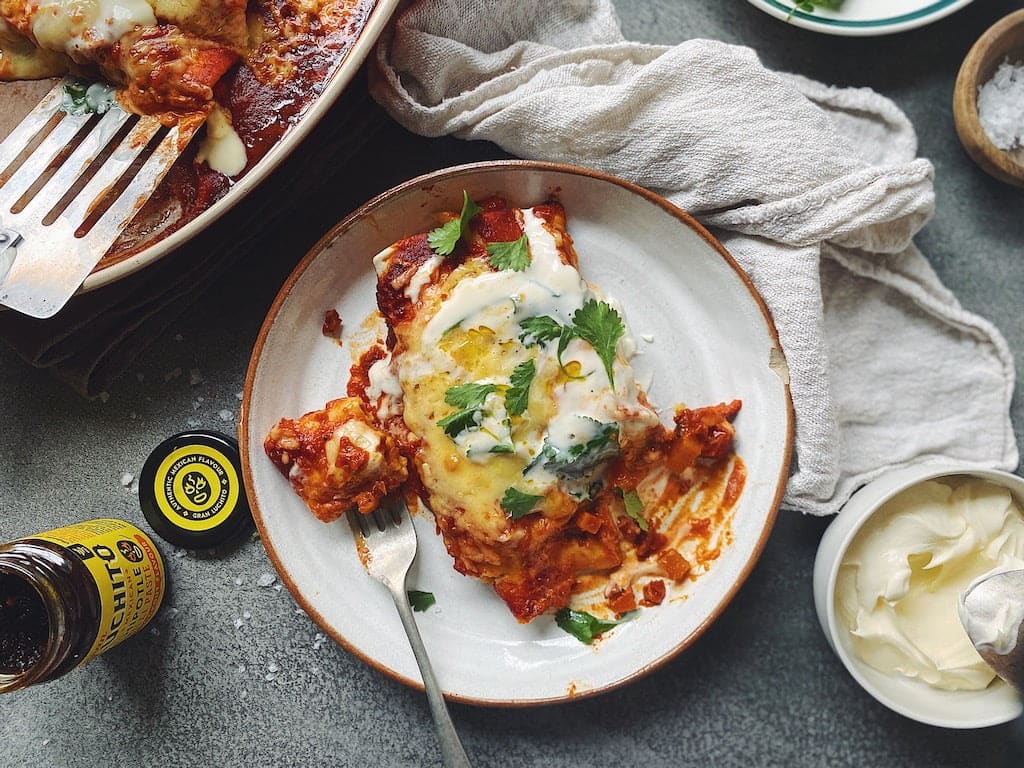 ---
Chicken Enchiladas are an authentic Mexican classic. This version has been slow-cooked to perfection using chicken thighs, which are more tender and succulent. This is a great dish to whip out for a special occasion that certainly has the Wow factor! The chicken can be cooked, and ingredients prepared in the baking dish during the day. Then popped in the oven in the evening. So although it looks like a real labour of love (which it is), these slow-cooked Chicken Enchiladas are actually very mess-free! All very simple come the evening!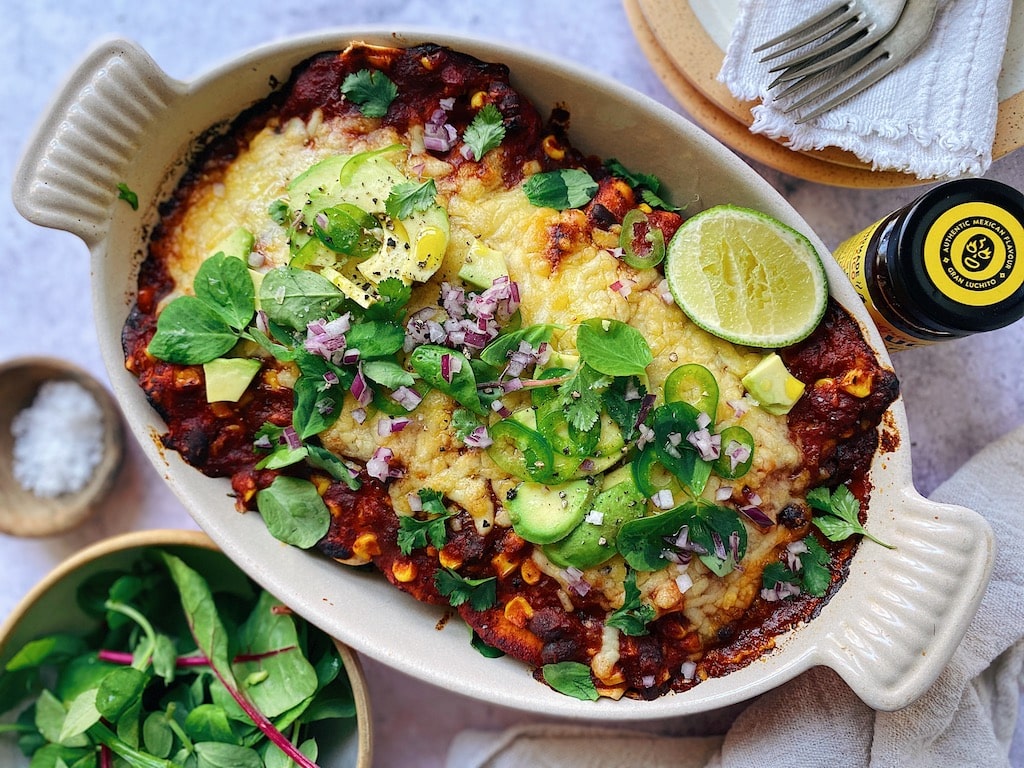 ---
This delicious Beef Enchiladas recipe is sure to win your family's heart! A different take on the chicken version completely. Our Soft Taco Wraps are packed with juicy beef mince which has been marinaded in our Chipotle Enchilada Sauce and topped with our Cantina Beans. A truly impressive dish that is sure to be a crowd-pleaser!
---
Sign Up To Download Our Free Guide To Enchiladas
---
Here is our scrumptious Vegetarian Enchiladas recipe! Either serve alone or as a separate smaller dish to serve with a meaty version. We substitute meat with our Refried Beans and lots of veggies in the form of different coloured peppers, sweetcorn and red onions. The flavour packs a punch by combining passata with our Chipotle Salsa and our Smoky Chipotle Fajita & Taco Mix.
---
For a true show stopper of a dish, try this Enchilada Lasagne With Beef Short Ribs & our Cantina Beans. There are a few different phases to it, and it's slow-cooked in the oven, so do it one day when you have the time. It would be perfect for a weekend dinner! For this enchilada recipe, we have use beef short ribs with the bone-in, and pan-fried them with the vegetables and Chipotle Paste. The smoky black Cantina Beans and red wine is then added and it's all then slow-cooked in the oven for a few hours.
---
Finally for this pulled pork recipe, the meat has been coated in a beautiful blend of brown sugar, oregano and our secret weapon, Chipotle Paste. It is then slow-cooked for hours along with orange juice and garlic, with the juices steaming the meat inside. So divine! Pulled Pork Enchiladas are the ultimate dinner party dish and the perfect crowd-pleaser.
---
Have we inspired you to try one of these delicious Enchilada Recipes? Do let us know which one tickled your fancy! Give us a shout out at #granluchito. For further blogs like this one please visit: