What you ask are Enchiladas? They are the ultimate Mexican comfort food! Enchiladas start with tortillas. You can use corn or soft wheat which we prefer as they are easier to roll. They are then filled with meat, veg or cheese, rolled up, and smothered in sauce and cheese which is then melted in the oven. They are meant to be eaten with a knife and fork. In this blog, we are sharing our favourite Enchilada Recipes.
Where Do Enchiladas Come From? 
Enchiladas originate from Mexico where the practice of rolling tortillas around various fillings dates back to the Mayan times. In their original form as street food you would find them as corn tortillas dipped in a red chilli sauce. In Spanish Enchilar, a derivative of enchilada, means to season with chilli peppers. Now there are many different variations of enchiladas which reflect the influence different cultures have had on Mexican cuisine.
Why We Love Enchiladas:
Did we say melted cheese?!

Enchiladas are super versatile, you can fill them with just about anything

Furthermore, they can be made ahead so are perfect for entertaining a crowd with no stress

Finally, there's something so comforting and satisfying about eating a plate of saucy, melty enchiladas 
And now for our favourite Enchilada Recipes! 
First on our list is our Slow Cooked Chicken Enchiladas recipe. Tender slow-cooked chicken thighs in a rich and smoky tomato sauce wrapped in soft tortillas and baked with oodles of gooey cheese. This is a great dish for entertaining as you do all the preparation in advance.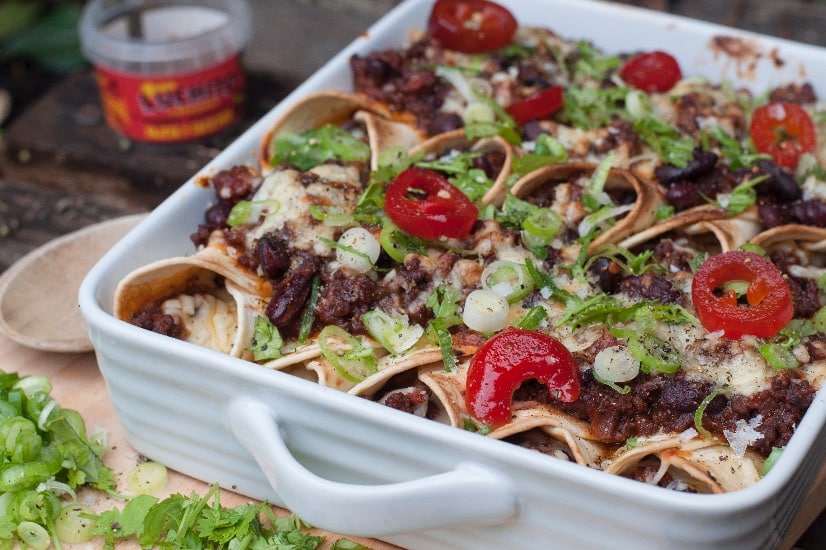 Beef Enchiladas are a great way to mix things up and use that packet of mince on your weekly shop!
Next up on our favourite enchilada recipes is our Vegetarian  Enchiladas. It is great for non meat-eating guests but with Refried Beans, loads of veggies and big flavours it will keep everyone happy.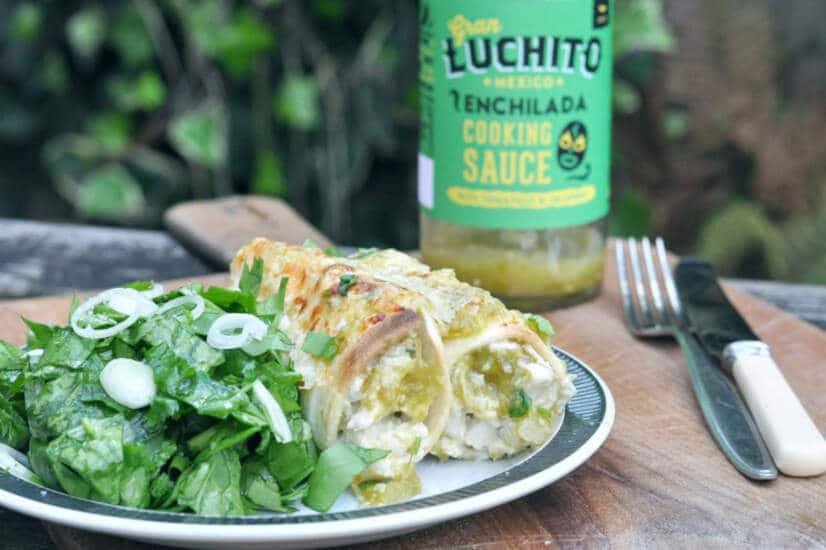 Our Enchilada Cooking Sauce with mild, fresh flavours of tomatillos, jalapeños, onion and garlic is a lighter take on Enchiladas and is perfect for when you don't have the time to make a sauce from scratch.
Our friends at Olive Magazine came up with this delicious Chicken Enchilada recipe packed full of protein thanks to delicious smoky Chipotle chicken and black beans. It uses our Smoky Chipotle Fajita and Taco Mix to add loads of flavour instantly. 
What Do You Serve with Enchiladas?
We hope you've enjoyed reading about our favourite enchilada recipes and have inspired you try a few recipes out. We would love to see what you get up to in the kitchen. Don't forget to tag us #granluchito.