Here at Gran Luchito, we get very excited by the start of summer as it also means the start of the BBQ season. Our range of Mexican sauces and seasonings have a beautiful, deep, smoky flavour that works really well with these easy bbq recipes. From burgers to beer-can chicken and everything in-between, we've tried it all and below we've picked some easy bbq recipes in which you can use our Mexican magic to take your alfresco summer cooking to a whole new level of flavour and enjoyment.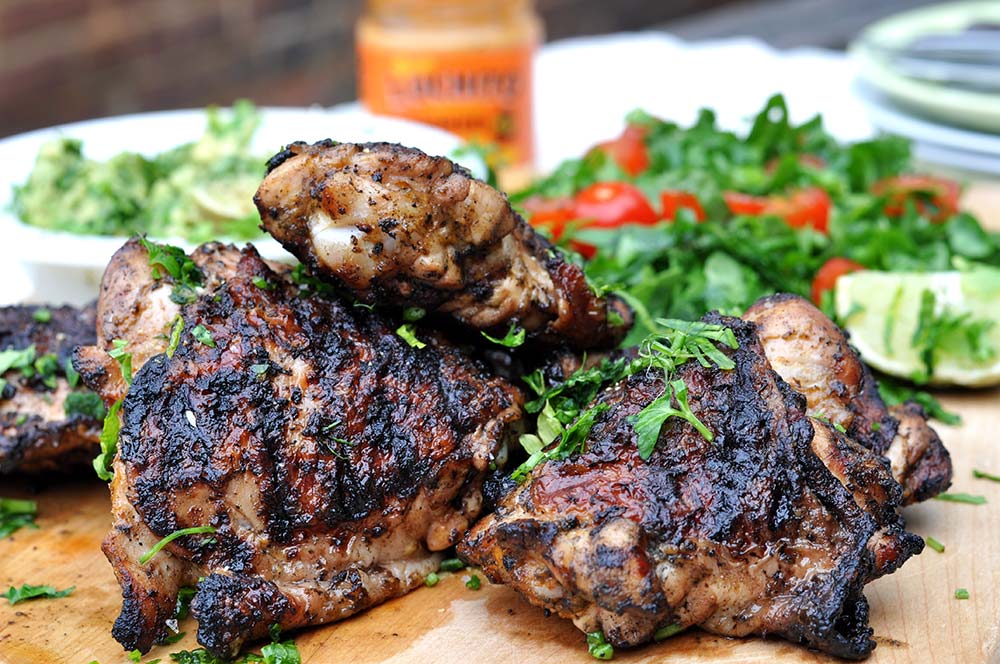 This is a really delicious, interesting and easy bbq recipe. Blend our Chipotle Mayo with oregano, cumin, garlic and fresh lime, it's a really tasty marinade perfect for barbecues. We'd recommend trying to get a bit of char on the chicken by brushing on the remaining marinade as it cooks, and encouraging flames to lick the chicken. Be careful not to burn it however by turning and moving around regularly.
Strips of chicken simply marinated with smoky paprika, grilled and then served with lashings of our Chipotle Mayo – what can we say other than delicious! We have loads of delicious taco recipes many of which work really well on the BBQ including Chipotle Prawn Tacos and Easy Steak Tacos (we recommend slicing the bavette steaks after grilling and resting).
Chipotle Paste is an excellent little thing to have in the fridge with a whole load of different uses. Here we used it on a lovely chargrilled steak and served it with chips and salad. Try it as one of your next Mexican bbq recipes or for a date night in. It couldn't be easier to make!
Homemade burgers are the best and as far as easy bbq recipes go, this burger recipe tops them all. As you grill these beautiful things the cheese inside will melt and ooze out, like an inside-out cheeseburger. With our delicious Chipotle Chilli Paste in the mix as well, burgers don't get much better than this. If you are catering for vegetarians, our Mushroom Burger with Halloumi and Red Pepper Pesto will give its meaty cousin a run for their money in the flavour department.
This easy bbq recipe can be made in advance and stored in the fridge ready for cooking. If you make too many don't worry as they also work wonderfully served cold and chopped up in a salad. 

Great currywurst is all about getting your hands on some top class sausages. Put them on the grill and remember to keep turning them so they don't burn. A dollop of our Chipotle Chilli Ketchup completes the dish. If you don't want fries you could try serving the currywurst with some of these delicious salad ideas.
You've simply got to try this! It's one of our top bbq recipes – you just need to get hold of our Chipotle Chilli Honey. The sweetness of the honey combines perfectly with the salty soy and fish sauce. Whether you're barbecuing or just cooking them up in a griddle pan, this is an easy crowd-pleaser that'll work every time.
Elote (corn on the cob) is one of Mexico's easiest bbq recipes. It's the perfect side and everyone will love it. Beautiful fresh flavours of lime and coriander make this Summer on a plate.It works best if you can get a nice char on the corn before rolling it in the Chipotle Chilli Mayo and other ingredients.
Don't let the simplicity of this easy bbq recipe make you think it's not special. Fresh guacamole goes excellently well with the spicy barbecued meatballs. Your guest will be calling you a BBQ legend! All you need to do is lay your hands on some nicely ripe avocados!
One of our favourite BBQ recipes, these bacon wrapped asparagus fingers make a lovely side or starter. Our Chipotle Chilli Honey goes unbelievably well with bacon, so this was always going to be a winner.
Have you tried any of these easy BBQ recipes? If so we would love to know how you got on. Please be sure to leave your recipe review! Comments are open at the bottom of the recipe.
Happy cooking from all of us!
This blog was originally published in October 2018 and has been updated in August 2020 with added content