At Gran Luchito, we love a good reason to throw a Mexican fiesta. Now more than ever we're looking for little reasons to celebrate, so bring on this year's stay-at-home Cinco de Mayo!  Here we share a little bit about Cinco de Mayo, and we have rounded up our recommendations for a Cinco de Mayo menu fit for your fiesta.
---
The Menu
To Start
Main Course
Sides
Drinks
---
Why Do Mexicans Celebrate Cinco de Mayo?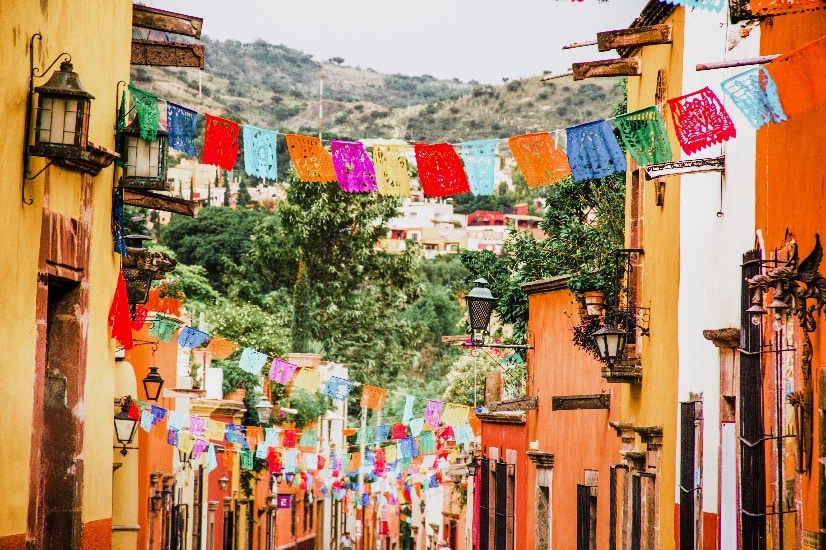 Cinco de Mayo is an annual celebration held on 5th May which commemorates the Mexican army's victory over the French, in the Battle of Puebla. This happened on 5th May 1862, during the Franco-Mexican war. In Mexico, it is celebrated with colourful parades, battle re-enactments, music, dancing and of course lots of food.
---
Let's Get This Cinco de Mayo Party Started:
No Cinco de Mayo celebration would be complete without Tortilla Chips and Guacamole. Here's our recipe which uses our Tomatillo Salsa for a flavourful and fresh tasting Guacamole.  
Nachos are perfect for sharing and this recipe for Ultimate Chicken Nachos is loaded with delicious toppings. Be sure to check out our other Nacho recipes. 
This light and fresh salad is colourful, satisfying and a tiny bit spicy (but just the right amount!). We also like to add our black Cantina Beans, crumbled creamy feta on top and our Lightly Salted Tortilla Chips, which bring an extra bit of crunch and texture.
---
Cinco de Mayo Mains: 
Tacos are a total crowd pleaser and perfect for entertaining. There's nothing more tempting than the smell of grilled steak! We recommend serving these tacos with warm tortillas, homemade guacamole and dollops of our Chipotle Salsa.  Don't forget to check out our other Taco recipes.
For this recipe, we have slowly cooked pork belly in beer and spices until tender, then coated it in a delicious and spicy marinade (using our Chipotle Paste). It then gets crisped up in a very hot pan, chopped up into carnitas-like chunks ready to be enjoyed with warm Soft Taco Wraps. How does that sound?
Fajitas are quite easy to prepare already but this recipe makes them even more convenient to cook. All you have to do is to place all the veggies in a bowl and cover with our Red Fajita Simmer Sauce and Garlic & Guajillo Fajita & Taco Mix. This will bring all the flavour to your fajitas. Following on from that, coat your mushrooms and peppers in the mixture and finally place them on a baking tray to let the oven do it's magic.

Enchiladas are a great dish for entertaining as they can be made ahead and then popped into the oven until golden and bubbly.

---
Its All About The Sides!
These frijoles (also known as Refried Beans) are a great little dish as either a Mexican side or for some serious snacking, whether you're in front of a film or enjoying board games.
When it comes to Mexican food, apart from beans and tortillas, red rice is another staple that takes part in everyday meals. The beauty of Mexican rice is not only how delicious it is, but also how easy it is to prepare, and that it goes well with almost any meal. This makes it one of the most cooked Mexican side dishes.
---
Finally, Cinco de Mayo Drinks!
The Chipotle Margarita takes the classic margarita up a notch. With a touch of smoky Chipotle Paste balanced with zesty orange and lime, the Chipotle Margarita is one to try!
Part beer, part cocktail, this "beertail" is not only refreshing but full of spice. If you like Bloody Mary's then you have to try this recipe. Get your Cinco de Mayo fiesta fired up with a round of Micheladas.
---
While the Cinco de Mayo festivities this year may be slightly different, has our Cinco de Mayo menu inspired you to celebrate? We hope so, and would love to see how you get on, don't forget to tag us #granluchito. 
Some More Popular Blogs You May Also Like: