Our Gran Luchito Chipotle Paste is our hero product, and now takes pride of place in many a fridge and cupboard amongst Mexican food lovers in the UK and beyond. The chipotle paste is handmade in Mexico, and brings knockout flavour to any dish you add it to. It is made from a secret blend of Chipotle peppers (smoked and dried jalapeño chillies) and rare Mexican chillies. The chipotle taste begins with smokiness from the chillies, then the sweetness from the caramelised onion, and finally the heat kicks in. In this article, you can feast your eyes on our most delicious Chipotle recipes, and then recreate them at home! We would love to see what you get up to in the kitchen, so don't forget to tag us #granluchito.
---
Kicking things off for our Chipotle Paste Recipes is our Chicken and Chorizo Risotto Recipe. This one, as with all risottos, is more of a labour of love and needs a bit more attention. Chicken and chorizo go incredibly well together anyway, and the hit of smoky Chipotle Paste added livens this meaty dish up even more. We have used chicken thighs, but leftover roast chicken would also work really well in this hearty and flavoursome dish. A side of our Goat's Cheese and Tomato Salad would go perfectly with this.
We think that tray bakes or one-pot meals are the perfect answer to feed your loved ones, as they have all the flavour without all of the hassle. Besides, what's not to love about an easy chicken traybake with a bit of Chipotle Paste and Chipotle Honey mixed in with delicious chicken juices and vegetables?
---
Slow Cooker Pulled Pork….now there's an idea for a lazy Saturday or Sunday morning. It's traditionally cooked in the slow cooker on low heat for several hours. This allows the fat to dissolve making the meat so tender it falls apart easily when shredded. Our Chipotle Paste is the ingredient needed, and you can go classic and use soft brioche rolls to serve the meat in, or go Mexican and use Soft Taco Wraps. If you love pulled pork check out our other pulled pork recipes for further inspiration!
---
Next up has to be this epic Mexican breakfast recipe. A hearty, rich in flavor, and delicious dish that will keep you going all morning! Huevos Rancheros (meaning "ranch eggs") is a typical breakfast served on rural Mexican farms! It features a rich sauce topped with eggs, sprinkled with cheese, grilled and served with warm tortillas or some nice crusty toasted bread. YUM. It is also the perfect Mexican vegetarian recipe.
---
Here's our Smoky Mexican Steak with Chipotle recipe. The Chipotle Paste takes any cut of beef to the next level. It's so addictive, that you will be wanting to marinade salmon, chicken, everything in it! After you've rubbed the paste into the steak, make sure it sits for a good hour before pan-frying, so that it's full of Mexican flavour. Its sweetness and smokiness really compliments the flavour of the meat. This dish is best served with our Crispy Homemade Chips!
---
This Chipotle Chilli King Prawns recipe sure packs a punch! The juicy king prawns just work so well fried in the spicy and smoky Chipotle Paste butter. Follow this with a good squeeze of lemon juice and then sprinkle with parsley. This dish can be a starter or a main course. If it's the latter, we like it served with some fresh crusty bread and our Roasted Pepper and Halloumi Salad. If king prawn recipes are your thing, then be sure to check out our Mexican Prawn Tacos and our King Prawn Sandwich.
Frijoles is a classic Mexican bean dish. Made with pureed black beans a dollop of chipotle takes this recipe to the next level. Serve the frijoles as a side dish or as a simple snack with some corn chips.
The Ultimate Chilli Con Carne recipe. One of the great Chipotle Paste Recipes to really get stuck into one rainy afternoon. Get excited and get that music turned on! For this, we have used melt-in-your-mouth chunks of slow-smoked chuck steak, instead of the usual mince. Serve it with rice typically, or in a bowl with toppings such as grated cheese, diced onions, sour cream, tortilla chips or cornbread for dunking. For a quicker, less extravagant version check out our Easy Chilli Con Carne. Ideas on what to do with chilli leftovers? Check out our Nine Ways To Eat Chilli.
---
There is nothing more comforting than a big bowl of a warm and hearty stew on a cold winter day. Perhaps we would normally associate a stew with meat, but our Spicy Vegan Stew is a plant-based option that carries all the flavour without having to use any meat. It's all about building flavours, using aromatics and good seasoning. Our Chipotle Paste is a brilliant ingredient to add to your soups or stews; it not only adds a kick to your meals but it is also packed with loads of flavour in itself.
These spicy Chipotle Salmon Fishcakes we can't get enough of! We have incorporated our Chipotle Paste in this recipe into the dip. This can then be dolloped on top of the fishcakes, or on the side for dunking. The paste is stirred into plain yoghurt, with the zest of a lime, giving us chilli lime yogurt! Make a big batch of these on the weekend, and you can then freeze a few of them to be used at a later date, as an easy mid-week meal. Plus, they are healthy as well as delicious. Serve them with either a salad for a light lunch, or our Crispy Homemade Chips.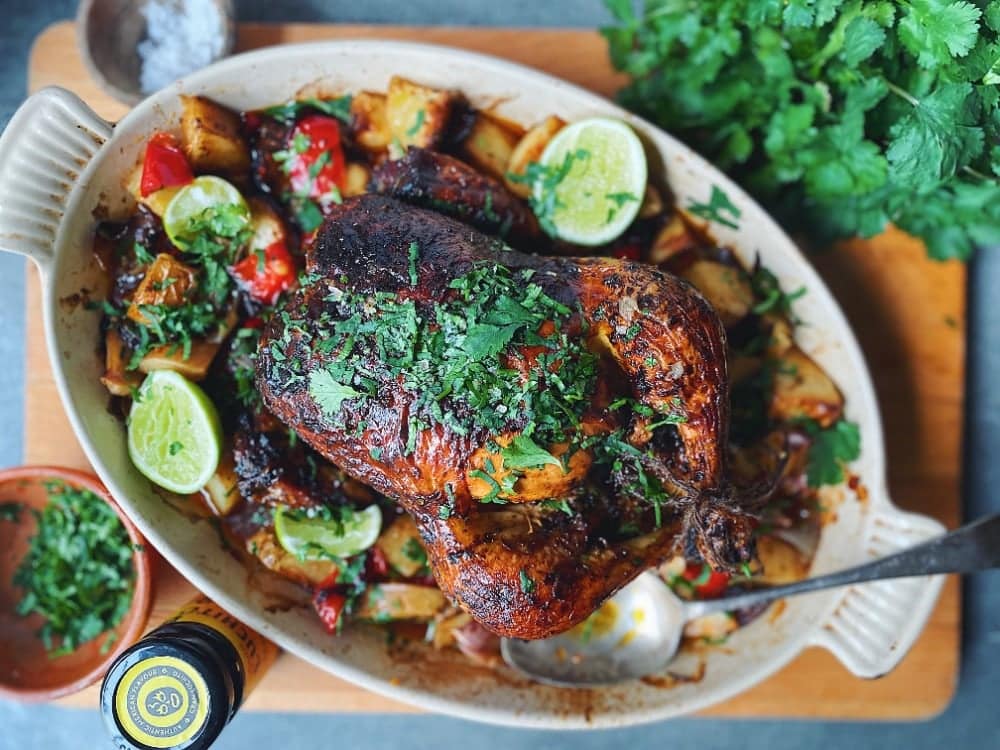 Finally for our Chipotle recipes, make a roast fit for a fiesta with this classic dish with a Mexican twist. A Mexican Roast Chicken recipe is not something to be overlooked! In fact, it's highly likely that it will impress you so much that you make it Mexican every time. For this, we mix our Chipotle Paste with butter and spread it all over the whole chicken before roasting. It couldn't be easier to prepare,  so can easily be done on a weeknight, and the results speak for themselves. Serve it with either this Chipotle Potato Gratin or some Mexican Cauliflower Cheese.
So that's it for our Chipotle Recipes article! If you enjoyed reading it, please take a look at the following for more inspiration: