Here at Gran Luchito, we have been thinking of a blog to share with you that will be helpful over the coming weeks and months of uncertainty. While we all spend more time at home, at least we can look forward to some fresh new recipe ideas to keep the family ticking along and quench their appetites. For yourself, cooking is therapeutic, not to mention everyone likes a new recipe or variation on a family classic when it arrives on the dinner table! We, therefore, bring you our blog on Batch Cooking Recipes, which we hope the family enjoys as much as we do!
The idea behind these Batch Cooking Recipes is that you get ahead of the week and it saves you time in the long run. More delicious meals without having to make them from scratch each time! In order to do this you simply cook more than you need so that you can freeze some for future occasions. Refrigerate the remains of the first batch and dig into it for the remainder of the week. Get out the second frozen batch for dinner the week after next!
Here is the Ultimate Chilli Con Carne recipe. A really fun recipe for you to try at home, that everyone will thank you for! You just need to get your hands on our Chipotle Paste and melt-in-your-mouth chunks of slow-smoked chuck steak, instead of the usual mince. Chilli, short for chilli-flavoured beef stew, originated from what is now northern Mexico and southern Texas. Serve it with rice typically, or in a bowl with toppings such as grated cheese, diced onions, sour cream, tortilla chips or cornbread for dunking. For a quicker, less extravagant version check out our Easy Chilli Con Carne. Ideas on what to do with chilli leftovers? Check out our Nine Ways To Eat Chilli.
Our Vegan Chilli Con Carne is the perfect meat-free batch cooking recipe. A hearty and satisfying dish made with butternut squash, peppers, chickpeas and kidney beans! Our smoky Chipotle Paste is added along with Fire Roasted Serrano Chillies for the ultimate kick. It's a beautiful and colourful dish that everyone in the family will love, from Grandma Dot to Baby Joe! Just maybe do a separate little batch for the kids with just a small amount of Chipotle Paste (no chillies) to start them off. We don't want to scare them off Gran Luchito too young!
Who doesn't love spicy Spaghetti Bolognese? Seriously… who doesn't! It's a fail-safe for all of those meat eaters amongst you. Cook up a nice big batch of this Chipotle Spaghetti Bolognese for the family, and they will think it's Scrumdiddlyumptious! There's lots of ingredients in this recipe to really make this usually bog-standard dish stand out. Give it a try and don't look back!
Mexican Lasagne you say? Ooo that sounds interesting. Our Chipotle Paste is the star ingredient again, and is really the only difference between making it bog standard and truly Mexican. Lasagne is a very homely dish, thoroughly heartwarming, and this one will certainly have you reaching inside the freezer for the next batch sooner than you thought! It goes really nicely with a side of our Punchy Panzanella Salad and some Chilli Garlic Bread.
A lot of people love fish pie. This Mexican Fish Pie is simply delicious – the flavours go so nicely combined with our Chipotle Paste, that we had to add this to our Batch Cooking Recipes. Typically in Mexico, fish dishes consist of ceviche, seafood and tuna tostadas, but after trying out this recipe it's now one of our staple Mexican fish recipes. An exciting fish pie, we have used smoked haddock, salmon, cod and king prawns all topped off with our moreish Mexican Mash.
Our Mexican Shepherd's Pie is pure comfort food, and one of our most popular Mexican Fusion Recipes. It has the same concept as the fish pie, using Chipotle Paste and Mexican Mash, just with minced lamb instead! This recipe would go down very well with the family, or if you live by yourself you can eat it all day every day! If for the family, make two large baking dishes of it and freeze one of them. If just for yourself, then make 3 smaller portions of it and freeze 2 of them.
This creamy Spring Mexican Chicken Pie makes a nice change from any normal chicken pie not only due to the added star ingredient of Chipotle Paste, but also because we've used filo pastry. The light and crisp texture makes it unique, and an elegant pie to impress the family with on a weekend perhaps. It also has much less fat, so is a healthier pie to serve. If there are a couple of you living together, why not make a few individual pot pie versions of this, and freeze a few for a later date! They can be made in ceramic oven proof bowls or ramekins.
Our Authentic Chicken Stew needs no introduction – a Gran Luchito favourite! Have on it's own in a bowl with a dollop of sour cream, or pair it with our Mexican Mash or just some Tortilla Chips for dunking. A wholesome stew for warming the cockles of the heart! Of course one thing to mention is the added ingredient of Sliced Green Cactus that makes its grand entrance in this recipe. Finished off with fresh coriander and lime juice, the flavours in the recipe are simply divine.
This Creamy Coriander dish is so delicious, perfect for batch cooking and freezing, and so it had to have a mention in our Batch Cooking Recipes. We have used chicken breasts for this, and the sauce is made with onion, garlic, sour cream, Sliced Cactus, chicken stock, coriander and our Smoky Chipotle Fajita and Taco Mix. Serve it with our Mexican Mash or Mexican Rice! Another creamy chicken sauce recipe to batch cook would be our Easy Butter Chicken Curry.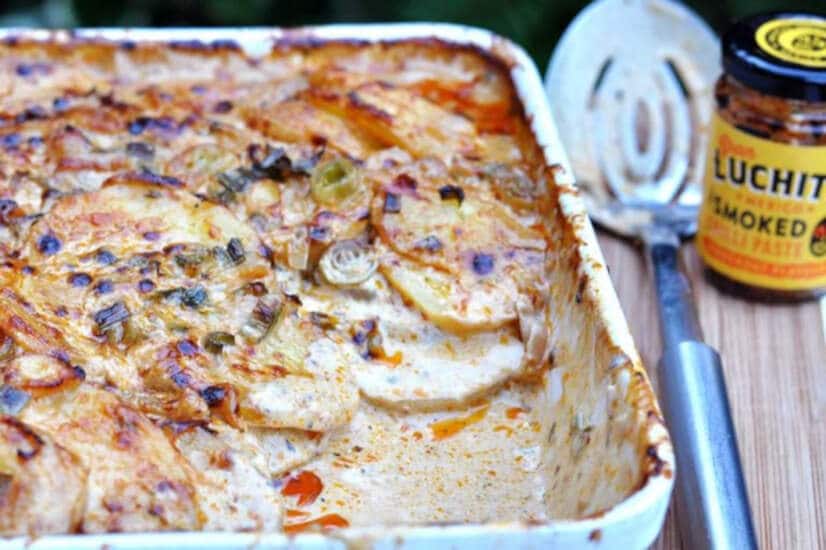 We thought this was a great idea to add to the batch cooking mix. It's more of a side dish, however anything could actually be added to it to make it more of a stand alone main dish. Cooked and flaked up salmon would be delicious in this, shredded roast chicken, or simply vegetables such as chopped leeks and peas! Add whatever takes your fancy. Another bubbling, cheesy, easy to whip out and bake dish, at the ready! As a side dish it works particularly well with our Chipotle Honey Glazed Ham, Mexican roast chicken or our bacon wrapped pork meatloaf recipe.
So that's it for our Batch Cooking Recipes! Which one are you going to try first? Do let us know how you get on or if you have any questions. You can tag us at #granluchito if you do end up trying one! For other cooking blogs please visit: Slow Cooker Mexican Recipes, Easy Mexican Recipes To Try At Home, Healthy Mexican Recipes, Mexican Chicken Recipes, Mexican Beef Recipes, Mexican Pork Recipes, Vegan Mexican Recipes, Mild Mexican Recipes For Fussy Eaters, Family Meal Ideas That Will Have Your Kids Asking For More